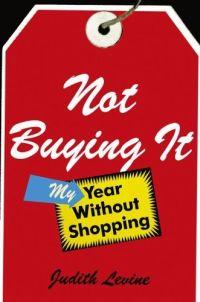 Purchase
My Year Without Shopping
Free Press
March 2006
288 pages
ISBN: 0743269357
Hardcover
$25.00
Add to Wish List

"The idea occurs to me, as so many desperate resolutions do, during the holiday season. I have maxed out the Visa, moved on to the Citibank debit card, and am tapping the ATM like an Iraqi guerrilla pulling crude from the pipeline. Convinced I am picking up no more than the occasional trinket...this atheist Grinch has managed to scatter $1,001 across New York City and the World Wide Web."
And so, disgusted with the commerce in everything from pet cloning to patriotism, panicked over the fate of her finances and that of the trash-strewn earth, Judith Levine enlists her partner, Paul, in a radical experiment: to forgo all but the most necessary purchases for an entire year.
Without consumer goods and experiences, Judith and Paul pursue their careers, nurture relationships, and try to keep their sanity, their identities, and their sense of humor intact. Tracking their progress -- and inevitable lapses -- Levine contemplates need and desire, scarcity and security, consumerism and citizenship. She asks the Big Questions: Can the economy survive without shopping? Are Q-tips necessary?
Not Buying It is no primer on the simple life and how to live it. It's the confessions of a woman any reader can identify with: someone who can't live without French roast coffee or SmartWool socks but who has had it up to here with overconsumption and its effects on the earth and everyone who dwells there.
The book will have readers discussing how and why they, too, might survive without shopping. For the humor and intelligence of its insights, the refreshment of its skepticism, and the surprises of its conclusions, Not Buying It is sure to be on anyone's list of Necessities.

Media Buzz
Oprah - June 30, 2010
Good Morning America - April 21, 2006
Oprah - April 7, 2006
Today - March 14, 2006
Diane Rehm Show - NPR - March 8, 2006

Comments
No comments posted.

Registered users may leave comments.
Log in or register now!