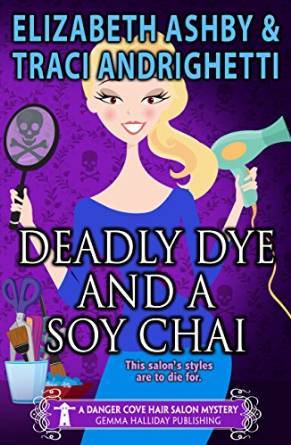 Purchase
Danger Cove #5
Gemma Halliday Publishing
August 2015
On Sale: July 20, 2015
Featuring: Cassidi Conti
ISBN: 1515110397
EAN: 2940151959544
Kindle: B011SBZ310
Paperback / e-Book
Add to Wish List

This salon's styles are to die for.
Native Texan Cassidi Conti was expecting to face some obstacles when she moved to Danger Cove and opened The Clip and Sip, a hair salon that gives away free drinks. What she wasn't counting on was a client dying during a dye job. But when eighty-year-old Margaret Appleby comes in for her biweekly appointment, that's exactly what happens: Margaret drinks her usual soy chai, dozes off under the dryer...and doesn't wake up.
Now The Clip and Sip is under suspicion, clients are wary, and Cassidi is on a mission to prove that while her styles may be killer, her employees are innocent!
But as Cassidi wades through the myriad of suspects in the small, costal town, the killer sets his sights straight on everyone's favorite stylist. If Cassidi doesn't watch her back, she may just end up Danger Cove's latest fashionable victim.
Danger Cove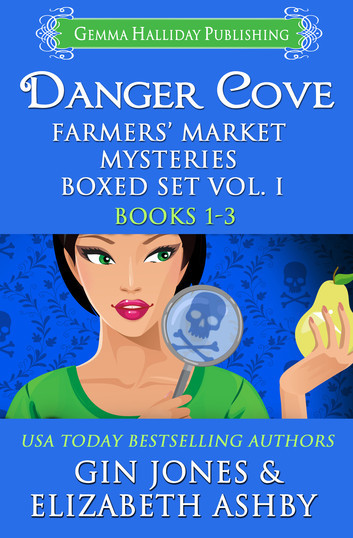 Danger Cove Farmers' Market Mysteries Boxed Set
#3.5
Kindle | BN.com | iTunes/iBooks | Kobo | Google Play
Comments
21 comments posted.
Refreshments
(Marissa Yip-Young 5:25am July 20, 2015)
I want a stylist at my hair salon that can give a really
good haircut---nothing else is important.
(Sue Farrell 3:17pm July 20, 2015)
Agreed, Sue!
(Traci Andrighetti 4:34pm July 20, 2015)
I want my stylist to listen when I explain how I like my hair cut.
(Heather Hardy 4:45pm July 20, 2015)
refreshments, up to date books and a stylist who listens
to me.
(Janice Santillo 4:50pm July 20, 2015)
A hair dye that doesn't turn a weird colour when you leave
it in for too long. A social media screen where you could
post pictures of your new hairdo
(Lexi Williams 6:17pm July 20, 2015)
I want my hair cut the way I want it cut.
(Nancy Luebke 6:22pm July 20, 2015)
I wish my hair would turn out the way I want
(Rose Foster 6:39pm July 20, 2015)
Cushy, comfy chairs, a juice bar or some type of flavored
waters, and my stylist Emily. It took a long time to find
an awesome stylist and then she left and now I found
another one in Emily. She'd have to be there. :-)
(Bonnie Davis 7:33pm July 20, 2015)
I wished for a stylist that would treat me like a family member. Lisa of Chroma fits the bill perfectly. Lisa's shop is friendly, stylishly decorated, and sanitary.
(Joanne Hicks 8:41pm July 20, 2015)
Flavored water and a stylist who understands natural curls.
(Barbara Miller 10:16pm July 20, 2015)
This look like a book that I have on my wish list. I love,
love, love cozy mysteries
(Gloria Burke 11:49pm July 20, 2015)
Traci I just started getting your newsletter and I cannot
wait to read your books! They sound so fun which is such a
change from all the D.R.A.M.A. I usually read. Loved how
you wrote and spoke to your readers and Street Team too.
You have a new Fan for sure!
(Liberty Ann Ireland 11:36am July 21, 2015)
I want prompt, courteous service from my stylist. I hate when you have to wait around because they are busy with their personal business, chatting on their cellphone or gossiping with the other stylists and acting like you are there as an incidental.
(Flora Presley 3:48pm July 21, 2015)
I want all of these features in a salon. I want a fabulous stylist, the newest products to try, fun gossip and a beverage or two available. My salon is Madison Ave. in Easthampton,MA and I love it.
(Mary Songer 4:38pm July 21, 2015)
I want my stylist to listen to me but to also not let me go down the crazy road & a fun place to relax a little
(Liz Digman 7:47pm July 21, 2015)
A stylist who can cut my hair in a style that suits me and is easy for me to maintain.
(Lesley Walsh 5:37pm July 22, 2015)
I want a great stylist with great ideas for me.
(Jean Benedict 7:03pm July 22, 2015)
Refreshments, good magazines, & a great stylist...
(Sheila Veikune 8:15pm July 22, 2015)
Sounds like a fun book to read.
(Jackie Wisherd 11:04pm July 22, 2015)
Thanks so much for this review! Flattered!
(Traci Andrighetti 5:56pm August 7, 2015)
Registered users may leave comments.
Log in or register now!