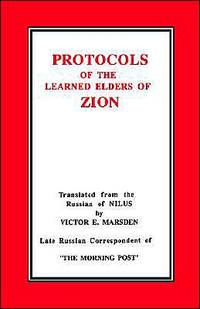 Purchase
The Protocols Of The Meetings of the Learned Elders Of Zion
Victor Marsden
A hoax and forgery
Liberty Bell
August 2004
On Sale: August 7, 2004
299 pages
ISBN: 159364020X
EAN: 9781593640200
Kindle: B003DXA9AW
Paperback / e-Book (reprint)
$11.95
Add to Wish List

Translated from the Russian by Victor Marsden. This is the full-blown version, as opposed to the shorter condensed booklet. Some have asked us not to offer this book. Many wish to see it banned altogether, as it claims to expose a world-wide Jewish conspiracy. We neither support nor deny its message, we simply make it available for those who wish a copy.
The Book Tree [publisher of this print] specializes in publishing rare, hard to find, and, often times, controversial books. In reissuing The Protocols of the Learned Elders of Zion, The Book Tree has no agenda. We are not a "hate group," nor are we connected or affiliated with any such group. It is claimed that this book caused the deaths of many people, and we do not argue this point. After careful study we have concluded and publicly state that we do not endorse this book as being valid except, if anything, by coincidence alone. Even after overwhelming proof surfaced that proved it was a forgery, Henry Ford continued to print this book, based on coincidence (a strong coincidence to Ford) but on nothing more than that. As far as we can tell, there was no master plan made by Jewish leaders to rule the world as outlined in this book. People were mis-led and mistakenly believed it.
Although it is in all likelihood an outright forgery, we still offer this book in the same way we publish and offer a book called Malleus Malificarum, which also caused the deaths of thousands of innocent people (accused of witchcraft). We do not support what The Protocols claims any more than we support the burning of "witches" at the stake. Some people still believe there are witches and they should die, based on a Bible scripture that was misinterpreted (or even forged) during the time of King James. Some also believe in the message of The Protocols, which is to the best of our knowledge an unquestionable and fraudulent hoax a forgery. We offer both of these books -- not in support of their messages -- but as a tool for people to understand how nations and people can be duped into thinking and doing insane things. It is sometimes referred to as mass hysteria.
A number of these books (The Protocols) are being used in college classrooms, and it seems clear that professors are using it as an educational tool -- they are not preaching hate with it. Nor are we trying to preach hate by offering it. We at The Book Tree were unaware of the evidence that proves conclusively that The Protocols is a hoax, and had taken a neutral stand in the Introduction to a previous edition, saying people should read the book and decide for themselves. We extend our apologies for being unaware of this evidence, and now support those who claim it to be a hoax.
Approximately 175 excerpts, over 60% of the book, are said to almost precisely match French satirist Maurice Jolys novel from 1864 entitled, Dialogues in Hell Between Machiavelli and Monttesquieu. If this is true, and we take it on good authority that it is (having seen some examples), then we stand by those who have exposed it as a forgery. A known forger and German anti-Semite named Hermann Goedsche (aka Sir John Retcliffe) took Jolys Dialogues and adapted them into what eventually became The Protocols. The Russian secret police then found it useful as a propaganda tool on a number of levels.
There are those few who are still adamant that The Protocols are genuine. They are free to read this book as a matter of choice and form their own opinions, while keeping in mind the conclusions of both the publisher and myself. The Book Tree is not a believer in the suppression of information, as all people have a God-given right to read and investigate what they wish. There is much to be learned from this book by examining it closely. Plutarch once said, "To make no mistakes is not in the power of man, but from their errors and mistakes the wise and good learn wisdom for the future." It is our hope that past mistakes will not be repeated, and we believe that open dialogue and education is the key (rather than suppression). Another famous philosopher once said, "If we do not learn from our past mistakes, then we are doomed to repeat them." Those who believed The Protocols made a terrible mistake. But society as a whole has evolved beyond witch burnings and the systematic murder of Jewish people. Instead of covering up or suppressing the books which caused such things, The Book Tree believes they should be made available and studied.

Media Buzz
The View - March 8, 2006

Comments
No comments posted.

Registered users may leave comments.
Log in or register now!