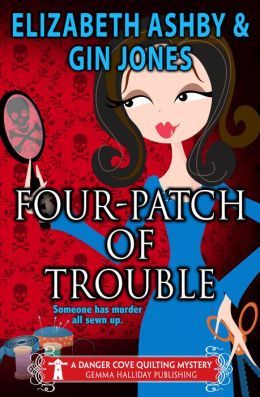 Purchase
Danger Cove #4
Gemma Halliday Publishing
June 2015
On Sale: June 14, 2015
Featuring: Keely Fairchild
233 pages
ISBN: 0151907625
EAN: 2940151907620
Kindle: B00ZPV4EU6
Paperback / e-Book
Add to Wish List

Mystery Woman Sleuth | Mystery Cozy
From international bestselling author Gin Jones comes a small-town murder with big consequences...
Someone has murder all sewn up.
Keely Fairchild left her previous profession as a high-powered attorney to lead a quieter life as a certified quilt appraiser. But when she's asked by the Danger Cove quilt guild's president to prove that a local dealer is selling cheap reproduction quilts as expensive antiques, Keely's "quiet" new job turns dangerous.
While Keely and the guild president are in the dealer's shop, the crooked quilt peddler is killed. Unfortunately, the local police think the guild president has the best motive, and Keely stakes her professional reputation, and possibly her life, on proving that the police have the wrong person. Suspects abound, including the dealer's business partner, a rival dealer whose quilts were illicitly copied for the reproductions, an arts reporter who's been threatened with a libel suit, and even the director of the local museum. But which one murdered the crooked dealer? And which one has Keely squarely in his sights now...
Danger Cove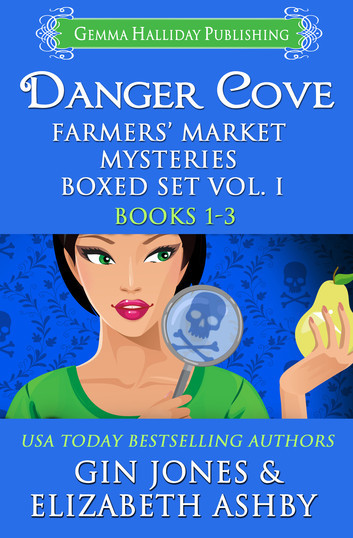 Danger Cove Farmers' Market Mysteries Boxed Set
#3.5
Kindle | BN.com | Apple Books | Kobo | Google Play
Comments
15 comments posted.
Freedom of speech
(Marissa Yip-Young 6:03am June 29, 2015)
Great post, Gin! Very happy to be part of the Danger Cove
Crew! :D xx
(Sibel Hodge 10:42am June 29, 2015)
Women's rights
(Kerry Shaw 12:42pm June 29, 2015)
I love the Danger Cove books!
(Leslie Langtry 1:54pm June 29, 2015)
Which side of the road you drive on and a lot more roads being one way.
(Hillary Kaltenbach 7:51am June 30, 2015)
The freedom we have to choose and be who we are
(Nicole Bouchey 9:27am June 30, 2015)
The acceptable mode of dress.
(Sharon Mitchell 1:41pm June 30, 2015)
One thing I notice every year is how other parts of the country, down south or other warmer areas, is how just a little snow or a big rain storm really disrupts traffic. I'm from Mass so I'm used to lots of snow and ice.
(Mary Songer 7:19pm June 30, 2015)
Bathrooms
(Nancy Luebke 8:40pm June 30, 2015)
Like Mary Songer, it's the ability to drive in snow and ice, and heavy rains that I take for granted, and when I travel South to visit family, I realize just how much I take it for granted that people all over can at least drive in a rainstorm!!
(Lynn Rettig 12:48pm July 1, 2015)
Wow, Some answers are a little harsh. I was thinking along
the idea of flowers that we have in the South and not in the
North and vice- versa.
(Leona Olson 8:59am July 1, 2015)
This book sounds great. I hope I win.
(Dhanisha Balsara 12:39pm July 1, 2015)
Public bathrooms being free where I come from. I heard that some
countries have to pay to use them.
(Rebekah Elrod 8:03pm July 1, 2015)
Vocabulary. I work in a multi-cultural, bilingual inner city
school. Sometimes words I take for granted go right over my
students' heads. Although I work in an elementary school, I
have high school volunteers. I had a group of them
volunteering to learn how to cover books and I was explaining
I was methodical in the procedure and after a couple of
minutes, they looked at each other and then asked me what
"methodical" meant. Sometimes it's the little things in life.
(Marcia Berbeza 8:14pm July 1, 2015)
Having lived in New England all of my life, first CT and now MA, I think that what I deal with easily is the weather. We can have highs and lows of temperature varying 40 degrees in a 24 hour time period and think nothing of it. We may not love ice and snow, but we live through it (although this past winter was one of the ones that I NOTICED more than I care to talk about now that summer is here and we are all trying to forget it). We enjoy the spring as it is our first time in seeing green leaves and green grass in months and other parts of the country have this same look all year long. So, I don't tend to notice big weather changes or let them bother me, where as I know the south notices when it gets down to 75 and they feel that they are "freezing".

Thank you,
Cynthia
(Cynthia Blain 7:04pm July 5, 2015)
Registered users may leave comments.
Log in or register now!