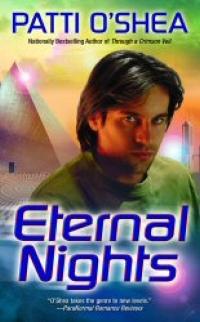 Purchase
ETERNAL NIGHTS is a spin off of RAVYN'S FLIGHT but it stands alone.
Formerly titled Temple of Dreams
Love Spell
August 2006
Featuring: Wyatt Montgomery; Kendall Thomas
368 pages
ISBN: 0505526603
Paperback
$6.99
Add to Wish List

Romance Suspense | Romance Paranormal
Capt. Kendall Thomas has been plagued by dreams of blood, dreams so horrifying they leave her trembling in the night. Kendall has good reason to be afraid. She's discovered thieves are stealing artifacts from the alien city on Jarved Nine, and the smugglers will do anything to protect their lucrative sidelineóeven commit murder. The last man Kendall wanted to endanger was her best friend Wyatt Montgomery, but the stubborn Special Ops captain followed her when she went to gather evidence, and the smugglers trapped them both in the city's ancient pyramid. Now by day, they're chased through labyrinthine tunnels, deeper and deeper into the heart of the ancient temple. But in the cloak of darkness, they can no longer deny the powerful force drawing them together, the passionate dreams that leave them aching with need, the touch of skin on skin that makes them long foróETERNAL NIGHTS.
Comments
No comments posted.

Registered users may leave comments.
Log in or register now!