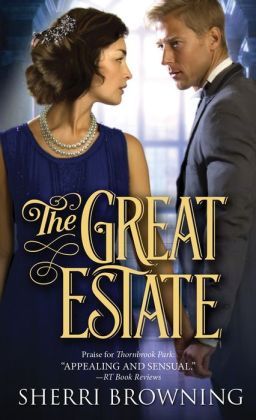 Purchase
Thornbrook Park #3
Sourcebooks
August 2015
On Sale: August 1, 2015
Featuring: Sophia Thorne; Gabriel
352 pages
ISBN: 1402286856
EAN: 9781402286858
Kindle: B00UTWFUOA
Paperback / e-Book
Add to Wish List

Pulled apart by past mistakes Sophia Thorne was young and inexperienced when she married the dashing Earl of Averford...and through dark and troubled times, their relationship nearly came to an end. Now she's determined to transform herself into the fiery, ardent lover she always wanted to be, giving them a second chance at love... before they're lost to each other forever.
Driven by a passion neither could deny It took nearly losing Sophia for Gabriel to realize he had allowed his love for his great estate to distract him from his beautiful wife. But that time is over. Despite all the obstacles standing in their way, Gabriel vows to teach Sophia what it is to truly love...and to be loved by a husband devoted heart and soul to her every desire.
Thornbrook Park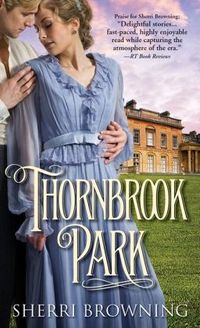 Thornbrook Park
#1.0
Amazon.com | BN.com | | |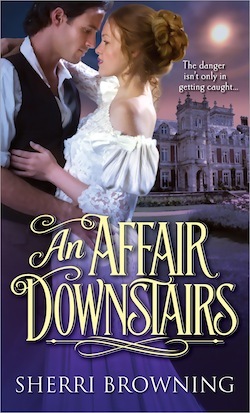 An Affair Downstairs
#2.0
Amazon.com | BN.com | | |
Comments
44 comments posted.
Re: The Great Estate

Read
(Marissa Yip-Young 6:02am August 12, 2015)
I try to find new BBC series to watch. Poldark was a good substitute. The Crimson Field was okay but not great.
(Pam Howell 10:12am August 12, 2015)
reading of course
(Emily Stemp 10:25am August 12, 2015)
What I need to do is get my hands on the first 5 seasons. Where I live, I was only able to pick up Canadian TV stations on my TV, which didn't leave me with much. I had 2 channels, and their programming left little to be desired. We've finally been able to upgrade, and I'll be able to watch TV like everyone else, so it's going to be a treat for me to watch the show!! I'm looking forward to it. I'm also looking forward to reading your book!! It's on my TBR list, since this Summer has been a bit more busy than I had thought it would be, and looks that way into the Fall, but I am slowly making headway. When you lose a Parent, it sort of changes things around your household, and adds things to your daily life that you didn't anticipate.
(Peggy Roberson 10:26am August 12, 2015)
I read and enter giveaways and contest in my spare time .
(Joan Thrasher 11:19am August 12, 2015)
Watch other British shows, especially detective shows, like Inspector Lewis and Midsomer Murders, that I get at my library.
(Michelle Fidler 4:53pm August 12, 2015)
I like watching British shows like Midsomer Murders & Men Behaving
Badly.
(Christine Schultz 7:00pm August 12, 2015)
reading to pass the time
(Debbi Shaw 10:26pm August 12, 2015)
I plan on passing the time by reading and watching my other favorite TV shows.
(Heidi Ingalls 1:13am August 13, 2015)
Reading, mostly. Arts and crafts projects, too. Stained glass when it cools off enough for me to work in my garage studio again.
(Cynthia Powers 1:39am August 13, 2015)
Read :) Go for walks :) Read :) Do some outdoor projects :) Read :) Spend time with family & friends :) Read :) Catch up on some 'popular' TV series :) Read :) And did I mention Read ;) Best of luck to all who have entered
(Holly Loch 4:45am August 13, 2015)
READ - books set in that period. Re-watch the earlier seasons and revisit the cast all over again. Find NEW series to watch. Watch lots of other BRITISH programs. Love the accents!!!! Love period pieces of any sort. Listen to 20's music. And wait anxiously for the new/last season.
(Nancy Reynolds 11:46am August 13, 2015)
Love a good novel
(Pat Boutin 11:48am August 13, 2015)
READ / READ AND READ SOME MORE!
(Ann Chapatte 5:28pm August 13, 2015)
I pass the time reading, playing with my dogs...maybe the
hubby too. :). But mostly I read.
(Mary Roya 6:19pm August 13, 2015)
I will pass the time reading and will hopefully be at our winter abode by that time...
(Karen Dieffenbaugher 6:58pm August 13, 2015)
yes I agree Poldark was amazing (as was the gorgeous irish
aiden turner who plays ross poldark)
Love downton abbey too
(Rachael Kennedy 7:38pm August 13, 2015)
This looks like a very good book
(Beverly Ross 7:46pm August 13, 2015)
Read....Enjoy British TV mysteries. Need to take the time to
watch the first in the Downton Series. Watch very little TV
so I'm particular about what I watch. The Great Estate looks
like a good read. Married romances are a favorite. They
aren't thick on the ground.
(Ivy Truitt 8:18pm August 13, 2015)
Binge watching the previous seasons.
(G. Bisbjerg 11:44pm August 13, 2015)
I have cut back on watching television this summer. I am
finding that spending my time reading books has been much
more satisfying this summer. (Cindy Castillo Hipolito)
(Cindy Hipolito 1:34am August 14, 2015)
I plan to do a lot more reading as I am an avid reader. I may also watch some movies. Happy summer and thanks for the contest
(Gloria Vigil 5:27am August 14, 2015)
Mom and I came to Downton Abbey late so we were watching re-runs - and watching re-runs - and watching re-runs - I guess that we SHOULD get the DVDs - LOL - I try to get my extra reading in, though, and also love to watch Inspector Morse, Mr. Selfridge, East Enders AND my fave Brit Coms!
(Felicia Ciaudelli 7:19am August 14, 2015)
I will pass the time by reading as many Regency romances as I can. A Regency Romance addict from Texas,
(Theresa Henry 9:13am August 14, 2015)
I was fortunate enough to have spent my entire summer in
1986 in England, with brief forays into Scotland, Wales
and Ireland. In any event, I seriously doubt I will make
it back there again to finish seeing all I could
see...but I have lasting memories. And now? I relive it
all again by reading historical romances...and watching
Downton Abbey on TV when I can. :-) jdh2690@gmail.com
(Janice Hougland 10:38am August 14, 2015)
Read
(Jean Patton 10:42am August 14, 2015)
I'll be reading and running my girls around!
(Maria Smith 10:58am August 14, 2015)
I've been reading and discussing Downton Abbey with one of my friends!
(Lindsey Andronak 11:10am August 14, 2015)
I love reading new books (and sometimes re-reading old books too!) and
watching my favorite TV shows. Those are about the only things I have spare
time for these days.
(Lily Shah 11:21am August 14, 2015)
I scour Netflix and Amazon Prime for BBC shows. They are
the best. My mother and I watch them and sometimes we will
revisit the previous seasons of Downton Abbey.
(Angelina Daniels-Shaw 11:38am August 14, 2015)
I read to pass the time.
(Laurie Bergh 12:45pm August 14, 2015)
I love your idea of re-watching the first 5 seasons! An afternoon tea would
be wonderful too (wish I had the servants!)
(Susan Huston 1:16pm August 14, 2015)
read, cooking-baking. spending time with my CAT
(Emily Stemp 1:57pm August 14, 2015)
I've never seen Downtown Abbey. I rarely watched tv, only an occasional movie. I use my time to enjoy time outdoors, taking photos, reading in the garden, play with my pup and cats, search on the computer for gluten free recipes..and I like to sign.
(Chris Ann Foster 3:37pm August 14, 2015)
Reading and shopping
(Yaritza Santana 12:07pm August 15, 2015)
I HATE any show with cliffhangers. That said, I plan on
binging on Downtown Abbey dvd's after the series is ended.
Sorry, it's my thing.
(Judy Gregory 8:17am August 15, 2015)
I love your books and this one looks great
(Rebecca Stephen 10:39am August 15, 2015)
Reading!
(Denise Austin 2:55pm August 15, 2015)
I love your books
(Ashley McArton 5:26pm August 15, 2015)
watching movies or reading in front of the fireplace
(Emily Stemp 7:59pm August 15, 2015)
time does pass quickly and I have lots of books on my tbr list
(Diane Sallans 8:34pm August 15, 2015)
Reading and sewing. Not my style but they have Downton fabrics now.
(Laura Gullickson 10:07pm August 15, 2015)
Reading, cooking, being a grandparent! :)
(Dianne McVetty 11:49pm August 15, 2015)
Reading, sewing and playing with my 16 month old
granddaughter.
(Vicki Clevinger 12:57pm August 23, 2015)
Registered users may leave comments.
Log in or register now!