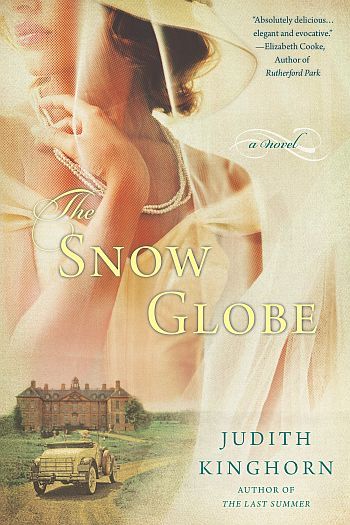 Purchase
NAL
March 2015
On Sale: March 3, 2015
Featuring: Daisy Forbes
416 pages
ISBN: 0451472098
EAN: 9780451472090
Kindle: 0451472098
Paperback / e-Book
Add to Wish List

Inside the glass orb was a miniature garden and a house. If she stared long enough, she could almost see the people inside. But whether they were trapped there, or kept safe, in that miniscule snowbound world, she couldn't have said...
Christmas 1926 holds bright promise for nineteen-year-old Daisy Forbes, with celebrations under way at Eden Hall, her family's country estate in Surrey, England. But when Daisy, the youngest of three daughters, discovers that her adored father, Howard, has been leading a double life, her illusions of perfection are shattered. Worse, his current mistress, introduced as a family friend, is joining them for the holidays. As Daisy wrestles with the truth, she blossoms in her own right, receiving a marriage proposal from one man, a declaration of love from another, and her first kiss from a third. Meanwhile, her mother, Mabel, manages these social complications with outward calm, while privately reviewing her life and contemplating significant changes. And among those below stairs, Nancy, the housekeeper, and Mrs. Jessops, the cook, find that their long-held secrets are slowly beginning to surface...
As the seasons unfold in the new year, and Daisy moves to London, desires, fortunes, and loyalties will shift during this tumultuous time after the Great War. The Forbes family and those who serve them will follow their hearts down unexpected paths that always return to where they began...Eden Hall.
Comments
18 comments posted.
Re: The Snow Globe

THE SNOW GLOBE sounds really interesting... thanks for sharing a bit about it! Congrats on its release!
(Colleen Conklin 4:39pm March 10, 2015)
Historical fiction are my favorites. When you add books
about England to the mix, you have my complete attention!!
To add the era of the 20's to the equation, I'm in complete
bliss!! After reading the synopsis, I was beside myself
that I didn't have a copy of your book in my hands, to start
reading your book immediately, because your book is exactly
what I'm looking for!! I also adore snow globes, and own a
couple, in my ecclactic mix of collectibles. For now, I can
only put your book on my TBR list, and hope to read it in
the very near future - like when I finish with a couple of
books that I really want to read for similar reasons. They
spoke volumes to me, as this book does. Congratulations on
what I'm sure is a book that will do very well!!
(Peggy Roberson 6:55pm March 10, 2015)
I love historical fiction and will definitely
add to my TBR list. Sounds amazing. Congrats on
your book!!!!
(Vicki Hancock 10:37pm March 10, 2015)
I love reading...everything!
(Kelly Knapp 11:57pm March 10, 2015)
Yes, please :) Best of luck to all who entered
(Holly Loch 3:40am March 11, 2015)
This book sounds really interesting. I
really hope to win. Thank you for this
giveaway
(Sarah Hansrote 4:46pm March 11, 2015)
I love historical fiction and your book sounds amazing. I am also fond of snow globes and have a collection. This is such a beautiful book cover, and the storyline captured my undivided attention, as it will others. Much success with it!
(Linda Luinstra 5:38pm March 11, 2015)
Thanks for the chance to win---sounds like a great book!
(Juli Lear 6:46pm March 11, 2015)
I love how the cover looks. I'm so excited to read The Snow
Globe. We're sure to enjoy this one!
(Jillian Rae 12:53pm March 12, 2015)
This historical sounds captivating and fascinating. The era
and the setting are wonderful. Congratulations and best
wishes.
(Sharon Berger 4:08pm March 12, 2015)
Yes, I am ready to enter the world of The Snow Globe . I have a few snow globes and I'm fascinated with them , just like when I was a small child . Thanks for this wonderful giveaway , the book sounds really interesting , I'm already wondering what Daisy will be doing with the choices she will have to make. Can hardly wait to read this . Good Luck To All.
(Joan Thrasher 9:02pm March 12, 2015)
The Snow Globe sound intriguing! I am especially curious about the secrets of the cook and the housekeeper. LOL
(Gladys Paradowski 11:23pm March 12, 2015)
I guess I didn't touch the second "s" in sounds hard enough.
(Gladys Paradowski 11:24pm March 12, 2015)
Sounds like a great story. Thanks for the chance to win.
(Nancy Reynolds 9:10am March 13, 2015)
I would love to win.
(Susan Gannon 10:44am March 13, 2015)
I love historical fiction especially the 1920's. Thank you for
the chance to win.
(Denise Austin 11:49am March 13, 2015)
I too love Historical reads. I love History period. I enjoyed
the description and it's now on my TRL, near the top. It just
totally pulled me in. Thank you for the post and the giveaway
chance.
Carol Luciano
Lucky4750 (at) aol (dot) com
(Carol Luciano 12:41pm March 13, 2015)
This sounds like a very interesting read. I love historical and/or period books. The title is enticing, and what I have read so far has caught my attention. I believe it is a book that I won't want to put down once I pick it up.
(Sandi Wasson 4:56pm March 13, 2015)
Registered users may leave comments.
Log in or register now!