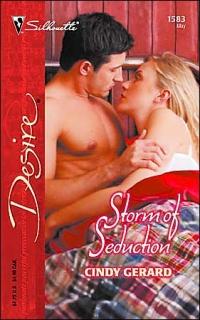 Purchase
Silhouette Desire
October 2003
192 pages
ISBN: 0373765398
Paperback
$4.25
Add to Wish List

Chapter One Well, this wasn't supposed to happen. She was not supposed to be affected. Not like this anyway. Not by a man like him. Brows pinched in concern, Rachael Matthews fought to ignore the arc of pure and instant attraction that zipped through her blood like a bullet the moment she looked into Nate McGrory's eyes. Wielding her maid-of-honor bouquet like a makeshift shield, she clung to cool reserve and forced herself to hold the best man's gaze as he met her at the center aisle of the church wearing a crooked and way too confident grin.
He was, after all, just a man. Just a man in a Pierce Brosnan/Antonio Bandares sort of way.
All right. She'd give herself a little latitude. What woman wouldn't have a strong reaction? Just look at him.
His flashing brown eyes matched the color of the perfectly styled hair he wore rakishly long and combed straight back from a stunning, masculine face. Contoured, suntanned cheeks dimpled with saint or sinner charm. His straight blade of a nose, wide brow and strong jaw were classically and unapologetically male. A crescent-shaped scar cut into his left eyebrow, just beyond the arc toward his temple - his one concession to imperfection. It should have messed up his incredible face. Instead, it lent a suggestion of vulnerability that was completely at odds with an overall air of confidence that practically purred, Since you asked, yeah, I am master of my domain - but not to worry - I rule with a kind and gentle hand. And oh, by the way - I like my women hot.
Okay. That snapped things back into perspective. Arrogance. The man oozed it, a fact that finally nudged Rachael back to her senses with a barely suppressed snort. Oh, yeah. She knew his type. Too well. High-gloss, high- maintenance and way more trouble than they were worth.
When she offered little more than a clipped nod, he widened his killer smile with a look relaying increased interest, along with a clear message. We meet at last. Let's get these two married and then we definitely need to get to know each other.
For Karen's sake and for the sake of the two-hundred-odd guests filling the pews and waiting with anticipatory smiles for the main feature - the bride and groom - Rachael made sure her return smile was polite, but about 98.6 degrees cooler than his. A careful lift of her brow did a little speaking, too, though, spelling it out for him, she hoped, Yeah, sure, whatever.
He laughed at her.
Oh, not out loud, but with those speaking eyes again - the ones that leveled an unmistakable challenge. Lady, if I make my mind up to have you, you don't stand a chance on God's green earth of resisting.
To arrogance, she added egomania.
Well, he might be arrogant, but she, evidently, was an airhead to let herself be affected by him this way. Forget it. This - whatever this was, flashing between her and this man she had never officially met - was not going to happen. Not only didn't she have the time, she didn't have the patience. Or really, let's face it, she didn't have the inclination. Life was good just the way it was.
Maybe the pressure of planning her best friend's wedding had finally gotten to her. She'd mapped out this day step by meticulous step for Karen. It's what she did. Planning weddings was her career - and for the past several years it had also been her life. But this was Karen - her best friend - so Rachael was that much more invested in the outcome. She wanted everything to be perfect, had done everything in her power to make sure it was. The flowers, the music, the reception later at the Royal Palms Hotel where she operated Brides Unlimited - she'd personally seen to every last detail.
So far, it was perfect. And Karen looked beautiful. Thoughts about the glow on her face broke through Rachael's tension and tapped hard on what was left of her romantic streak. The one that, despite several attempts to drown it in a sea of turbulent, shipwrecked relationships, had decided to bob stubbornly to the surface for one final gasp before sinking to be lost forever to the deep just because she'd finally met Nate McGrory.
She started a little when he offered his arm, but recovered and, squaring her shoulders, took it. She could do this. No big deal. It was just the shock of finally seeing him in the flesh after all of Karen's hype that had gotten her going.
"Rachael, I'm telling you," Karen had insisted on one of the rare days, given their busy schedules, when they'd had a chance to get together for a little shopping and catching up last month, "just wait until you meet him."
They'd been lunching at a table on the brick sidewalk at Pescatore, a little pocket of West Palm Beach charm nestled on the corner of Clematis and Narcissus. Fountains flowed in the background, birds sang, exotic Florida flowers bloomed in a riot of intoxicating fragrance and color.
Karen had been blooming, too. They'd just bought her bridal veil - finally - and Karen was extolling the princely virtues of Sam's college fraternity brother, Nate McGrory, a hotshot millionaire lawyer from Miami who would fly in for the wedding at the eleventh hour on his private jet.
"I mean it," Karen had continued emphatically.
"If I wasn't so in love with Sam, I'd be boogying on that dance floor myself. Got to be that blend of Irish-Latino blood running through his veins. Rach - I am not exaggerating when I tell you that this guy is not only charming and loaded, he's heart-stopping, to-die-for gorgeous."
"So are hibiscus blooms and they last for ... what? A day?" Rachael had lifted her glass of merlot, waggling it in warning. "I'm really not interested."
"But he's so perfect," Karen insisted.
"Sweetie, I don't care if he's Ben Affleck, Donald Trump and red-hot Latin lover all rolled into one tidy little testosterone-wrapped package. Karen, please. Get married. Have a great life, but stop trying to couple me up with someone. I've got everything I need to make me happy. Good friends and a great job."
Why couldn't her friends accept that her life really was fine exactly the way it was? She was productive, successful and self-contained - even if she sometimes fought a niggling notion that there was something more, something out there that eluded her. Something she should be entitled to and didn't have.
Shaking off her thoughts, she tuned back into the minister then cut an uneasy glance toward Nate McGrory.
Comments
No comments posted.

Registered users may leave comments.
Log in or register now!