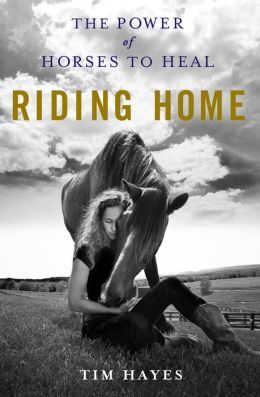 Purchase
Riding Home: The Power of Horses to Heal
Tim Hayes
St. Martin's Press
March 2015
On Sale: March 3, 2015
304 pages
ISBN: 1250033519
EAN: 9781250033512
Kindle: B00MLN1TLI
Hardcover / e-Book
Add to Wish List

Non-Fiction | Non-Fiction Pet-Lover
For thousands of years one animal has contributed to human survival more than any other. It has been a source of food, a means of transportation, a provider of physical labor and an instrument of war. This extraordinary creature is the horse. Throughout human history people have loved, owned and ridden horses. Horses fascinate us; they silently speak to our hearts. Young and old, rich or poor we are drawn; whether to books like The Horse Whisperer, events like The Kentucky Derby, TV Specials like the award winning HBO movie Temple Grandin or movies like Steven Spielberg's War Horse.
Millions of people — horse owners and non-horse owners alike — have also discovered the amazing abilities of horses to help us heal and recover from disabling physical and mental conditions such as autism and multiple sclerosis by participating in what is known as Equine Therapy. Now something quite extraordinary has been discovered about the ability of horses to help humans. Men and women afflicted with severe emotional damage are healing and making dramatic recoveries by receiving the simple love, understanding and acceptance that comes from establishing a relationship with a horse.
The unique message of Tim Hayes' Riding Home is two-fold. On an individual level it is the first and only book to explain why horses have this remarkable ability to heal and positively transform emotionally wounded men and women whether they be troubled teens, prison inmates or war veterans with post traumatic stress disorder. On a societal level Riding Home offers a powerful argument for the expansion of such equine programs that accomplish what many institutional organizations that utilize traditional psychotherapy and pharmaceutical medication have often been unable to achieve.
To have a relationship with a horse is to discover and know yourself, other humans and the world with more truth and compassion than one could dream or imagine. Horses help us discover hidden parts of ourselves. They cause us to become better people, better parents, better partners and better friends. They teach us that when we're not getting what we want, we're the ones who need to change either what we're doing or who we're being. A horse can be our greatest teacher for a horse has no ego, he never lies and he's never wrong.
Comments
No comments posted.

Registered users may leave comments.
Log in or register now!