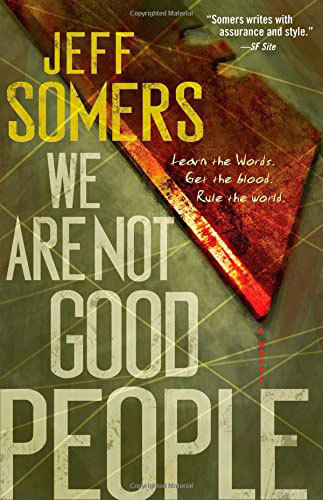 Purchase
We Are Not Good People
Jeff Somers
Gallery Books
October 2014
On Sale: October 7, 2014
Featuring: Lem Vonnegan; Mags; Mika Renar
528 pages
ISBN: 1451696795
EAN: 9781451696790
Paperback
Add to Wish List

Fantasy Urban | Literature and Fiction
The ethics in a world of blood are gray...and an underground strata of blood magicians has been engineering disasters for centuries in order to acquire enough fuel for their spells. They are not good people.
Some practitioners, however, use the Words and a swipe of the blade to cast simpler spells, such as Charms and Cantrips to gas up $1 bills so they appear to be $20s. Lem Vonnegan and his sidekick Mags fall into this level of mage, hustlers and con men all. Lem tries to be ethical by using only his own blood, by not using Bleeders or—volunteers—but it makes life hard. Soon they might have to get honest work.
When the pair encounters a girl who's been kidnapped and marked up with magic runes for a ritual spell, it's clear they're in over their heads. Turning to Lem's estranged master for help, they are told that not only is the girl's life all but forfeit, but that the world's preeminent mage, Mika Renar, has earth-shattering plans for her...and Lem just got in the way. With the fate of the world on the line, and Lem both spooked and intrigued by the mysterious girl, the other nominates him to become the huckleberry who'll take down Renar.
But even if he, Mags, and the simpletons who follow him prevail, they're dealing with the kind of power that doesn't understand defeat, or mercy.
Comments
No comments posted.

Registered users may leave comments.
Log in or register now!