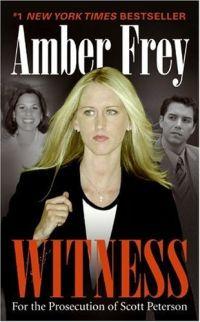 Purchase
For the Prosecution of Scott Peterson
Regan Books
February 2006
304 pages
ISBN: 0060834137
Paperback (reprint)
$7.99
Add to Wish List

Amber Frey's life was full of blessings: an exciting new business, a beautiful home, and most of all, her infant daughter, Ayiana. But Amber had been through some unhappy relationships, and she longed for a true and loving partner. In November 2002, she went on a blind date with Scott Peterson. He was handsome, charming, thoughtful, and romantic. Best of all, he was single and ready to settle down . . . or so he said.
Their connection was immediate. Over the next few weeks, Amber and Scott grew closer and closer. Scott won her over with his warmth, humor, and intelligence, and he even won the heart of little Ayiana. Before long, he began to speak of the beautiful future the three of them were destined to share as a family.
Soon enough, however, Amber began to suspect that Scott Peterson might not be the man he claimed to be. On December 9, he broke down in tears and told her that he had been married, but had "lost" his wife. This was weeks before Laci Peterson, eight months pregnant at the time, was even reported missing. Scott Peterson hadn't lost her, but clearly he was planning to.
Suddenly a relationship that seemed full of promise was turning into Amber's worst nightmare.
Amber launched an investigation of her own. The moment she was able to confirm her worst suspicions, she contacted the Modesto Police Department, in northern California, and offered to do whatever she could to help. She began secretly taping her conversations with Scott, pressing him for information but never letting on that she had heard the news of Laci's disappearance. Those conversations became the basis for the prosecution's case against Scott Peterson for the murder of his wife and unborn child.
Amber's whole world was turned upside down in the process. She lost her privacy, as every detail of her life was scrutinized by the media, who couldn't seem to get enough of this tragic, heart-wrenching story. But she soldiered on, looking deep inside herself and drawing strength from her faith.

Media Buzz
The View - February 21, 2011
Inside Edition - September 25, 2008
Good Morning America - February 19, 2007
Inside Edition - November 21, 2006

Comments
No comments posted.

Registered users may leave comments.
Log in or register now!