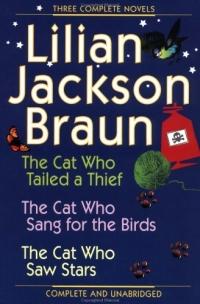 Purchase
Penguin
June 2002
Featuring: James Qwilleran; Koko and Yum Yum
803 pages
ISBN: 0399148132
Hardcover (reprint)
$14.98
Add to Wish List

The Cat Who Tailed a Thief, The Cat Who Sang for the Birds, The Cat Who Saw Stars
"In The Cat Who Tailed a Thief, the residents of Pickax are plagued by a rash of petty thievery - which begins when banker Willard Carmichael and his flashy young wife move in. But when Willard is killed in an apparent mugging Down Below, Qwill is suspicious, especially when Willard's house-restoration project in Pickax is inherited by his widow's cousin - whose wealthy new wife then dies on her honeymoon! The clues are as elusive as a cat burglar in the night. But with Koko's help, Qwill intends to catch a thief - and a killer."
"An early spring comes to Moose County in The Cat Who Sang for the Birds, and Qwill is looking forward to the peaceful beauty of nature's rebirth. What he gets instead is a chorus of noisy birds that constantly wakes him from a sound sleep - especially when Koko insists on joining in with his own feline version of birdcalling. But soon Qwill is wondering whether Koko is trying to say more than just "Tweet tweet": a series of strange events - starting with an act of vandalism and culminating in a mysterious chain of death and disappearance - has Pickax in a similar uproar. This spring, it seems, a cat's fancy may turn to crime solving."
UFOs in Mooseville? In The Cat Who Saw Stars, rumors abound that a missing backpacker has been abducted, and it looks like Qwilleran's sedate summer may be interrupted by an investigation - with the help of his own little aliens, Koko and Yum Yum. When the backpacker's body turns up - and transplanted Floridian Owen Bowen is found dead soon after - the search for intelligent life turns into a close encounter with a killer.
Comments
No comments posted.

Registered users may leave comments.
Log in or register now!