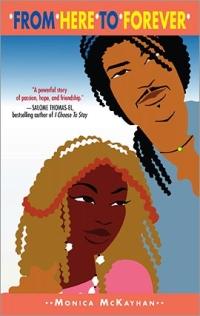 Purchase
How do you choose between independence and love?
Kimani Press Sepia
March 2006
272 pages
ISBN: 1583146067
Trade Size
$14.00
Add to Wish List

In Monica McKayhan's sequel to her acclaimed debut, As Real As It Gets, Maxie has launched a brand-new life for herself, but is faced with deciding what she really wants — and what she's willing to give up to get it.…
* * *
When Maxie left her best friends, Reece and Charlotte , behind in Atlanta and headed for L.A., she wasn't sure what the future would hold. She knew she wanted to get to know her long-lost sisters, Button and Alex, better. They had been adopted while Maxie was thrust into the foster care system after their mother's suicide.
She also knew there was a baby in her future — hers and Rico's. Moving to L.A. would bring her closer to Rico, but was she ready for the commitment, and extended family, that he had to offer? Rico already had a young daughter, Brianna, thanks to Dana, the ex-wife who had abandoned them. Over the months, Maxie's had time to think about it...
Maxie's a mom now, to a darling baby boy named Miles. Proud papa Rico has proposed to her three times, and while she loves him and his daughter dearly, Maxie's not sure she's ready to give up her home and her independence. But now that Dana's back in town, and ready to have her family back, Maxie may have to think fast! A reunion with her girls, Reese and Charlotte, helps her to clear her head. But when Maxie finds Dana and Rico in a compromising situation, she wonders if she can ever trust him again — with her heart or her vows.
Comments
No comments posted.

Registered users may leave comments.
Log in or register now!