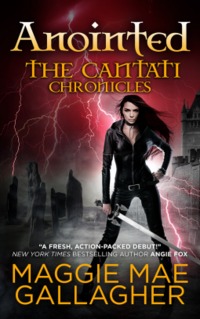 Purchase
The Cantati Chronicles #1
Author Self-Published
March 2014
On Sale: February 25, 2014
Featuring: Gaelen; Alana Deveraux
ISBN: 0991481712
EAN: 2940149562770
Kindle: B00IO7075Y
e-Book
Add to Wish List

My name is Alana Devereaux. I enjoy the simple things in life, walks in the park, sky gazing, and ripping a demon's heart out though its chest. I am a demon slayer, the last of my kind, and I have been sent back through time to save your world.
How am I doing so far?
My time travel went haywire, all the signs I needed to stop the prophecy have passed, and the only way I can save my world is by keeping yours from ending. Then there's Gaelen, most days I want to deck him. He hides his true motives and if it was not for the intel he had, I would be rid of him.
Any day in my life without a demon attack is a good day; I haven't had a whole lot of those lately. The only problem is, if I donít stop the Mutari, this world will burn.
Cantati Chronicles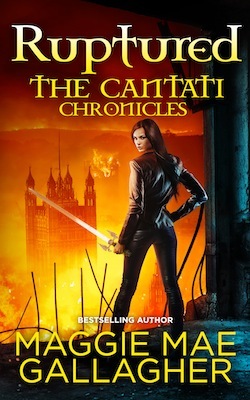 Ruptured
#1.0
Kindle | BN.com | iTunes/iBooks | Kobo | Google Play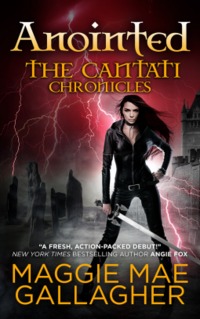 Anointed
#2.0
Kindle | BN.com | iTunes/iBooks | Kobo | Google Play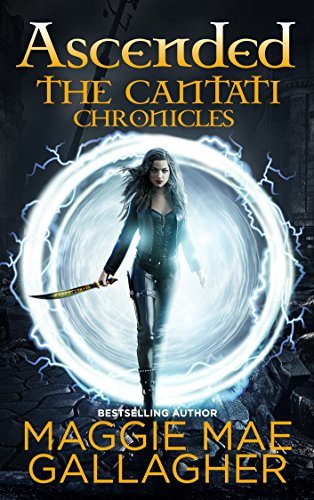 Ascended
#3.0
Kindle | BN.com | iTunes/iBooks | Kobo | Google Play
Comments
17 comments posted.
Re: Anointed

This book sounds amazing!
(Mary Jurgielski 12:03pm March 6, 2014)
that's a really good question. You touched my favorite topic
tho. :)
well when i go to sleep and i have my crazy dreams i always
have the same powers.
To fly, the start walking and slowly gravity fades away so
its like you are going up some invisible stairs before
flying.
To be able to control the elements and create them (along
with all that could come handy in the moment) with my
thoughts. Like sending lightning bolts from the palms of my
hands.
Healing. Oh healing is my favorite :) along with telekinesis
because if somebody shoots you you can extract the bullets
and send them back to their owner while you rapidly heal
yourself.
but if i had to chose maybe i would like to just have
healing powers (on me and others) + the telekinesis :)
(Sarah Hansrote 3:43am March 6, 2014)
this sounds really good
(Denise Smith 7:03am March 6, 2014)
I think about what super power I would want if I only had
one often... LOL! I was just pondering this question while
running/walking yesterday. I was also thinking of the she-
wolf in the new TV series, Bitten, and how she does not like
being strong and having enhanced senses. I read a book by
Thea Harrison lately where the heroine has healing powers...
and like Sarah who has already posted, I think that's what
I'd want if I could only have one power... Thanks for the
contest!
(Linda Townsend 8:14am March 6, 2014)
I would love to be invisible when I wanted. That way I could get around awkward situations and would be great for spying and getting into places that would otherwise be impossible.
(Pam Howell 8:45am March 6, 2014)
There are only 2 that come to mind at the moment (no pun intended). The first one would be to read someone's mind, because lately I've been curious, and it's been strictly personal. The second one would be to become invisible. There have been a few places that I'd like to sort of "drop in," on people, and either visit, or just watch a situation that's going on. I think it would be fun!!
(Peggy Roberson 9:17am March 6, 2014)
This book sounds Super!
(Richard Burr 10:11am March 6, 2014)
The superpower I would want is the power to grant happiness.
I figure that would cover everything.
(G. Bisbjerg 1:06pm March 6, 2014)
I've often wondered what it would be like to be like some of
the characters in the Paranormal Romance genre. Being able to
stay young (:))and to kick ass with a sword would be super!
(Sharon Shearouse 4:28pm March 6, 2014)
I would love to be able to perform some magic whenever necessary. It would be fun too! I wouldn't mind becoming invisible at times just to see what some of my relatives and friends are doing or talking about. I've often said, "I'd love to have been a fly on the wall."
(Linda Luinstra 5:46pm March 6, 2014)
I would see the future.
(Phyllis Lamken 6:02pm March 6, 2014)
I am in love with this story! And yes, I STILL daydream about having superpowers - and I am 50 years old - LOL
(Felicia Ciaudelli 6:11pm March 6, 2014)
I'd be able to fly; it's just something I've always wanted to
be able to do.
(Janie McGaugh 10:35pm March 6, 2014)
Ever since I have read books King Arthur, I wanted to have powers like Merlin. I could then right the wrongs.
(Kai Wong 1:14am March 7, 2014)
I'd love to be able to manipulate time.
(Mary Preston 5:15am March 8, 2014)
My superpower would be going through solid objects to be near
the people who need help the most. I'm a good listener and
like overhearing conversations. It makes my writing spicier.
(Alyson Widen 5:02pm March 14, 2014)
I would love to be able to teleport. It would be much easier than traveling by car or plane.
(Bonnie Hometchko 10:17pm March 26, 2014)
Registered users may leave comments.
Log in or register now!