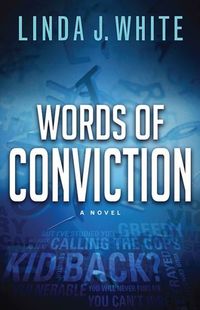 Purchase
Abingdon Press
April 2014
On Sale: April 1, 2014
Featuring: John Crowfeather; Mackenzie Graham; Bruce Grable
304 pages
ISBN: 1426735413
EAN: 9781426735417
Kindle: B00IIRTTOA
Paperback / e-Book
Add to Wish List

Thereís nothing as convicting as words that threaten your daughterís life. You want your kid back? Do just as I say. You do not know who I am. But Iíve studied you, you and your family. Iíve been watching you. Youíve been using people. Because youíre greedy. Now, itís payback time. Terrifying for any parent, these words are especially grim for Senator Bruce Grable, whose guilt may be the reason his five-year-old daughter, Zoe, has disappeared.
Or is it because of his wife, whose words make her sound more the victim than their daughter? Or their nanny, whose silence harbors her own secrets? One thing is for sure: The words hold the clues to finding Zoe alive. And itís up to Special Agent Mackenzie Graham, a forensic psycholinguist, and FBI agent John Crowfeather to decode the messages in time.
Comments
17 comments posted.
Thanks for the nice review! Glad you enjoyed Words of Conviction. And yeah,
Kenzie will be back!
(Linda White 2:36pm May 29, 2014)
After reading your posting, it sounds like I've been missing
out on some great reading!! I'll have to keep my eyes
peeled for your books, and put them on my TBR list for this
Summer!! Your latest book DOES sound like a real page
turner, especially due to the fact that my Dad served in
WWII, sending out Morse Code messages to the troops, and was
nearly killed during his term of service!! This book would
hold special meaning to me!! Congratulations on your latest
book, and I'll be sure to look for it, as well as your other
books!!
(Peggy Roberson 9:37am June 16, 2014)
Thank you, Peggy! I can't imagine sending Morse Code under battle conditions--
I had to learn it to earn my Ham Radio license. It takes a lot of concentration,
even sitting in your living room!
I hope you enjoy Words and my other books. My Website, lindajwhite.com, has
more information.
(Linda White 10:45am June 16, 2014)
i love the book info and would love to read an blog i have not read any of your bok yet but i will have to try to find some thanks
(Desiree Reilly 1:42pm June 16, 2014)
This does sound like a really interesting book! I double majored in English
and Spanish in college and I took a linguistics course too. I will definitely
have this book on my To Be Read List. Oh, I also hung out with a group of
girls who were getting their Ph.D's (sic) in Psychology.
(Shelley Maier 2:37pm June 16, 2014)
Sounds interesting. If I win, I write reviews.
(Jane Squires 4:09pm June 16, 2014)
I like the way two minds work together
(MaryEllen Hanneman 5:03pm June 16, 2014)
It sounds like a book I would truly enjoy
(Shelly Itkin 5:24pm June 16, 2014)
sounds like it is full of suspense.
(Mal Kaplan 6:00pm June 16, 2014)
I love FBI thrillers and profilers!!! It is so fascinating!
Wish I had a friend that did that or better yet, me. Love
it!!!
(Vicki Hancock 6:44pm June 16, 2014)
I will probably cry while reading this book.
(Martha Crutchfield 1:27am June 17, 2014)
I love FBI thrillers.
(Pam Howell 8:37am June 17, 2014)
A captivating book and a thought provoking post.
(Sharon Berger 11:58am June 17, 2014)
This book sounds fascinating. Also, I found the information interesting about body language and certain phrases used when trying to conceal information. I need to remember some of this the next time a politician is declaring his innocence.
(Anna Speed 1:29pm June 17, 2014)
This sounds really good!
(Denise Austin 6:27pm June 17, 2014)
What an exciting book! Interesting post about the importance of analyzing language in criminal investigations. Thanks for sharing.
(Bonnie H 9:45pm June 17, 2014)
Wow, Congrats on your new book: WORDS OF CONVICTION. I love
the book cover too! Your FBI thriller sounds like a fantastic
book. I would love to win and read your new book in 2014.
Thank You very much. Cecilia CECE
(Cecilia Dunbar Hernandez 11:18pm June 17, 2014)
Registered users may leave comments.
Log in or register now!