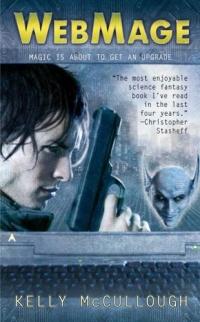 Purchase
Ace
July 2006
Featuring: Ravirn
320 pages
ISBN: 0441014259
Paperback
$6.99
Add to Wish List

Ravirn is a child of the Fates, literally. His grandmother is Lachesis, the Greek weaver of destiny, and like Hercules, Ravirn lives in the middle country between the human and the immortal. He's also a hacker whose divine talent is find the fatal flaw in just about any program. Since magic in the 21st century has gone digital to keep up with the times, this makes him a better than average sorcerer. His best friend and familiar is both a goblin and a laptop, changing shape from one to the other to suit the needs of the moment.
Ravirn's a bit of a shape changer too, demi-divine hacker one minute, harried college student the next. His grandmother has enrolled him in C-Sci at the University of Minnesota, in hopes of turning his talents toward the good of the family. She started him at MIT, but after a little incident with the grades computer he had to relocate. His great aunt Atropos has uses for him too. She thinks free will has gotten to be too much of a good thing and wants Ravirn's help in fixing the problem.
But as a hacker, Ravirn has a thing about free will. When he not only refuses to help, but begins to actively oppose her, all hell breaks loose. Ravirn has to decide which is more important, the integrity of destiny, or his own skin. With the free will of every living being hanging in the balance, Ravirn is caught between Fate and its ancient enemy Discord with both sides out to get him. Now Ravirn and Melchior have to find a way to stop Atropos and get him off Discord's hit list. Even with the help of his sorceress cousin Cerice, a friendly troll, and the webgoblin underground it's going to be a very close call.
Comments
3 comments posted.
Re: WebMage

Very nice post. I certainly appreciate this site. Keep it
up!
Life Insurance
Calgary
(Marcel Heurta 2:33pm September 14, 2015)
Hey! Someone in my Myspace group shared this website with
us so I came to give it a look. I'm definitely loving the
information. I'm bookmarking and will be tweeting this to
my followers! Fantastic blog and brilliant design.
Mortgage
Broker Calgary
(Marcel Heurta 7:25pm September 21, 2015)
Well written review, I will often visit this page :)
monster
beats cuffie italia
(Cyril eN 11:51am April 21)
Registered users may leave comments.
Log in or register now!