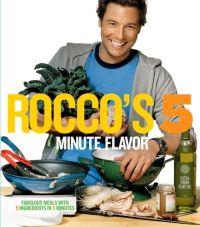 Purchase
Fabulous Meals with 5 Ingredients in 5 Minutes
Scribner
December 2005
304 pages
ISBN: 0743273842
Hardcover
$26.95
Add to Wish List

Rocco DiSpirito blasts through the rash of meals-in-30-minutes cookbooks with a revolutionary book sure to rock kitchens across America.
In Rocco's 5 Minute Flavor, every dish is ready in 5 minutes or less, using 5 ingredients, and all for under $5 per serving.
This is fast food with all of Rocco's celebrated expertise with flavor; food that no one will believe didn't take hours of work.
A James Beard Award, two restaurants, a network television show, and two cookbooks into his profession, Rocco left the day-to-day restaurant business after a long career and many, many hours behind the stove. He asked himself, "Can a chef find happiness in New York City without a restaurant?" The answer is yes.
Rocco began exploring the good life, having dinner parties at home and cooking for himself, instead of chomping down leftovers at 2 A.M. He discovered the keys to liberating the busy home cook: shop smart, keep a few key pantry items on hand, and get the most out of your stove -- cooking over high heat is the secret to meals in 5 minutes.
includes recipes for appetizers, fondues, salads, soups, sandwiches, panini, sides, vegetarian main dishes, and main dishes of noodles, pasta, fish, shellfish, poultry, pork, beef, duck, and lamb. And desserts, of course. Rocco recommends his favorite high- quality, fresh prepared foods that are available in virtually every supermarket anywhere. He stocks the pantry with a few basic ingredients -- salt and pepper, sugar, vinegar, fat, and flour -- and uses only 5 other ingredients in each of the 175 recipes, from Firecracker Shrimp and Eggplant Parmigiano to Salmon with Shiitake Mushrooms in Ginger-Soy Broth and Chicken with Lemon, Capers, and Red Onions.
In addition, Rocco suggests menus for a range of events, from a simple gathering with friends to a lush holiday celebration; provides a short list (five items to be exact) of key kitchen equipment; and offers other tips to create the fastest, most flavorful food imaginable.
With 16 pages of full-color photographs and 80 black-and-white photographs

Media Buzz
Tony Danza - August 21, 2006
Tony Danza - August 2, 2006
Tony Danza - May 30, 2006
Tony Danza - May 26, 2006
Tony Danza - April 28, 2006
Martha Stewart - March 22, 2006
Tony Danza - March 17, 2006
Tony Danza - February 13, 2006
Tony Danza - January 13, 2006
Early Show - January 11, 2006
The View - January 10, 2006

Comments
No comments posted.

Registered users may leave comments.
Log in or register now!