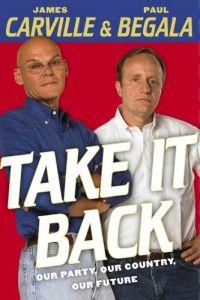 Purchase
Our Party, Our Country, Our Future
Simon and Schuster
January 2006
368 pages
ISBN: 074327752X
Hardcover
$24.00
Add to Wish List

By being too timid and too weak, too hesitant and too confused, Democrats have allowed Republicans to run amok.
Republicans today control everything: the White House, the Congress, the Supreme Court, the federal bureaucracy, the military, and the corporate special interests and their lobbyists. They operate powerful right-wing organizations, right-wing think tanks, and a conservative media that serves as an attack dog against Democrats.
Republicans have used their absolute power to corrupt our democracy, degrade our military, weaken our health care system, diminish our stature in the world, damage our environment, reward the rich, hammer the poor, squeeze the middle class, bankrupt our Treasury, and indenture our children to foreign debt holders.
In this important book, James Carville and Paul Begala show Democrats how they can take it back. They offer a clear- eyed critique of their party's failures and make specific, concrete recommendations on how Democrats can avoid losing elections on divisive issues such as abortion, gun control, gay rights, and moral values and start winning them on health care, political reform, energy, the environment, tax reform, and more.
Carville and Begala say that liberal Democrats are right that too many establishment Democrats kowtow to corporate interests and shamefully supported George W. Bush's rush to war. And moderate Democrats are right to complain that too many Democrats are out of step with middle-class values, too removed from people of faith, too enthralled with intellectual and cultural elites.
But the problem with the Democrats, Carville and Begala argue, is not ideological. It's anatomical. They lack a backbone. Take It Back is a spinal transplant for Democrats and an audacious battle plan for victory.

Media Buzz
Countdown with Keith Olbermann - November 16, 2006
Today - November 2, 2006
Imus in the Morning - September 28, 2006
The O'Reilly Factor - September 27, 2006
Today - September 26, 2006
Jimmy Kimmel Live - September 7, 2006
Imus in the Morning - March 24, 2006
Tonight Show with Jay Leno - March 23, 2006
Good Morning America - February 16, 2006
The O'Reilly Factor - February 16, 2006
Colbert Report - January 26, 2006
Conan O'Brien - January 25, 2006
The O'Reilly Factor - January 24, 2006
Tonight Show with Jay Leno - January 23, 2006
Meet the Press - January 22, 2006
Today - January 11, 2006
Imus in the Morning - January 10, 2006

Comments
No comments posted.

Registered users may leave comments.
Log in or register now!