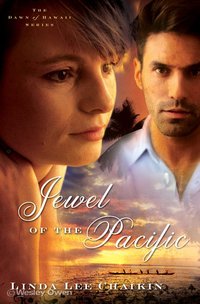 Purchase
Moody Publishers
April 2013
On Sale: April 1, 2013
352 pages
ISBN: 0802437516
EAN: 9780802437518
Kindle: B00B7TGYPI
Paperback / e-Book
Add to Wish List

Amid the looming political crisis in Hawaii, Rafe Easton faces one of the worst crisis he's ever known. As a man of determination, independence, and masculine pursuits he suddenly becomes blind and his world ends. Pride causes him to abandon the upcoming marriage to Eden Derington and seek medical care in San Francisco. Through an associate he sends a letter to Eden telling her he left Honolulu to find himself again. When he never hears from her again he settles into the belief that he was right all along; a helpless man is a bag of bricks around a woman's neck.
Parker Judson's niece, the beautiful Bernice "Bunny" Judson, sees her opportunity and makes a play for the one man she's always wanted, Rafe.
Hurt and angry that Rafe has walked out of her life, Eden knows about his eyesight loss but she never received the letter Rafe sent to her. In heartbreak she goes with her father Dr. Jerome to Molokai to set up the clinic for lepers. Eden hopes to pick up the shattered pieces of broken plans and begin life anew. At last she is emotionally free to close the door on the leper colony and allow her mother to rest in peace in the presence of the Lord she had trusted.
Eden discovers that during the year she was on Kalawao, not only did Rafe return to Honolulu, but he has rebuilt Hanalei coffee plantation on the Big Island, and is again running for a seat in the legislature. He is hard at work with the other anti-Royalists to depose the Hawaiian queen and to bring the Hawaiian Islands under the Stars and Stripes.
Rafe's blindness was only a temporary condition. Although she's delighted for Rafe, she discovers that he has no intention of reaching out to her again. While her lost love affair with Rafe is as painful to her as ever, he is cool and distant, avoiding her to the point of arrogance. Nor has he been romantically idle. Cousin Candace sadly informs Eden that Rafe is spending most of his time wtih Bernice Judson, and that her husband Keno has heard Parker Judson saying he is hoping for Rafe's future marriage to his niece. Eden is both hurt and angry.
The clouds of political disaster have arrived overhead. Eden must decide which side of the upcoming Revolution she is going to support. Plus she must discover the painful lessons God wants her to learn, and if she will ever find healing for her bruised heart with or without a life that includes Rafe.
Comments
No comments posted.

Registered users may leave comments.
Log in or register now!