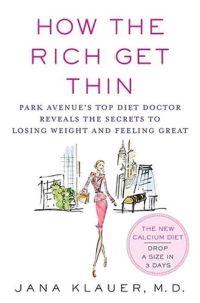 Purchase
Park Avenue's Top Diet Doctor Reveals the Secrets to Losing Weight and Feeling Great
St. Martin's Press
December 2005
288 pages
ISBN: 0312340389
Hardcover
$22.95
Add to Wish List

You've seen them in the movies, on television, in magazines...You know the ones: Hermes handbag on the arm. Hair just so. Sleek and groomed as greyhounds. The Park Avenue Weight-Loss Plan, from one of New York's premier weight control doctors, reveals the secrets of how the successful and rich get and stay thin. With a two-week quick-start program that the dieter later builds on to keep losing weight and eventually to maintain their shape, The Park Avenue Weight-Loss Plan includes:
* Meal plans high in protein, omega-3 fats and complex carbohydrates
* Calcium, through food rather than supplements, in the maximum amount the body can absorb at a time
* A morning exercise program as an adjunct to eating
* The Stop! Watch! method to curb food cravings: any craving can be stopped within just 15 minutes
* How to eat at fabulous restaurants, for business or pleasure, and keep losing weight.
The Park Avenue Weight-Loss Plan features recipes-including the fabulous low-cal dessert le Socialite, tricks of the nutritionist's trade, and simple strategies to keep dieters on track and focused on their goals. Dr. Klauer has made a study of what makes the rich stick with weight loss. She discloses "the Park Avenue mindset," which includes secret weapons such as how to order at a business dinner, what food to carry on a private plane flight, and how the rich reward themselves while dieting.
From The Park Avenue Weight-Loss Plan:
The Park Avenue Weight-Loss Plan teaches you how to be healthy, vibrant, sexy and slim in an efficient format that is based on science. If you are looking for a quick-fix or magic bullet, you won+t find it here.
The plan is for life. Follow it and you will look and feel like you just won a million bucks! Non-negotiables:
1. Daily exercise. You must schedule it into your routine.
2. Protein in a high quality form is vital for the functioning of your body. Include protein at every meal.
3. Calcium is essential for increasing metabolism levels.
4. Food cravings can, and must, be managed.
5. Eliminate all processed food.

Media Buzz
Martha Stewart - January 11, 2007
Good Morning America - January 4, 2006

Comments
No comments posted.

Registered users may leave comments.
Log in or register now!