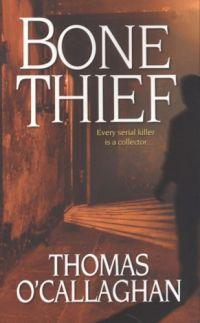 Purchase
Every serial killer is a collector...
Pinnacle
January 2006
Featuring: John W. Driscoll
377 pages
ISBN: 0786018119
Paperback
$6.99
Add to Wish List

A housewife snatched in broad daylight. A tattooed drifter displayed under a boardwalk. A wealthy, high-society heiress left in a city dump. A busy, young mother on her last errand.
The women seem to have no connection except one: they have all been the victims of the Bone Thief, a twisted madman who slays his victims and steals their bones as gruesome trophies.
Since tragedy struck his own family, Lieutenant John W. Driscoll has been a man on the edge of both sanity and life. But now, with New York City in the grip of panic, Driscoll is needed more than ever. With time running out and the stakes rising every hour, he´┐Żll have to guide a troubled team while battling his own demons in order to hunt and catch the most cunning predator he´┐Żs ever faced´┐Ża serial killer who is the very soul of evil and whose most shocking revelation is yet to come...
Comments
No comments posted.

Registered users may leave comments.
Log in or register now!