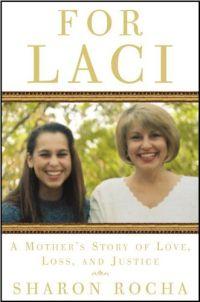 Purchase
A Mother's Story of Love, Loss, and Justice
Crown
December 2005
352 pages
ISBN: 0307338282
Hardcover
$25.95
Add to Wish List

Every mother's worst fear became Sharon Rocha's reality. On Christmas Eve 2002, she received a phone call from her son-in-law saying that her daughter, Laci, was missing. In the hours, days, and eventually months that followed, Sharon struggled to avoid accepting what no parent should ever have to face: the certain knowledge that her child is never coming home. In For Laci, for the first time, Sharon tells us what it was like to live through the long nightmare and opens our hearts to the Laci she loved: the kindergarten artist, the tenth grader who cried on her mother's lap after her first breakup, the young woman who planned her wedding with joyful enthusiasm.

At the time of her disappearance, Laci was twenty-seven years old, seven and a half months pregnant, and a vibrant presence in the lives of everyone who knew her. How, Sharon wondered, could Laci so suddenly become a missing person? That very word missing seemed premature, somehow suspect. From that first moment, Sharon knew with a mother's instinct that something--beyond the alarming news itself--was terribly wrong. As the world now knows, she was right. Nearly two years after that night, a jury in the State of California found Scott Peterson guilty of the murder of his wife and their unborn son, Conner.

Until now, the world has not had an answer to a question that held countless millions in its grip. Through all the relentless media coverage of this unspeakable crime and subsequent trial, we all wondered: What would it be like to experience such a horror involving your own child and grandchild? What, indeed, was Sharon Rocha feeling?

In For Laci, Sharon tells us. In so doing, she goes far beyond previous accounts to tell this story with unprecedented immediacy and intimacy. Here are her private conversations with the murderer, his mistress, Amber Frey, and the lead police investigators as they meticulously build their case, as well as surprising and heartbreaking revelations about the trial and its aftermath. Perhaps what is most affecting is the sense we get of the person Laci Peterson was, and what it feels like to lose--as Sharon put it in her Victim's Impact Statement--"her beautiful smile, her contagious giggle, her happy heart, her love of life, her great expectations of becoming a mother, her generous soul, her knowing how much I love her, and my knowing how much she loves me."

Inspired by a desire to help others who find themselves similarly afflicted, to detail how the love of family, friends, and community helped her survive her ordeal, and to convey how much the world lost when her wonderful daughter was taken, Sharon Rocha has written a powerful and deeply moving memoir of loss and the love that always endures.


Media Buzz
Katie - March 24, 2014
Larry King Live - January 5, 2007
Larry King Live - December 12, 2006
Larry King Live - March 29, 2006
Larry King Live - January 22, 2006
Inside Edition - January 12, 2006
Larry King Live - January 9, 2006
The View - January 9, 2006
Today - January 9, 2006
Dateline - January 8, 2006
Today - January 6, 2006
Inside Edition - January 4, 2006

Comments
No comments posted.

Registered users may leave comments.
Log in or register now!