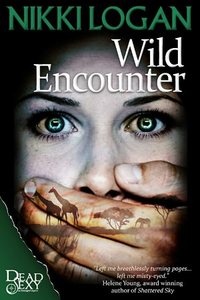 Purchase
Entangled Dead Sexy
September 2012
On Sale: September 9, 2012
Featuring: Simon deVries; Clare Delaney
ISBN: 0015457109
EAN: 2940015457100
Kindle: B0098E6T7M
e-Book
$2.99
Add to Wish List

A wildlife release mission in Africa turns deadly when the convoy is hijacked by smugglers, and veterinarian Clare Delaney is taken hostage. Terrified for her life and her animals, the intrepid Clare establishes a rapport with the man she believes is the criminals' leader, and reluctantly finds herself under his protection...and falling hard for the enigmatic man.
Alpha-to-the-max Simon deVries sees right through his sexy captive's attempt to seduce her way to freedom. So when their simmering attraction flares into true passion, it takes them both by surprise. Now he's torn between completing his secret mission and letting her escape without telling her his true identity. He knows if he lets her go, he will be risking his career, his life...and his heart.
Videos
Comments
42 comments posted.
Re: Wild Encounter

i really wanna read this!
(Debbi Shaw 12:17pm October 7, 2012)
I would do anything and everything necessary to assure my survival as well as my children's safety. Both no brainers.
Good luck and happy writing!
(Tracie Travis 12:50pm October 7, 2012)
I hope I'm never tested, but I'm a fighter & survivor.
(Mary Preston 1:23am October 7, 2012)
I totally agree with Tracie and Mary. I do not want to be put in a place were I have to protect myself and family from harm ... I would prefer all my danger come from great fiction. However, if push comes to shove I will do anything up to and including self defense to protect my family.
(Shelby S 1:39am October 7, 2012)
Oh geez. That's tough. I could never eat bugs. I would get sick and I think
that'd make it worse. Hopefully nothing involving blood. The sick thing
again. I guess I woukd never know until I was put in the situation. Now I
really, really want to read this!!!!
(Vicki Hancock 2:03am October 7, 2012)
I would do something, anything to get out of the situation. I could never go down waiting for the end. I might die trying but at least I would have a chance to servive. I am glad that I never had to think about this before. This really sounds like a great book.
(Kathleen Yohanna 2:07am October 7, 2012)
Sounds like a very involved situation. Actually between a rock and a hard place. A vet in Africa, I you do large animals, but "wild" and large animals. This is a good read, to find out what happens.
(Suzanne Bischoff 3:30am October 7, 2012)
I watch a lot of crime and forensics shows, and lot of survival type shows, and I'd love to think they help prepare me for something like this (even if only a little). Realistically, you only know once the challenge happens, but I've always been good in a crisis, so I'd like to think I'd be creative about surviving and do whatever it took to make it work.
(Donna Holmberg 4:49am October 7, 2012)
I've been told that in a kidnap situation, you should try to get away as early as possible, because the longer the captor has you, the more they will be making sure you cannot escape.
Also if you do a few physical things, like self-defence or even chopping firewood, you will be that bit better prepared to punch someone or get hurt if that is the only way to get out of a tight place.
(Clare O'Beara 4:57am October 7, 2012)
I'd like to think I'd be genius & inventive & find my way out, but I am such a
prissy wimp sometimes!! 😏
(Penny Mettert 5:15am October 7, 2012)
I hope that I would fight with all of the physical and mental strength that I have.
Blessings,
Marjorie
(Marjorie Carmony 5:46am October 7, 2012)
Oh my...I'd love to read this book!!
(Bonnie Capuano 6:27am October 7, 2012)
Interesting topic. I would do anything necesary to survive as I think most people would.
(Pam Howell 7:52am October 7, 2012)
WOW! great idea for a story. I too believe I would try anything to survive my capture.
(Laurie Gommermann 8:50am October 7, 2012)
I would do anything to protect myself and my pets if I were to ever find myself in such a situation! Your book sounds wonderful, thanks for the chance to win!
(Christine Mead 9:40am October 7, 2012)
I'd do just about everything short of harming an innocent person.
The story sounds thrilling!
(Monica Vargo 10:46am October 7, 2012)
I don't think you know what you would do until you are actually put into the situation.
(Sue Farrell 11:28am October 7, 2012)
I would do every thing I could think of except hurt someone else or committ a crime.
(Kathleen Bianchi 11:38am October 7, 2012)
Fight and survive.
(Sharon Berger 12:04pm October 7, 2012)
I hope I'm never in a situation where it's a life saving decision. I think I would make a huge effort to save myself, but none of us know how we will react until we are in a life or death situation.
(Anna Speed 12:09pm October 7, 2012)
I probably would do anything to survive and to protect the wild dogs.
(Pamela Fox 1:08pm October 7, 2012)
I don't know what I'd do
(Sandy Giden 1:14pm October 7, 2012)
I would hope I would not become a deer in the headlights kinda girl... try to figure something out.
(Colleen Conklin 1:28pm October 7, 2012)
This book sounds really good. Hope I win
(Susie Kerner 1:31pm October 7, 2012)
I would do anything to survive. My self-preservation come first even though I hate to hurt people. But the bad guys wouldn't hesitate to kill. In this situation of life and death, it would be all or nothing for me to survive. I intend to make it out.
(Kai Wong 2:49pm October 7, 2012)
I want to read this
(Cynthia St. Germain 3:02pm October 7, 2012)
thanks for the great post and congrats on the release! it's
sounds intriguing!
(Erin Fender 3:19pm October 7, 2012)
This sounds like it would be an awesome read. I would hope that I would fight and find a way out. I would be useless for an hour or two until my nerves and emotions calmed down. I will be adding this to my TBR shelf. Thank you for the chance to win.
(Emily Bowes 4:20pm October 7, 2012)
Well, as a former Girl Scout, I have honed a few survivor skilss, but mainly I would find shelter, food and water.
This sounds like an exciting read.
(Alyson Widen 4:21pm October 7, 2012)
I would do almost anything.
(Shirley Nienkark 4:32pm October 7, 2012)
I would try to outwit the kidnappers for my survival and a plan to get away, even though it would be very hard. Where there's a will, there's a way; so I wouldn't give up. Your book sounds intriguing.
(Linda Luinstra 4:36pm October 7, 2012)
I would do or use whatever I could to get free including killing anyone who tried to kill me. If anyone in my family was kidnapped I would fight just as hard to free them. Can't wait to read your book.
(Brenda Hill 4:45pm October 7, 2012)
I would figure out how many people are holding me captive. If it's one person, then it's easier to come up with a plan. Then I would have to figure out where the dogs are being held in proximity to me, and how I would be able to release them, once I got free. If there is a window that I have access to, I would check to see if there is anything that I could use as a weapon once I got out. I would also check my surroundings to see if there was something on the sharp side I could rub against to sever my bindings. I wouldn't hesitate to feign illness to get one of my captors in the room, so I could set the ball in motion, when I was ready with my plan. I would have to be ready both mentally and physically, since no mistakes could be made to save the dogs, along with myself. Your book sounds like a real page-turner, and I'm on the edge of my seat here, wondering how it's going to turn out. It takes a special type of Author to write the sort of stories that you do. The artist came up with an amazing cover!! Congratulations!!
(Peggy Roberson 5:08pm October 7, 2012)
IF I WAS IN A SITUATION THAT I WAS KIDNAPPED I WOULD STAY
CALM AND LOOK AT WHERE I WAS AT AND THINK OF WAYS TO ESCAPE
AND FIND OR MAKE A WEAPON TO DEFEND MYSELF WITH. I WOULD
FIGHT AS HARD AS I CAN TO SURVIVE AND ESCAPE. I WOULD
OUTSMART, FIGHT, DO WHAT I HAVE TO DO TO SURVIVE AND ESCAPE
FROM MY KIDNAPPER. I CAN'T WAIT TO READ THIS BOOK SOUNDS
REALLY INTERESTING.
(Shelly Caggiano 5:10pm October 7, 2012)
Really can't say but I know when I was carjacked, I ran like ...
(P Noda 5:18pm October 7, 2012)
i would do all i can but you never know until you're in that situation
(Kathy Weber 8:05pm October 7, 2012)
Turn up the adrenaline to the max! That's why they call it "survival of the fittest."
(Janice Milliken 8:13pm October 7, 2012)
Interesting idea for a story - sort of Stockholm Syndrome-ish.
I have no idea what I'd do in that situation...I guess trying
for form some sort of bond with your captor is a good idea if
you have no other means of escape. Thanks for the giveaway!
(Laura Garofalo 9:08pm October 7, 2012)
I am no quitter and I love life, so I would do whatever would insure my survival and/or my goal.....knowing that there is never just one path to success. More than being fit, I have an agile, honed brain and a sturdy constitution. When times are tough or uncertain, my body temperature lowers and my brain kicks in--no hysteria or shock for me--to resolve issues quickly.
(Carla Schuller 9:29pm October 7, 2012)
I hope I'd fight for my survival and not give up.
(Sheila True 9:41pm October 7, 2012)
this book sounds very interesting and different from what everone else is doing....
(Kimberly Hoefs 9:45pm October 7, 2012)
I'm a fighter. Whether with my brain, body or both I would do
whatever necessary to survive. They may break my body and
distort my brain but, they would not touch my soul.
(Julie Oest 12:37pm October 8, 2012)
Registered users may leave comments.
Log in or register now!