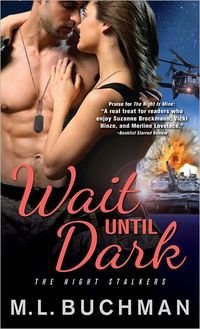 Purchase

A must read for fans of military romantic suspense.
The Night Stalkers #3
Sourcebooks
February 2013
On Sale: February 1, 2013
Featuring: John Wallace; Connie Davis
384 pages
ISBN: 140225816X
EAN: 9781402258169
Kindle: B009RXJ2HS
Paperback / e-Book
$6.99
Add to Wish List

Name: Big John Wallace
Rank: Staff Sergeant, Chief Mechanic and Gunner
Mission: To serve and protect his crew and country.
Name: Connie Davis
Rank: Sergeant, Flight Engineer, Mechanical Wizard
Mission: To be the best...and survive.
Two Crack Mechanics, One Impossible Mission
Being in The Night Stalkers is Connie Davis's way of facing her demons head-on, but mountain-strong John Wallace is a threat on all fronts. Their passion is explosive, but their conflicts are insurmountable. When duty calls them to a mission no one else could survive, they'll fly into the night together—ready or not.
Comments
46 comments posted.
Re: Wait Until Dark

Home is where the heart is it doesn't matter where you are or what you do
but how you love and live and family is home
(Ava Curtis 11:00am February 28)
thanks for this fascinating post and the background about your
novel.
(Sharon Berger 11:03am February 28)
Sounds wonderful... Thanks for sharing about your book with us... very interesting background info.
(Colleen Conklin 11:48am February 28)
Sounds like an interesting book that i'd love to read.
(Mary Hay 11:49am February 28)
Great background info. Have a great day!
(Vicki Hancock 11:49am February 28)
I like that they have conflicting definitions of home - I can
see how that unrecognized difference would create a lot of
tension. Thanks for sharing!
(Rebecca Whitehead-Schwarz 12:26pm February 28)
Great background of your books. Sounds like a great read. Nothing wrong with a couple of strong people being strong together.
(Annetta Sweetko 12:27pm February 28)
Sounds like an exciting read. Had to laugh at the conflicting
definitions of home for hero and heroine. My hubby is a
tumbleweed, I can go where the wind blows but much prefer
setting roots.
(G. Bisbjerg 12:31pm February 28)
WOW! You have quite the exciting background! I can't imagine all the places and things you have scene. I bet they come in handy for your writing!
(Maria Smith 12:49pm February 28)
One of the fascinating things about writers and their books
is how their life experiences come into play within the
pages. I developed a love of biographies and history when I
finally got into reading as a kid. Romance brings the
characters life history to life and along the journey I
learn more about human character and how different people
deal with it. Thanks for the post and I look forward to
adding you to my author list. I don't usually trust a male
to write romance BUT your books look fascinating :-)
(Lenna Hendershott 12:58pm February 28)
Interesting blog. Thanks for sharing some things about yourself.
(Kathleen Yohanna 1:26pm February 28)
My favorite definition of home - "A house is made of walls and beams, A home is made of love and dreams"
(Carla Carlson 2:26pm February 28)
Interesting blog post.
(Pam Howell 2:32pm February 28)
I know that I'm going to enjoy your book, because I can relate to the characters, due to reasons in my personal life. I only wish that I had the book here with me now, so that I could read it while we're in the middle of a bit of a blizzard, with a little more snow on the way for this coming weekend!! Those are the times that you wish you were hunkered down with a good book, a cup of hot chocolate, and your kittens, while your Husband is nearby, watching his movies on his DVD player!! I prefer something to melt the snow!! :-)
(Peggy Roberson 3:30pm February 28)
I picked up The Night is Mine on a complete whim on its release day. (I will randomly pick up a "new to me" author that happens to catch my eye.) I am so thankful to have had the whim to do so on that day as the Night Stalker series immediately became one of my favorites and was added to the "pre-order/release day" list! I have to admit this was not my typical genre in romance (not that I really have one, I just tended to shy away from the more descript military romance titles). Wow was I missing out!! Thank you for opening my eyes to all I was passing over! I just wanted to take this opportunity to acknowledge your talent, to thank you for opening up this genre to me and above all else, thank you for the hours of enjoyment with these great stories and characters! Please keep them coming! :0)
(Kirsten Christensen 4:16pm February 28)
ob looks good
(Kent Cook 4:23pm February 28)
can't wait to read this!!
(Michelle Schafer 5:23pm February 28)
Enjoyed reading all your background info that you shared. Your characters and storyline sound great for your latest book #3 in your Nightstalker series. I think this would be a book I wouldn't want to put down!
(Rich Cook 6:15pm February 28)
Sounds like a really great read :) Thank you for the interesting blog post.
(Joanne McGillivray 6:25pm February 28)
Sounds like a really good read!!
Thanks for the chance to win!
(Natasha Donohoo 6:31pm February 28)
Wow, Wait Until Dark sounds like an exciting and fantastic
book to read and win too. Thank You for the great contest.
Thanks, Cecilia CECE
(Cecilia Dunbar Hernandez 7:49pm February 28)
I never really thought of all the different layers to a book!
How interesting!
(Heather Machel 7:53pm February 28)
looks like a great book can't wait to read!! thanks
(Jennifer Beck 8:05pm February 28)
Wait Until Dark sounds like a great read!
(Elizabeth Hyatt 9:05pm February 28)
I like reading about your escape and the layers in your writing. It makes sense to Have the characters move around a place or setting and to have a cuase or point that the MC (Main Character) wants to make or the rest of the crew.
(Alyson Widen 9:43pm February 28)
I am a Proud navy mom!
(Pamela Dolen 11:13pm February 28)
Great interview and excerpt. Wait Until Dark sounds wonderful to read.
(Kai Wong 11:19pm February 28)
I like the covers of the books. I actually have to admit I don't have many books from
male authors. I promise its not deliberate. -_- Would love to read, "Wait Until Dark" :)
(Xoun J. Phetchamphone 11:20pm February 28)
Sounds like a great book. Would love to win it. Thanks
(Linda Hall 12:29pm March 1)
Sounds like an interesting book. If I set it down at my parents my dad might pick it up too.
(Laura Gullickson 1:12am March 1)
Can't wait to read your books for the first time, they sound great
(Carletta Culp 5:53am March 1)
sounds like an interesting read.
(Lisa Fitzgibbons 6:04am March 1)
I love seeing an author's process. Thank you for sharing. :-D
(Karin Anderson 6:36am March 1)
Wonderful to bring so much experience to your writing. You must have really gone into the different aspects in depth to create such a multi-layered and detailed story.
(Clare O'Beara 7:00am March 1)
makes me want to read .. thanks for sharing !!
(Rosemary Foley 8:27am March 1)
Sounds like a very interesting series
(Danny Brüggemann 10:05am March 1)
Sounds like a good book. Can't wait!
(Ashley C 11:05am March 1)
This sounds like a fantastic book. Best of luck with it! And thanks for the chance to win.
(Nancy Reynolds 12:06pm March 1)
I like the multi-layered story and character development - the
authors very varied background probably adds a lot to the
stories.
(Diane Sallans 12:21pm March 1)
Can't wait to read it; sounds good.
(Nancy Wolfe 12:28pm March 1)
Boy this sounds like a book I'd love to read!!
(Bonnie Capuano 1:10pm March 1)
Sounds like a great read... I love Military Based Romances and
this sounds like a great series adding it to my TBR list.
(Jeannie Platt 3:26pm March 1)
This sounds like a fantastic book. I haven't read many military romance books and I'm sure they're gaining popularity, because so many can relate knowing someone active in the armed forces serving our nation. I'd love to read your whole Night Stalkers series, and the covers are more than enticing! Keep up the great writing!
(Linda Luinstra 3:50pm March 1)
HAVE NOT READ YOUR BOOKS BUT WOULD LIKE TO!THANKS FOR GIVEAWAY.
(Shelley Summers 6:49pm March 1)
I was in a Writer's Group where one guy wrote horror fiction.
On page two after listing various details about the weapons,
everybody except the main character and his gang were mowed
down. We told him to do a little bit more character
development before the killing.
(Alyson Widen 4:43pm March 24)
Aren't we all a little bit of a fool on April Fools...I know I am, and so are most all of my friends. (it's not always limited to April Fools either) haha
(Sandie White 8:28am March 31)
Registered users may leave comments.
Log in or register now!