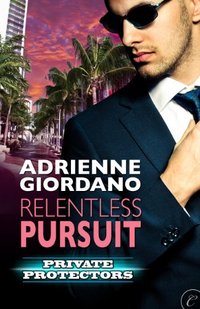 Purchase



May just be the best one yet.
Private Protectors #4
Carina Press
August 2012
On Sale: August 13, 2012
ISBN: 1426894201
EAN: 9781426894206
Kindle: B0088NH1YY
e-Book
$2.99
Add to Wish List

You call this a mission?
Yeah, ex-Army Ranger and Taylor Securities operative Billy Tripp screwed up. So instead of being assigned to a dangerous international mission, he's sent to babysit a pricey necklace at a trendy South Beach hotel. The only bright side to the assignment is working with the manager, smoking-hot hotel heiress Kristen Dante.
Kristen's worked hard to build her father's Miami hotel into a jet-set destination. She's confident in business but not so much with men. What could a sexy guy like Billy want with her when he could have someone like her beautiful, party-girl sister?
There's a reason Billy's known as Mr. Relentless. He doesn't give up. Not on a job, or on the woman he wants. So when three luxury cars go missing from the hotel's lot, Billy sets out to find the thief. Suddenly, he has a case with the risks he thrives on. But when his investigation leads to Kristen being threatened, the real danger is losing his heart.
Comments
47 comments posted.
I love the excerpt. I definitely want to read to read this book. I find
Bullying very interesting character.
(Kai Wong 12:35pm August 20)
Puck ("The Sisters Grimm" By, Michael Buckley), Cimorene (Enchanted Forest Chronicles By, Patricia C. Wrede), & Karvonen ("The Raven Ring" By, Patricia C. Wrede) are a few of my favorite character but definitely not all of them.
(Chelsea Knestrick 12:48pm August 20)
I also forgot to mention Daniel (A Night Like This (Smythe-Smith Quartet #2) By, Julia Quinn) I read this one a bit more recently but I still have many more characters that I love.
(Chelsea Knestrick 12:51pm August 20)
Looking forward to this book. Stephanie Plum is one of my favorite
charcters!
(Nancy Gallagher 1:28am August 20)
Gin from Jennifer Estep is one of my faves
(Darci Paice-Bailey 5:01am August 20)
I couldn't come up with the name of a high energy character. But, I sure do like a man that can make a woman go insane. This sounds like a good book to put on my to read list.
(Kathleen Yohanna 5:56am August 20)
Wow, what an excerpt - I love the characters already - Darci - Gin from the Elemental Assassin series is also one of my favorite characters, but I always love meeting new favorites!
(Felicia Ciaudelli 7:05am August 20)
That is one seriously hot guy on the cover!!!
(Debby Creager 7:30am August 20)
This sounds like a good book that I'd like to read!!! Thanks
(Bonnie Capuano 7:46am August 20)
Blayne Thorpe in Beast Behaving Badly, the woman never quits.
(Maria Munoz 8:48am August 20)
The book sounds great - and I would LOVE to win a copy. Best of luck with it!!!
(Nancy Reynolds 9:14am August 20)
Really like the story line of this book. A new author to me!
(Shari Santella 9:28am August 20)
I love the high energy of Christian Grey in Fifty Shades! He is the only one that comes to mind right now. Thanks for the chance to win!
(Angie Lilly 9:38am August 20)
Good morning, all. I always love visiting Fresh Fiction and
chatting with the awesome readers here. You guys rock! I'm
taking note of all these favorite characters so I can check
them out myself. Some of them I've read, but some are new to
me and that's always fun.

Kai, thank you. I'm glad you liked the excerpt.

Hi, Chelsea. You have an awesome list here. I haven't read
some of them and will have to do some downloading!

Kathleen, if you like a man that makes a girl insane, Billy
is the guy for you! He drives Kristen crazy most of the
time, but he also makes her laugh and she loves that about
him.

Thank you, Felicia. I had a lot of fun with Billy and
Kristen. :)

Debby, sometimes I think my cover artist climbs into my head
when he finds the photos for the cover models. The guy on
the cover of A Just Deception freaks me out because he is
EXACTLY what I picture in my head.

Nancy, I'm a big Stephanie Plum fan myself. I'll take
Morelli any day! LOL.

Darci, I haven't read Jennifer Estep, so I'll check her out.

Maria, I'll have to check out Blayne Thorpe. I can't resist
a character who never quits!

Thank you, Nancy. I appreciate the well wishes.

Hi, Shari. Thanks for stopping to say hi.
(Adrienne Giordano 9:42am August 20)
Adrienne's books are so funny! Billy is a hoot and I can't wait to read his book!
(Rebecca Whitehead-Schwarz 9:53am August 20)
This a fantastic book! I read it in one day. I highly recommend this series.
High energy characters are my favorites. Here are some of my faves...Wraith
from Larissa Ione Demonica Series...Rhage & Lassiter from Black Dagger
Brotherhood Series by J. R. Ward...Nick from Dark Hunter Series by Sherrilyn
Kenyon... Nixie from Mary Hughes Biting series...Vic...from Adrienne's
Protector Series.... Crusty from Catherine Mann's Wingman Series....Sissie Mae
Smith from Shelly Laurenston's Pride series.
(Michel Reinhard 10:00am August 20)
Great excerpt!
Billy sounds like riot.
I've gotta get the book 8D

Mindy :)
Birdsooong@aol.com
(Mina Gerhart 10:33am August 20)
This sounds like a fantastic book! I can't wait to read it.
(Melanie Pashon 10:41am August 20)
um---buffy the vampire slayer???
I have brain slog today :)
(Pamela Faye Howell 11:21am August 20)
Love the excerpt! Billy sounds like a great hero - can't think
of a high-energy character like him, but Daemon from Obsidian
springs to mind since he is basically MADE of energy! Thanks
for the giveaway!
(Laura Garofalo 11:52am August 20)
Hi, Angie. I have to admit, I have not read Fifty Shades
yet. I'll get to it though! Thanks for stopping in.

Rebecca, thank you! I'm glad you enjoy "my guys". I do have
a ton of fun figuring out how to annoy them. :)

Hi, Michel. So now I know that Vic is your favorite! I
should have known when you wanted him to drive a Gremlin. :)
I haven't read some of the books on your list, but I'll
definitely check them out. The Catherine Mann series sounds
like it would be right up my alley.

Thank you, Mindy. Billy was probably the most challenging
character for me so far because he has such a silly side to
him, but he can also be intense. I had to figure out a way
to balance the two.

Thank you, Melanie. I hope you enjoy it!

Pam, yes, Buffy! What a fantastic character.

Hi, Laura. Now you've got me wondering about Daemon. I'll be
adding that one to my TBR pile.
(Adrienne Giordano 12:19pm August 20)
I'm glad Billy has his own book. He's likeable. In fact, I had a smile on my face by the time I finished the excerpt.
(Anna Speed 1:11pm August 20)
This sounds great! You can get tired of the big, strong, silent-types and want someone who just puts it out there.
(Lisa Elwood 1:31pm August 20)
Sounds wonderful... a high energy character... gee I know I have read some, but it is not coming to me... what about Eve Dallas from JD Robb's books... she is always on the go and Roarke helps her slow down and take a breath sometimes.
(Colleen Conklin 1:31pm August 20)
Sounds like a great fun read! I want more already!
(Nancy Ludvik 1:45pm August 20)
You Your book sounds really good. talk about Man Law but I would surmise that
Woman Law rules!
(Joy Isley 2:32pm August 20)
Thank you, Anna. He's one of those characters who is fun to
write because he just says what's on his mind. He gets in
trouble a lot! LOL.

Hi, Lisa. Yeah, Billy isn't the silent type. He'd probably
like to be, but he can't help himself. :)

Hi, Colleen. Yes, Eve and Roarke are awesome characters.
Love them!

Thanks, Nancy. There's an excerpt from the beginning of the
book on my website (www.adriennegiordano.com). Thank you for
popping in!
(Adrienne Giordano 2:36pm August 20)
A high-energy male character would be Mike Chapman, an NYPD detective in Linda Fairstein's books about Assistant DA Alexandra Cooper; it's pretty much a double act. I'm trying to think of a female one and I can't this minute. I don't feel that its a very female trait.
(Clare O'Beara 3:01pm August 20)
MY FAVORITE HIGH-ENERGY FEMALE CHARACTER WOULD BE FAYTHE
SANDERS IN THE WARECATS BOOKS BY RACHEL VINCENT. SHE'S A
FIGHTER AND FIGHTS FOR WHAT SHE WANTS AND GETS IT.
(Shelly Caggiano 3:34pm August 20)
Thanks Nancy, I love your books. Couldn't tell you any one character that I love because they all are good,
(Cynthia St. Germain 3:35pm August 20)
Great excerpt!
(Cheryl McEwen 4:10pm August 20)
Blast! Someone took my pick for Eve Dallas!!

As to a male charactor that is as high energy as Billy seems to be, just from that excerpt, I really don't think there is one! He sounds totally off the wall!!

Later,

Lynn
(Lynn Rettig 4:12pm August 20)
Hi, Clare. Another great suggestion! Love LInda Fairstein's
books.

Shelly, The Rachel Vincent books sound terrific. Another new
read for me. :)

Thanks for stopping in, ladies!
(Adrienne Giordano 4:12pm August 20)
I also really liked Beau Russell (Beauty Dates the Beast By, Jessica Sims), Violet & Richard (Violet Eyes By, Debbie Viguié), & Marsfield & Preston (Masquerade Trilogy By, Laurie Brown). I read a lot & have discovered many characters that I love.
(Chelsea Knestrick 4:14pm August 20)
I can't wait to read this book. Billy sounds like so much fun and trouble at the same time. Thanks!
(Teresa Sullivan 5:24pm August 20)
I loved the excerpt, I think Relentless sounds fantastic! :) Good luck to everyone!
(Krissy Malott 7:12pm August 20)
i cannot wait to read this book!
(Debbi Shaw 7:24pm August 20)
I love the story so far can't wait to read the rest! Thank you for the chance to win.
(Jane Thompson 7:59pm August 20)
This sounds like a very good book, I'd love to read it.
(Wilma Frana 8:13pm August 20)
For the past 5 days I've been dog-sitting at my house, and trying to keep the dog away from my 2 loving kittens who don't understand why this dog hates them so much!! This has left me totally brain-dead!! lol To sit here and come up with a character outside of someone like Ranger from Janet Evanovich's books leaves me in the lurch!! James Bond would be a bit easy. I just can't think of one, since my choice of books lately have not been of the Romance variety. I loved the excerpt of your book, think the man on the cover is quite sexy, and would love to read a copy of your book!! Congratulations on your latest conquest, and I'm sure it will do quite well. I enjoyed your posting as well today. It was the highlight of an exhausting day!!
(Peggy Roberson 9:11pm August 20)
Sounds like a great read. Really enjoyed reading your blog.
(Sheila True 10:29pm August 20)
Fantastic excerpt! I don't think I've encountered a high
energy character like Billy before.
(Jannielu de Paz 10:41pm August 20)
Book sounds great. Stephanie Plum is one of my favorite charaters.she always makes me laugh. Thanks for giving me a chance to win your book.
(Linda Hall 10:44pm August 20)
I had to smile reading this great excerpt as the bits of sassy humor are great!
Looking forward to reading "Relentless Pursuit!"
(Connie Fischer 8:12am August 21)
Hi, Chelsea, I haven't read those titles, so I'll add them
to my list. Such a fantastic list I've got going today!

Hi, Theresa. He is trouble! But he has a really sweet side
too. :)

Peggy, you're a good soul for dog sitting. My Wheatie would
have major issues with another dog in his space. LOL. He's
cute and a total love bug but we call him the terrorist for
a reason! Thanks for stopping in!

Krissy, Debby, Jane and Wilma, thank you. I'm glad you
enjoyed the excerpt.

Thanks, Sheila!

Hi, Jan. Billy was a bit of a departure for me. The male
characters in my books are typically alpha males. Billy is
definitely an alpha, but he's a silly alpha. :)

Linda, I think Lula is a terrific secondary character. She's
great for comic relief!

Thank you, Connie! I'm glad you enjoyed it.
(Adrienne Giordano 8:45am August 21)
Thanks to Fresh Fiction for having me here. This is always one
of my favorite blogs to visit. The readers here rock!

Happy reading everyone!
(Adrienne Giordano 8:46am August 21)
I really liked the excerpt and all your characters are high energy, couldn't pick just one, really would like to read this book! Billy sounds like a a high energy guy...
(Carole Fiore 3:54pm August 21)
Registered users may leave comments.
Log in or register now!