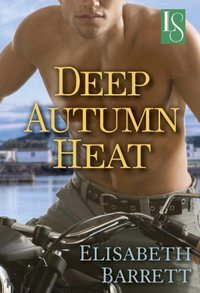 Purchase
Loveswept
July 2012
On Sale: July 9, 2012
ISBN: 0345534336
EAN: 9780345534330
Kindle: B0062OCP74
e-Book
$2.99
Add to Wish List

In this sexy new Star Harbor romance series, featuring the too-tempting Grayson brothers, a celebrity chef turns up the heat for a local café owner—and things start to sizzle.

Lexie Meyers decides there's nothing sweeter than watching Sebastian Grayson's perfect, wicked mouth devour her coconut cake. He's hot, he's hungry, and he's sizing her up like she's the best thing on the menu. But she's been burned in the past and flings just aren't her thing. Too bad Sebastian can't resist a challenge.

Worldly, famous, and notorious with the ladies, Seb had planned a weekend of fishing and relaxation with his brothers. Until Lexie, with her kissable lips and frosty "get lost" attitude, makes him want to forget his culinary empire and create some magic with her. After he fires up his charm—including challenging her to a televised cook-off to break through her resistance—it's now hotter in the bedroom than it is in the kitchen and Lexie isn't sure whether she's lost her mind . . . or just her heart.

Includes a special message from the editor, as well as excerpts from these Loveswept titles: Here Comes the Bride, The Wedding Chase, and About Last Night.
Comments
52 comments posted.
Re: Deep Autumn Heat

I recently organised an 'emrgency services day' at the local Primary school I wark at. Fire brigade, Life boats and Police came into visit the children and we taught them basic first aid as wello - it went so well they want me to do it next year but boy! did I stress out organising it as I have never done anything like this before - but it was so worth it!
(Barbara Hanson 8:22am July 6, 2012)
I hailed from Woodbury, CT and enjoy small town tales. Never liked exercise, but did try CURVES in CT and later here in VA. UGH, boring. Knowing I had to do something to remain a size 10, I walk with my husband and our Golden Retreiver. Good luck on your latest and keep writing.
Patricia Pascale
(Patricia (Pat) Pascale 8:28am July 6, 2012)
I sold the house I had been in for 33 years, and moved into an apartment complex for senior citizens.
(Wilma Frana 9:18am July 6, 2012)
Sigh.... Do I need to exercise? Yes. Do I want to exercise? No. Gyms scare me
too. So, the "no" side of exercising generally wins out over the "yes" side.
(Jane Limback 9:22am July 6, 2012)
I love these comments! The emergency services day sounds amazing (and challenging to organize), and we all know how difficult moving can be, especially to a completely new environment. As far as exercising, you know how I feel about that!
(Elisabeth Barrett 10:20am July 6, 2012)
I started excercising a few years ago. It's NOT easy in the beginning but it does get easier. Now I am trying to do weights and that's HARD as well.
(May Pau 10:20am July 6, 2012)
I started a position in direct sales even though I am very shy. I just decided I needed to do whatever I could to keep my family afloat during a difficult financial time.
(Amy Lang 10:25am July 6, 2012)
I started exercing over a year ago and lost 30 pounds!!! This book sound very interesting and I'd love to read it!!! Thanks
(Bonnie Capuano 10:43am July 6, 2012)
When I was in high school, I was really shy. I took Drama and Speech and Debate. The classes were scary for me. When I took Speech and Debate, it was my first year of high school. I really got teased by the senior guys! I found out how clueless I really was. It was an eye opener, but completely necessary to give me the independence and confidence that I needed. It worked for me! I never even worry now when I have to talk in front of a crowd.
(Sandy Fielder 11:45am July 6, 2012)
Super impressed by Amy and Sandy who've overcome shyness. It's very difficult to confront a fear and overcome it, so well done! And to the folks who are exercising and having success - you're seriously motivating me!
(Elisabeth Barrett 2:42pm July 6, 2012)
I'm not comfortable with exercising...and often I'm shy...but
as a Grandmother, I've tried to change it all so my
grandchildren can see it is possible. Sounds like a good
book.
(Mary Hay 2:51pm July 6, 2012)
My intention to exercise and my follow through are two different things. I feel better once I get to the track and walk, but I can find LOTS of reasons not to go :).
(Robin McKay 3:03pm July 6, 2012)
ok with it once i get there but getting there is hard
(Debbi Shaw 3:07pm July 6, 2012)
I don't feel comfortable around groups of people. But I do enjoy golfing. So I joined a golf league which is forcing me to be around groups of ladies in the league.
(Sue Farrell 3:42pm July 6, 2012)
I hate being around people i don't know very well, but can't stay home alone anymore so I joined a line dancing group and its been so much fun, I was scared at first and kept going back and forth at the door of the dancehall, bar-anyways, after we all got there and the teacher was really hot and funny and we introduce ourselves it was a really fun evening.I didn't want the night to end-even made new friends and had a drink afterwards and each week it gets better!So glad that I started going...
(Carole Fiore 4:12pm July 6, 2012)
Like Carole above, I'm not comfortable in groups of people whom I don't know well. My solution was to join my local Roller Derby league originally as a volunteer, now as a staff member, where I run the Box Office and supervise the Front of the House. Extreme? Maybe, but it gets me out of the house and meeting people I wouldn't have otherwise met!

Later,

Lynn
(Lynn Rettig 4:30pm July 6, 2012)
I'm not big on stepping out of my comfort zone. But I have found I love reading about guys that do not share that fear or just don't live in those zones. This sounds like a great read!!
(Kelli Jo Calvert 4:32pm July 6, 2012)
Meeting over a coconut cake. What a sweet beginning for a romance.
(Gladys Paradowski 4:47pm July 6, 2012)
It's too bad that I can't get in on your contest, since I don't have a Net Galley account, nor plan on getting one for one book!! As much as I'd love to win it, I suppose I'll just have to wait until I see it on the shelf - I love it that much. Anyway, what I did which was way out of my comfort zone was to start a new life with my Husband in the prime of my life with just a few items, in our pop-up camper. We lost our house after my Husband lost his job, and we hung on as long as we could, using everything we had. It was a bit scary at first, but we finally relocated, and being the survivor that I am, I believe that living where we are now has been a much better decision. I am a better person as a result, have learned a few lessons, and am stronger in spirit. Best of luck with your book. It really sounds wonderful, and I can't wait to read it.
(Peggy Roberson 5:08pm July 6, 2012)
I'm seeing lots of positive change here - becoming stronger people, feeling better, making a difference for family members - this is what gets me going in the morning. Knowing that there is not only room for change when I step outside my comfort zone, but knowing that I have the potential to be a better person when all is said and done. Keep 'em coming!
(Elisabeth Barrett 5:47pm July 6, 2012)
The cover of your book is awesome! I finally commited to exercising on a daily basis too. I'm walking and running on the treadmill and trying to work up to just running. I didn't know I would like it so much! Good luck on your book!
(Renee Pajda 6:47pm July 6, 2012)
I got a new job out of my confort zone and it hasmade me see things from a new prospective
(Lilian Gamble 9:15pm July 6, 2012)
I am quite shy in a group, and parties or events are excruciating. I forced myself to go to the end-of-the-summer party my husband's job threw last Sept. It was a bit awkward at first but I enjoyed myself overall and got to meet all of his co-workers. I know I need to continue putting myself into social situations and I will keep feeling better with each experience. Best of luck to you with the new book! It sounds like a wonderful read!!
(Michele Hayes 9:30pm July 6, 2012)
Thank you for your post, Elisabeth. I just got a job that pays well, but is way outside my comfort zone. I'll be selling vacuum cleaners. I'm not exactly a born salesperson, but I'm confident I'm up to the task. There's a lot I don't know, but nothing I can't learn!

"Deep Autumn Heat" sounds like a fun read. Good luck with your new release!
(Mary Anne Landers 10:43pm July 6, 2012)
Elisabeth, congrats on your debut, DEEP AUTUMN HEAT. It sounds musty. Love the cover.
(Cathy Phillips 11:33pm July 6, 2012)
Travelling put me outside of my comfort zone but it I certainly grew and experienced a lot.
(G. Bisbjerg 2:01am July 7, 2012)
Skydiving. I am great with heights but once I got out on the wing of the Cessna I could see no good reason to let go of the darn plane. Eventually, with the instructor yelling at me a few times to go, I decided I just had to trust my harness. It was brilliant, I can highly recommend it.
(Clare O'Beara 5:29am July 7, 2012)
Taking my daughter out & about for driving lessons was certainly way out of my comfort zone.
(Mary Preston 5:33am July 7, 2012)
Exercising is ugly--the clothes, the sweat, the grunts of effort--but so
necessary. I was in fair shape until I was in an auto accident. Now I am not
allowed to do what I need to to lose weight. You never know when something
unexpected will change your plans. Thus saying I want all of you to realize
that as you get older it is harder and harder (and more necessary) to get your
weight down for a longer and healthier weight. Also take all those "some day"
plans and do them now!!! (This has taken me out of my comfort zone.) Now
to get back to my comfort zone give me a great book and the comfort of
thinking that some one of you took me seriously.
(Sandra Spilecki 12:56pm July 7, 2012)
I got talked into flying in a helicopter over the grand canyon. First time
flying. It was beautiful. I did real good till I got off and got back in my
truck. It was a pretty sight upchucking in the parking lot. I would do it
again though.
(Kim Cornwell 3:15pm July 7, 2012)
Trying to run again and facing a hill right away, of course. I ended up doing more of a jog-walk.
(Alyson Widen 5:20pm July 7, 2012)
Going to some gathering where I meet people I don't know and have to try to talk with when I would rather be home with my dog and reading a book
(Patricia Kasner 11:07pm July 7, 2012)
What I find fascinating is that many people have the same comfort zone issues - exercising, meeting new people, being in huge groups of people. Honestly, this is making me feel more like I'm not alone!

Also, I can tell you right now that skydiving (!) is completely outside of my comfort zone, and I give Clare serious kudos because I know I'm never going to be able to do it. Ditto bungee jumping. I've never been in a helicopter, but I think I could manage it.
(Elisabeth Barrett 11:46pm July 7, 2012)
I don't being around alot of people I don't know. Book sounds great,thanks for a chance to win it.
(Linda Hall 1:22am July 8, 2012)
I'm basicly a shy person, so when I was acked to do song leading at church, that and if you make a mistake, everyone hears it. It makes little difference knowing that I have a good voice, there is still that little bit of fear. Even after years of doing this, I still feel that. I also understand the exercise thing. The book sounds real nice.
(Nancy Luebke 4:32pm July 8, 2012)
I LOVE YOUR BOOKS THEY ARE GREAT!!
(Shelly Caggiano 6:31pm July 8, 2012)
Thanks for the kudos Elisabeth! I thought that it made more sense to leanrn skydiving than to go bungee jumping, actually. You might just need to know how to use a parachute, but I can't see any rescue situation in which you'd need to know how to bungee. I skydived in aid of charity because I figured the one thing that would get me to go through with it was knowing the charity wouldn't get the money unless I did.
(Clare O'Beara 5:19am July 9, 2012)
YOUR BOOK SOUNDS GREAT CANT WAIT TO READ!!
(Jennifer Beck 8:25pm July 9, 2012)
I took a trip with my husband two years ago for 2 months driving and visiting many places around the country. I started the journey telling myself I would not let fear stop me and I did tons of things I never would have before. I grew up terrified of heights, water and I hate bugs. I have pictures of me climbing behind a waterfall, sitting on the edge of the Grand Canyon, hiking, and many more. I even helped chop and split wood for a cousin in Colorado. Growing up in inner city Philadelphia that is pretty amazing to me. I can't wait to read your book.
Thank you
(Patti Paonessa 9:46pm July 9, 2012)
I was absolutely terrified of boats and recently I finally got
the courage to go on my friend's pontoon boat and now I love
boating!! You cant get me off the darn thing lol
(Ashley Applebee 4:14pm July 10, 2012)
this new book sounds great. take another chance on love. the chef might steal my appetite and heart, too.
(Maria Carmen Rosa 5:12pm July 10, 2012)
I am absolutely and completely terrified of heights, and my
job right now is preparing for an event and I needed to put up
tonnes of decorations at least 12 feet in the air and up, so
it has been a challenge and has totally freaked me out, but I
am not as scared any more.
(Melanie Isaac 11:57pm July 10, 2012)
i am afraid of heights i will not go on any rides or buildings that i can see down from this book sounds so good i have been wanting to read this
(Denise Smith 12:08pm July 11, 2012)
I started a water arobics class. I have met a lot of nice people and I am more flexable and in less pain. I still hate wearing a bathing suit.
(Kathleen Yohanna 2:10am July 11, 2012)
I have been trying to overcome eating problems. Earlier this year one of my digestive organs failed, and I would throw up everything I tried to eat - which has left me with some food trauma even after my surgery fixed the physical problem. It is hard to talk about, especially because not-eating became easier than being painfully ill, but I've been pushing myself to build up my relationship with food again. Like others have said, we can't let fear hold us back from being healthy or living our lives.
(Alyssa m 12:51pm July 11, 2012)
The book sounds great - and I'd love to win a copy. Best of luck with it!
(Nancy Reynolds 1:01pm July 11, 2012)
over 12 years ago I went vegetarian cold turkey (pardon the meaty cliche LOL) and it was one of the hardest things I had ever done. I was a meat and potatoes gal who was raised on WV country cooking and liked it but my conscious and ethics made keeping that diet up impossible. never regretted it and would never go back to eating animals.
(Angie Lilly 2:47pm July 11, 2012)
I JUST LOVE YOUR BOOKS AND I HOPE I WIN THE CONTEST BECAUSE I
HAVE NEVER WON ANYTHING IN MY LIFE AND I REALLY WANT TO WIN
SOME CONTESTS THANK YOU
(Shelly Caggiano 5:11pm July 11, 2012)
I am freaked out to highway drove and just finished a girls road trip where I logged over 19 hours driving time there and back :)
(Darci Paice 8:54pm July 11, 2012)
I'm very self-conscious around people, but after two total hip replacements,have decided to go to a gym. The quicker I can get my strength back the sooner I can get back to work. Enjoyed your blog.
(Sheila True 11:13pm July 11, 2012)
Recently, I got my rear in gear, and attempted to overcome my fear by going to an exercise class – one of those popular barre classes – near my home. It was completely intimidating. All those beautiful women sculpting their already-perfectly toned bodies freaked me out. So what did I do? I signed up for five more classes, just to prove to myself that I could keep up with the big girls. love quotes for him
(Ponting Samith 1:25am August 23, 2012)
One very cold winter day, I gave a ride to a stranger just because of he
bitter old weather. I've never done hat before or since because when I
pointed this peron out to a neighbor they told m he was not really of good
character.
Dotvining@yhoo.om
(Dottn,ie Vining 10:28pm October 3, 2012)
Registered users may leave comments.
Log in or register now!