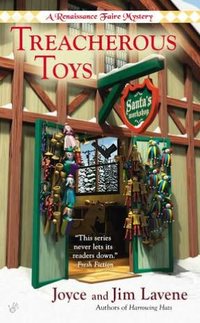 Purchase
Renaissance Faire
Berkley
September 2012
On Sale: September 4, 2012
Featuring: Jessie Morton
304 pages
ISBN: 0425251586
EAN: 9780425251584
Kindle: B007A9KZN6
Paperback / e-Book
$7.99
Add to Wish List

Mystery Hobbies | Mystery Cozy | Mystery Amateur Sleuth
Hail ye, hail ye, and welcome to the Renaissance Faire Village. Here, assistant professor Jessie Morton spends her summers honing her skills and finding the lady, lord, or serf whodunit. But when she comes for Christmas, will murder mean a very unhappy holiday?
A NAUGHTY TOY MAKER BETTER WATCH OUT…
Jessie Morton is getting just what she wished for this holiday season at the Renaissance Faire Village—working as an apprentice to the new toy maker. But when Chris Christmas is discovered dead just hours after her arrival, Jessie's holiday plans start to melt away.
Jessie can't imagine who would want to silence the toy maker, but apparently the red-cheeked Chris Christmas liked toying with the ladies. Although it may be her shortest apprenticeship ever, she wants to unwrap the truth before word gets out in the village that it's not safe to be Santa—or one of his helpers...
Renaissance Faire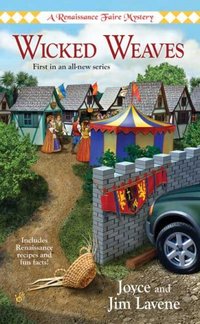 Wicked Weaves
#1.0
Amazon.com | BN.com | | |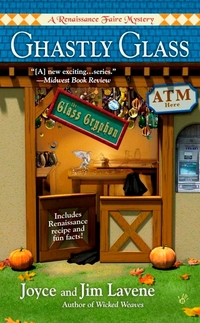 Ghastly Glass
#2.0
Amazon.com | BN.com | | |

Harrowing Hats
#3.0
Amazon.com | BN.com | | |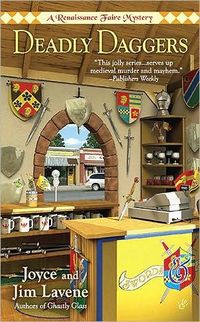 Deadly Daggers
#3.0
Amazon.com | BN.com | | |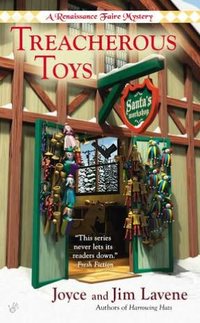 Treacherous Toys
#4.0
Amazon.com | BN.com | | |
Comments
45 comments posted.
Re: Treacherous Toys

What if...I love those two words it means anything is possible. I can't wait to see whats next.
(Deborah Garcia 2:03am September 5, 2012)
Yes what if notes the many pathways you could take...and the different roads you could go down....always a mystery...always a wonder...
(Darci Paice 2:09am September 5, 2012)
I love the perspective you put on writing. As a writer myself,
hoping to become a published author in the future, I am always
looking for 'what ifs' to inspire my writing. Thank you for sharing
this viewpoint, it really hits the core with readers. =)
(Samantha King 2:26am September 5, 2012)
This looks like a book I'd love to just sit and read and enjoy!!! Thanks
(Bonnie Capuano 4:45am September 5, 2012)
I enjoy alternate histories and just slightly alternate worlds.
There is no telling where they might lead....
(Clare O'Beara 5:11am September 5, 2012)
I've enjoyed your various series over the last couple of years. This post reminded me to go back and look up the ones I've missed especially since I'm on a cozy kick right now.
(Anne Muller 9:07am September 5, 2012)
I am so excited about your new book! I can't wait to read it! Thank you for all your wonderful books!
(Teresa Sullivan 9:36am September 5, 2012)
I love it when I find new mystery authors, (new to me). Love the title.
(Frances Devine 9:56am September 5, 2012)
Thanks for the comments, Deborah, Darci, Samantha, Bonnie, Clare, Anne, Teresa, and Frances! We're so glad you stopped by! I hope you enjoy Treacherous Toys. If you're writing, we wish you the best of luck!

Joyce and Jim
(Joyce Lavene 10:10am September 5, 2012)
I can't wait to read it!
(Ashley C 10:37am September 5, 2012)
Your new book sounds wonderful !! I think sometimes people get caught up in their day to day life they put their dreams on the back burner until it's forgotten about What If kind of thinking could really be inspirational and i think alot of people don't stop to think about the what if's (guilty of that) Justwent to Myrtle Beach a few weeks ago, we try to go a couple of times a year I love reading books that take place in places i'm familier with.

photoquest at bellsouth dot net
(Lori Barnes 11:11am September 5, 2012)
Having recently moved from the West Coast to the East Coast I look forward to reading about an area I'm beginning to know!
(Mary Allen 11:49am September 5, 2012)
Thank you for a chance to win your book!
(Sally Hannoush 11:54am September 5, 2012)
We have a Renaissance Faire near by and I always loved going. Good fun, good food - and now the toy maker is murdered? I must find out what happened!!!
(Karen Barnett 12:19pm September 5, 2012)
I've just started this series. I enjoyed the first one.
(Sandy Giden 12:43pm September 5, 2012)
Nice theme for a mystery series!
(Shari Santella 12:44pm September 5, 2012)
Your book sounds like a winner.
(MaryEllen Hanneman 1:08pm September 5, 2012)
Want! :D
(Candice Duffey 1:15pm September 5, 2012)
I'm amazed whenever two authors work together and write a book. There must be a secret as to how the work is divided. Regardless, this sounds like a winner.
(Anna Speed 1:43pm September 5, 2012)
What fun you must have had!
Blessings,
Marjorie
(Marjorie Carmony 2:52pm September 5, 2012)
This sounds like a great book.
(Rita Wray 3:11pm September 5, 2012)
Congrats on your new 'child'! I love the cover! I'm not familiar with your books yet, but I just added a couple from your backlist to my TBR shelf.
(Deanna Mancuso 3:15pm September 5, 2012)
congrats on the new book and cant wait to see what it is all about....
(Kimberly Hoefs 3:29pm September 5, 2012)
This is a wonderful book which sounds captivating and special.
Congratulations and best wishes.
(Sharon Berger 4:44pm September 5, 2012)
Dreams are amazing things! Having a dream can keep you focused and pushing forward to see it come true! Wishing you success with your new book!
(Marguerite Guinn 5:13pm September 5, 2012)
What if... I love to dream all sorts of things after that.
Thanks for the contest.
(Sue Farrell 5:29pm September 5, 2012)
This sounds like an amazing mystery series, and this is Book 5 already! Cover and title are great! I'm looking forward to reading this one, and much success with it!!
(Linda Luinstra 6:08pm September 5, 2012)
This sounds like it will be a great read. I hope to be able to enjoy one of your books.
(Emily Bowes 6:08pm September 5, 2012)
Christmas & mysteries are my favorites. To have them combined in book is awesome.
(Christine Schultz 6:42pm September 5, 2012)
:) Can't wait to get a chance to read it.
(Leslie Davis 7:29pm September 5, 2012)
Life seems to always be some kind of a mystery. This book sounds like it will keep you on the edge of your seat. Thanks for the Contest!
(Cheryl English 7:36pm September 5, 2012)
What if ... I have never read any of your 60 books?? I must admit that I'm out of touch with a lot of Authors. That is why I was thrilled to find Fresh Fiction!! After reading your posting today, I know you have to be doing something right. I also fell in love with the cover of your latest book, and knew that I just had to put it on my TBR list!! I'm just as excited as you are, and wish you the best of luck with it - although I'm sure by now that you have quite a following. I'm sure this is going to be just the ticket to not only start off my Fall season, but put me in the Christmas spirit, every time I look at the cover!!
(Peggy Roberson 7:38pm September 5, 2012)
sounds like a great read
(Jennifer Beck 8:34pm September 5, 2012)
"What if" brings so many possibilities. Sometimes, it helps me prepare for the worst possibilities. Sometimes, it just drives me crazy. Other times, that is why I'm a dreamer.
(Kai Wong 8:58pm September 5, 2012)
I love mysteries series!
(Nancy Gallagher 9:28pm September 5, 2012)
Mysteries are some of my favorite stories!
(MaryAnne Banks 9:47pm September 5, 2012)
Looking forward to reading your latest book!
(Mary Chin 9:48pm September 5, 2012)
Looks like a fantastic read...
(Holly Vanderhule 10:06pm September 5, 2012)
What if always leads to excitement and fun.
(Roseann Moss 11:15pm September 5, 2012)
The name of Wiki instantly brings to mind the vast resources available through Wikipedia but there is much more to this word than that. The name Wiki refers to a type of CMS with which you can create an assembly of several web pages interlinked through hyperlinks. Also used will be a markup language in the form of WYSIWYG, what you see is what you get, text editor. These wikis can be used by different people simultaneously as the usability of most of these applications will be available to everyone. Collaborative features of Wiki software applications is one of its key advantage. Examples of this collaborative use can be seen through websites for community exchanges and social interactions, corporate intranets and websites for knowledge management. You may incorporate controls for specific tasks like content updates and modifications while allowing read access for other areas of operations.
(Rhea Blair 4:50am September 6, 2012)
Thanks Roseann, Holly, Mary, Maryann, Nancy, Kai, Jennifer, Peggy, Cheryl, Leslie, Christine, Emily, Linda, Sue, Marguerite, Sharon, Kimberly, Deanna and Rita. DEEP BREATH! Ashley, Lori, Sally, Sandy, Maryellen, Candace, Shari, Sue, Rita, Anna, Marjorie! Thanks for stopping by! What if is certainly a powerful thought. Dreaming is another. Let's not lose that!
(Joyce Lavene 7:21am September 6, 2012)
TREACHEROUS TOYS looks fabulous!!
(Mary Preston 8:36am September 6, 2012)
Myrtle Beach is one of my favorite places in the world so look forward to reading your story. Congratulations on a new book. Hope to see many more from your joint effort.
(Jake Blinco 10:09am September 6, 2012)
looks like a good read and I have found another author(s) to read
(Barbara Studer 7:50pm September 7, 2012)
This book has wide stretches of the imagination that inspire the reader to dabble in many genres. I like the pet psychic dynamic.
(Alyson Widen 2:22pm September 8, 2012)
Registered users may leave comments.
Log in or register now!