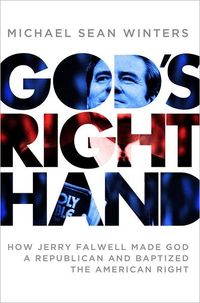 Purchase
How Jerry Falwell Made God a Republican and Baptized the American Right
HarperOne
January 2012
On Sale: January 17, 2012
474 pages
ISBN: 0061970670
EAN: 9780061970672
Kindle: B005FFUSG6
Hardcover / e-Book
$28.99
Add to Wish List

Falwell did not eliminate the divide between religion and politics. Nor did he blur it. He jumped over it, bringing millions of voters with him, and he never looked back. —from the Introduction
Mounting concerns over the nation's moral decline. A populist critique of cultural elitism. Disdain for government involvement in private enterprise and health care. These themes dominate our political discourse, and have for a generation's worth of elections. And they are themes almost single-handedly brought to the fore by the Reverend Jerry Falwell. As America was questioning its most revered institutions in the wake of the Vietnam War and Jimmy Carter's malaise, Falwell was building his own institutional strength and influence, answering a felt need for certainty in a suddenly uncertain world. In this highly anticipated major biography, Michael Sean Winters traces the polarizing pastor's journey to reclaim America for Christ—and his tireless work to define the orthodoxy and vocabulary that the Republican Party has used to great success ever since.
Falwell was, for many, the face of Christianity in America. The child of agnostic parents, he made a name for himself as a pastor and later founded his own Christian university. Initially ambivalent about politics, his controversial Moral Majority catapulted Falwell into the political arena. His life intersected with some of the most notable figures of his time, from Ronald Reagan, whom he helped elect president, to the scandal-ridden Jim and Tammy Faye Bakker. Falwell stared down pornographers and wrestled with women's groups. He battled with liberals and enforced a brand of orthodoxy on conservatives. He was a man of strong views—and he knew that those views were shared by millions of Americans who were disengaged with public life. Falwell led them into the public square, articulated a coherent rationale for their involvement with politics, and made them the largest and most organized constituency in the contemporary Republican Party.
Today, no Republican candidate can hope to win elections without the support of evangelicals and fundamentalists, and the Tea Party has adopted nearly wholesale the rhetoric of Falwell's ministry. His legacy—as controversial as it is consequential—has never been more palpable.

Media Buzz
Tell Me More - April 26, 2012

Comments
No comments posted.

Registered users may leave comments.
Log in or register now!