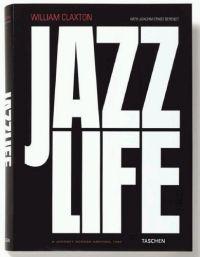 Purchase
The sights and sounds of American jazz
Taschen
November 2005
700 pages
ISBN: 3822830666
Hardcover
$200.00
Add to Wish List

In 1959 and 1960, photographer William Claxton and noted German musicologist Joachim Berendt traveled the United States hot on the trail of jazz music. The result of their collaboration was an amazing collection of photographs and recordings of legendary artists as well as unknown street musicians.
The book Jazzlife, the original fruit of their labors, has become a collector's item that is highly treasured among jazz and photography fans. In 2003, TASCHEN began reassembling this important collection of material—along with many never-before-seen color images from those trips. They are brought together in this updated volume, which includes a foreword by Claxton tracing his travels with Berendt and his love affair with jazz music in general. Utilizing the benefits of today's digital technology, a restored audio CD from Joachim Berendt's original recordings has been produced and is included in this package. Jazz fans will be delighted to be able to take a jazz-trip through time, both seeing and hearing the music as Claxton and Berendt originally experienced it.
• Featuring photographs of Charlie Parker, Count Basie, Duke Ellington, Muddy Waters, Gabor Szabo, Dave Brubeck, Stan Getz, Billie Holiday, Ella Fitzgerald, Miles Davis, Charlie Mingus, Thelonious Monk, John Coltrane, and many more • Includes bonus CD of digitally remastered recordings of music made during Berendt and Claxton's journey (originally released in 1960 as two records)

Media Buzz
News and Notes with Ed Gordon - August 30, 2006
Today - December 19, 2005
Today - December 19, 2005
CBS Sunday Morning - December 18, 2005
Good Morning America - December 16, 2005

Comments
No comments posted.

Registered users may leave comments.
Log in or register now!