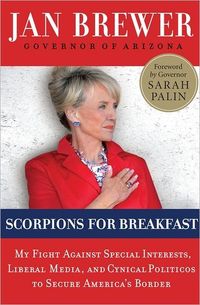 Purchase
Scorpions For Breakfast
Jan Brewer
My Fight Against Special Interests, Liberal Media, and Cynical Politicos to Secure America's Border
Broadside Books
November 2011
On Sale: November 1, 2011
240 pages
ISBN: 0062106392
EAN: 9780062106391
Kindle: B0050IKDCM
Hardcover / e-Book
$25.99
Add to Wish List

Sometime after dark on March 27, 2010, Arizona rancher Robert Krentz was found dead next to his four-wheeler on the grounds of his ranch on the Arizona-Mexico border. Krentz and his dog, Blue, had been missing since that morning. They were last heard from when he radioed his brother to say that he'd found an illegal alien on the property and was going to offer him assistance. The man Krentz encountered that day shot and killed him and his dog, without warning, before escaping to Mexico.
It's difficult to overstate the impact of Krentz's death, which turned the issue of Arizona's unsecured border—a crisis that the federal government had repeatedly ignored—into a national concern. As Arizona sheriff Larry Dever said in his testimony before the Senate Homeland Security Committee, "We cannot sit by while our citizens are terrorized, robbed, and murdered by ruthless and desperate people who enter our country illegally." This momentum helped pass SB 1070, a bill that authorizes local law enforcement under certain conditions to question persons reasonably suspected of being illegal aliens, which Governor Jan Brewer and the state legislature had been working on for months. With the passage of this controversial bill, the state of Arizona became ground zero in the impassioned debate over illegal immigration. The Democrats and the media went into overdrive, denouncing the state and its governor as racists and Nazis.
Governor Brewer, a lifelong Arizona resident with deep ties to the community, was first elected to the Arizona House of Representatives in 1982, and hasn't lost an election since. As a state official, she watched with increasing dismay as illegal immigration exploded across Arizona's border, and noticed the devastating effect it was having on the state. Causing an escalation in violence, an influx of drugs, and prisons and hospitals to fill to overflowing, this problem was not only wreaking havoc on the moral fabric of the community but placing an even greater strain on Arizona's beleaguered health, educational, and social welfare networks. Growing frustrated with the failure of the federal government to respond to her pleas for assistance, Governor Brewer led the state to action. Scorpions for Breakfast is Brewer's commonsense account of her fight to secure our nation's border in the face of persistent federal inaction. Her book is vital reading for all Americans interested in the real change that can happen when local leaders take the initiative to preserve our country and our laws.

Media Buzz
Rachael Madow - January 28, 2013
Access Hollywood - January 29, 2012
The O'Reilly Factor - January 27, 2012
Today - January 26, 2012
Good Morning America - January 26, 2012

Comments
No comments posted.

Registered users may leave comments.
Log in or register now!