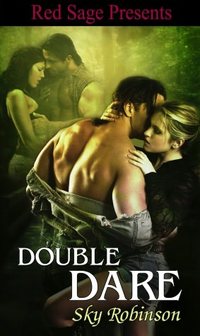 Purchase
Red Sage
January 2012
On Sale: December 30, 2011
Featuring: Emma; Sydney James; Logan Ford
ISBN: 0013785753
EAN: 2940013785755
Kindle: B006RW8ZUC
e-Book
Add to Wish List

Sydney James wants to put a little fun back in her friend Emma's life, so she talks Emma into a dare to sleep with the first two good looking men they see. Emma doesn't know that it's a setup with Sydney's new boyfriend Logan Ford, and his sexy older brother Jack. Sydney and Logan fulfill the dare in the woods, and Emma and Jack stumble onto front row seats. Emma's a little too conservative to go through with the dare right away, but she regrets not having a little fun with the man as the day rolls on. Her love life has been nonexistent and having Jack around makes her see just how much she wants that to change. Luckily she gets her chance later that night when Sydney invites Logan and Jack to her cabin.
To My Readers: Men good with their hands, willing to help out a woman in distress, bodies solid from hard work…what's not to love? I have a passion for the outdoors and for those hard working mountain men, so this story about Logan and Jack Ford was a fun one to write. It is set in one of my favorite places in the world, the Black Hills of South Dakota with two sexy loggers alone in the woods and the two women who have the good fortune of running into them. I hope you enjoy reading Double Dare as much as I enjoyed writing it.
Comments
38 comments posted.
Re: Double Dare

I think firefighters are so hot! Those big muscles and sexy uniforms just turn me on.
(Christina Vanderford 9:42am January 27, 2012)
I think that sexy is blue collar work. The use of
muscles tones by the daily trade, the idea that
beneath that dirt is something beautiful, I also
think that it is the smell, where the musk and
sweat and pheremones do something to my
body. Uniforms are hot, but so is a button down
shirt in jeans and boots.
(Carla Carlson 10:44am January 27, 2012)
I think men in uniforms are HOT. Hahaha, or maybe CEOs who own big, listed companies like Christian Grey from the Fifty Shades series by E.L. James. Now that, is the definition of sexy. :P Thanks for this giveaway!
(Chia Yet Peng 10:52am January 27, 2012)
OOOh, I haven't read about loggers before!
(Barbara Hanson 11:56am January 27, 2012)
I never really thought about loggers before. Blacksmiths I know are very well built and I just think that making something with your own hands is sexy. The whole creative process to design it, and then the mechanical process to make sure it works is just so interesting and I think, attractive.
(Alyssa m 12:17pm January 27, 2012)
Loggers that is a profession that I have not read about for a character before... you have my attention... as for a sexy profession I love a man in uniform, firefighters, military, cops, etc!
(Colleen Conklin 12:37pm January 27, 2012)
I like cop, firemen and construction worker heroes. They aren't afraid to get their hands dirty. They are also very fit.
(Stacie Deramo 12:51pm January 27, 2012)
Stacie hasn't seen some of the Chicago cops I've seen. I think fitness requirements disappear after training.

I'd agree that any profession where they use their hands and have to stay fit.
(Anne Muller 1:06pm January 27, 2012)
Loggers is a new one for me as well! I have to admit I'm a sucker for a man in uniform - firefighters, military or police!
(Rebecca Whitehead-Schwarz 1:08pm January 27, 2012)
the book sounds great. Loggers, firefighters, cowboys, etc....:)
(Barbara Studer 1:53pm January 27, 2012)
CONSTRUCTION WORKERS SHOWING THEIR SWEATY CHEST AND TIGHT
BUTTS DO IT FOR ME
(Linda Bass 3:37pm January 27, 2012)
Your writing sound like a lot of fun!
Blessings,
Marjorie
(Marjorie Carmony 3:46pm January 27, 2012)
I think the brainy types are sexy--so how about college professors?
(Sue Farrell 3:49pm January 27, 2012)
Hi Sky! I've never really thought about loggers before, but I guess they would be sexy. I like fit and sexy men in uniforms and handsome college professors. Also someone that is fit and works with their hands.
(Cathy Phillips 5:04pm January 27, 2012)
Before I even scrolled down to give an answer, I knew that I was going to have to be original. Men can be sexy in so many professions, whether they wear a suit, uniform, or jeans. I would have to say one profession that never ceases to amaze me would be the male gymnast. The strength that they have in their upper body when they have to do the rings, or do their routine on the pommel horse, is amazing!! Their floor exercise takes stamina, and their other routines take pinpoint accuracy. You can see the bulk of their muscles when they're competing, and I must say that they do have great bodies!! These men start training from the time they're small, and earn those muscles. I'm not diminishing other careers such as deep sea fishermen, for example, or rodeo riders, who are just as deserving, to name a couple, but the olympic gymnast is pure brawn. It was a great question, and one I had to think hard about to come up with a different answer. I would love to read your book!!
(Peggy Roberson 5:18pm January 27, 2012)
FIreman or maybe a military pilot would get my vote on a sexy profession. Maybe it is the uniform...maybe it is the body underneath the uniform.
(Robin McKay 5:18pm January 27, 2012)
Firefighters are certainly worth a dare or two and so are cops! It could be the uniform or the way they wear them, the bad boy attitude. No matter they are sexy!
(Diane Sadler 5:35pm January 27, 2012)
Construction workers, they have big muscles.
(Deb Pelletier 6:09pm January 27, 2012)
I love lumberjacks. The first time I read some were when
Jane Kidder did the Wellesly brothers. I have found that
this is a hard to find hero. I am so grateful to see that
someone is out this wonderfully rough, musky man is something
to drool for.
(Cindy Olp 8:43pm January 27, 2012)
Lifeguards... but only a few...
(May Pau 8:46pm January 27, 2012)
any man in a uniform, it makes them look sexy to me
(Jean Benedict 8:46pm January 27, 2012)
Lumberjacks, firemen and air force men are looking good in uniform or not.
(Alyson Widen 8:53pm January 27, 2012)
I think cowboys are sexy.
(Wilma Frana 9:03pm January 27, 2012)
i haven't read anything about loggers but it sounds good..
(Jennifer Beck 9:05pm January 27, 2012)
This book sounds super sexy! I would love the chance to read it! Right up my alley!
(Stephanie Briggs 9:39pm January 27, 2012)
I find cops very sexy. Their authoritative positions make them strong and take-charge. Gotta love a man who wants to take care of you!
(LaRonda Atchison 9:54pm January 27, 2012)
Men in uniforms - any of them - military, firemen etc. I like my heroes brave & bold.
(Mary Preston 9:55pm January 27, 2012)
Navy SEALS. Lovely cover.
(Mary Chin 10:48pm January 27, 2012)
I have to say there are many. Firefighters, construction workers, military, FBI I can go on and on.
I agree with Mary above, uniforms...yum
(Patti Paonessa 11:20pm January 27, 2012)
I think I would have to say Military man. Thanks for asking.
(Lisa Kendall 12:44pm January 28, 2012)
HMMMMMMMMMMMMMM MAYBE SEALS!!
(Linda Bass 2:10pm January 28, 2012)
I too like SEALS but I also like a man in a dark suit, white shirt and gorgeous tie.
He could do woodworking as a hobby.
(Sandra Spilecki 2:56pm January 28, 2012)
I LIKE A SMART MIND IN A KIND SOUL!
(Silvana Moscato 3:45pm January 28, 2012)
I'd say cowboys for their rugged lifestyle.
(Gladys Paradowski 11:11pm January 28, 2012)
Sorry to be repeating some of the other comments but I find a man in uniform to be sexy. A man who is in charge and ready to do his duty are incredibly sexy. Police officers, military personal and firemen are my first choice.
(Kathleen Yohanna 3:21am January 29, 2012)
I was the only girl in my family so all three of my brothers and 3 cousins all work in a line of hard working men, my dad and 2 brothers are builders so of course they are all strong and hate to brag but are sexy...then I have a couple who are firefighter, so anyone in uniform are hot and one was a navy seal in the Viet Nam war but still is a hunk so then I have friends who are cowboys and they are hard working and true to their word which means alot to me, if they say they are going to help and do something for me or anyone else, they do it...no matter what time of day or weather..I was brought up that way...so its important to me to stick with your word and have good values.So these are my kind of men! Love to read your book-hope its a written book for I don't own a kindle or e-reader...thanks also your a new author to me and always looking for someone new!Sounds like agood book,too!
(Carole Fiore 2:13pm January 29, 2012)
I like a hard-working hero who is mighty sexy.
(Alyson Widen 4:54pm January 29, 2012)
As stated before, there are so many professions that could be chosen. One that hasn't been mentioned yet are ice skaters. No, not the ones in ice hockey etc,(although they could definitely be included..haha) but competition skaters! WOW, they have to be in top shape (especially those who skate with a partner...lifting them above their heads etc.) They have to be dedicated, graceful, attention to detail, in top physical and mental health...(and most of them are quite handsome too, LOL). Another choice would be dancers....again...competition dancers. Perhaps ballroom dancing? Hmm... also agree with those choosing men whose jobs deal with helping people...all people from all walks of life, handling themselves and others in possible life-threatening circumstances. Yup, sure are lots to choose from and it is hard to pick just one! Thanks for having this contest. Good Luck Everyone!
(Cheri Minott 6:17pm January 29, 2012)
Registered users may leave comments.
Log in or register now!