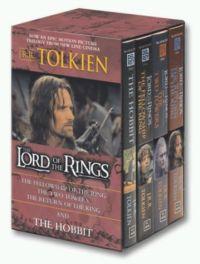 Purchase
The Hobbit and The Lord of the Rings
J.R.R. Tolkien
The three volumes of the LORD OF THE RINGS plus THE HOBBIT
Boxed Set
Del Rey
January 2001
On Sale: January 1, 2001
ISBN: 0345340426
EAN: 9780345340429
Paperback (reprint)
$29.95
Add to Wish List

This four volume, deluxe paperback boxed set contains J.R.R. Tolkien's epic masterworks THE HOBBIT and the three volumes of THE LORD OF THE RINGS (THE FELLOWSHIP OF THE RING, THE TWO TOWERS, and THE RETURN OF THE KING) in their definitive text settings complete with maps and cover illustrations by the celebrated artist Alan Lee.
In THE HOBBIT, Bilbo Baggins is whisked away from his comfortable, unambitious life in Hobbiton by the wizard Gandalf and a company of dwarves. He finds himself caught up in a plot to raid the treasure hoard of Smaug the Magnificent.
THE LORD OF THE RINGS tells of the great and dangerous quest undertaken by Frodo Baggins and the Fellowship of the Ring: Gandalf the wizard; the hobbits Merry, Pippin, and Sam; Gimli the dwarf; Legolas the elf; Boromir of Gondor; and a tall, mysterious stranger called Strider.
J.R.R. Tolkien's three volume masterpiece is at once a classic myth and a modern fairy tale -- a story of high and heroic adventure set in the unforgettable landscape of Middle-Earth.
THE FELLOWSHIP OF THE RING
Frodo Baggins knew the Ringwraiths were searching for him--and the Ring of Power he bore that would enable Sauran to destroy all that was good in Middle-earth. Now it was up to Frodo and his faithful servant Sam to carry the Ring to where it could be destroyed--in the very center of Sauron's dark kingdom.
THE TWO TOWERS
The fellowship has been forced to break up and the nine members of the fellowship find themselves forced to follow different paths in the coming war for control of middle earth.
THE RETURN OF THE KING
Sauron has sent his hordes forth from the land of Mordor and the war is on. Meanwhile, deep in the heart of Mordor, what will be the fate of the ring?

Media Buzz
Marketplace - PRI - December 17, 2012
Marketplace - PRI - December 4, 2012
CBS Sunday Morning - September 2, 2012
Day To Day - December 12, 2005

Comments
15 comments posted.
Re: The Hobbit and The Lord of the Rings

I know that you don't want fence sitters. But, I think both of them did what was necessary for the time and place. I couldn't pick one over the other and I don't know that either of them would have been any good at all in the other's situation.
(Karin Tillotson 3:34pm December 19, 2009)
I think it's a tie, but I know Dumbledore better from the Harry Potter series and movies.
(Alyson Widen 4:06pm December 19, 2009)
Seeing that I don't know Dumbledore at all (I must be one of the few people who have not read the Harry Potter books) and I know Gandalf only through the movies (books: same as HP), I can only go with Gandalf while admitting that I'm neither impartial nor totally informed.
(Sigrun Schulz 4:49pm December 19, 2009)
Gandalf obviously. A wizard powerful enough & dark enough to combat the forces of Sauron & Mordor.
(Mary Preston 5:05pm December 19, 2009)
Dumbledore for sure!! Happy Holidays!
(JoAnn White 5:49pm December 19, 2009)
I'm with Karin. Both of them for sure. They both saved the world in their own way, so how can we, those who it was saved for, choose between them?

Later,

Lynn
(Lynn Rettig 6:19pm December 19, 2009)
Gandalf would most certainly save the day. I loved the Lord of the Rings book series and movies. I am also a fan of Harry Potter's but Dumbdore would not be able to turn out the magic like Gandalf.
(Gigi Hicks 8:04pm December 19, 2009)
Gandalf would win. He's defeated more formidable bad guys than Dumbledore has. But Merlin would trounce both of 'em!
(Mary Anne Landers 8:11pm December 19, 2009)
I, too, am unfamiliar with the details of either Gandolf or Dumbledore, so I will vote for the only wizard of my childhood and say Merlin.
(Susan Driskill 8:23pm December 19, 2009)
Gosh, do I have to choose? They both have great qualities!
(Lisa Glidewell 12:00pm December 20, 2009)
Gandalf will aleways be favorite as I read The Lord Of The Rings when I was in high school
(Patricia Kasner 6:04pm December 21, 2009)
Gotta go with Gandalf. Any friend of Aragorn deserves my support!
(G S Moch 1:50am December 22, 2009)
Dumbledore Pros:
Overall awesomeness
Pet Phoenix
Most excellent long name and titles.
"Few words" to him isn't a euphamism, really random words in random order.
Excellent interspecies diplomat.
Is 150+ years when he dies.

Dumbledore Cons:
He dies.
Aberforth (his brother) works "illegal charms on goats", and he seems okay with that.
Has bad Bertie Botts jelly bean luck (boogers and earwax!)
Gandalf Pros:
He hangs with the halflings.
Also hangs with hilarious dwarves, hot humans, and at least one smoking hot elf.
Excellent interspecies diplomat.
Cheats death.
Excellent party guest.
Changes colors.

Cons:
His powers are tied to only fire.
He's bad luck--whenever he visits, badness follows.
(Joelle Wallace 11:03pm December 23, 2009)
Arggg, my last line got eaten by cyberghosts (again).

My vote is for Dumbledore.
(Joelle Wallace 11:04pm December 23, 2009)
Gandalf would win in my book. Just a much stronger force than Dumbledore. I loved them both, though, and they both did what they had to do to defeat the odds.
(Joanne Reynolds 4:00pm December 24, 2009)
Registered users may leave comments.
Log in or register now!