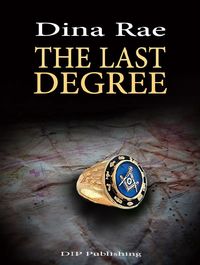 Purchase
Secret societies complete the first phase of New World Order.
DIP Publishing
December 2011
On Sale: December 28, 2011
Featuring: Dan O'Leary; Connor Redman; Larry Dedman
430 pages
ISBN: 1937182053
EAN: 9781937182052
Paperback
$10.95
Add to Wish List

The Last Degree: Thriller, Paranormal, Conspiracy, End of Days, Secret Societies
The Last Degree is a fictional account of how the New World Order plays out in modern day.
Freemason Supreme Council members accelerate their plans for a one world government. They believe their 'Shining One' will soon be revealed as the figurehead of the globalized world.
Rory Schanck, the ultimate insider, sabotages the Supreme Council's progress. Once discovered, he's found dead in an alleyway. He leaves his sister a stolen fortune and book of ancient prophecy. Feeling threatened, she opts for underground living.
Chicago Detective Dan O'Leary almost solves the Schanck homicide, but is forced to resign. Instead of living a quiet retirement, he begins a new career as a survivalist compound specialist. Like his clients, he prepares for a global takeover.
James Martin, an eccentric hermit, is reluctantly used as God's mouthpiece. He and his compound are trained by Dan to fight off New World Order.
The world is divided into ten regions. A shadow government emerges, dictating new laws and eradicating their opposition.
Headlines such as the Norway massacre, the meltdown of the European Union, unscrupulous media, animal die-offs, Middle Eastern unrest, and the United States' shrinking power make the plot relevant to present day. This book is an ode to Birthers, 2012ers, Truthers, Tribulationists, and other conspiracy junkies who enjoy Dan Brown, Jesse Ventura, Brad Meltzer, Glenn Beck, Jerry Jenkins and Tim LaHaye.
Comments
2 comments posted.
Re: The Last Degree

I cannot find this book on the publishers website...
(Marianne Bartemio 11:08pm December 27, 2011)
I cannot wait until Dina Rae has a book signing!!
(Mike Tosto 12:51pm December 28, 2011)
Registered users may leave comments.
Log in or register now!