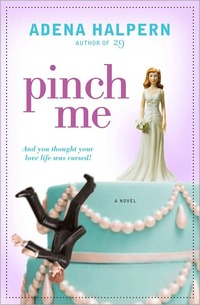 Purchase
Simon & Schuster
August 2011
On Sale: August 2, 2011
Featuring: Lily Burns; Gogo
288 pages
ISBN: 1439171149
EAN: 9781439171141
Paperback
$14.99
Add to Wish List

This new and ingenious novel with a touch of magic from the author of 29 is about a woman who has the perfect lifeóuntil she discovers it has all been a dream. Or has it?
Never marry a man unless heís short, bald, fat, stupid, and treats you badly.Ē That is the romance advice that twenty-nine-year-old Lily Burns has heard her entire life from her grandmother, Dolly, and mother, Selma. Despite this, when she meets Gogo, the handsome, successful pediatrician who treats her like a queen, she has no choice but to let her heart take over. When she agrees to marry him, Dolly and Selma are inconsolable. They decide itís time to tell her the truth: their family is cursed. If she marries for love, there will be unimaginable consequences.
Nevertheless, Lily and Gogo elope. Unable to believe her good fortune, she asks Gogo to pinch her to make sure this isnít a dream. The moment he does, Lily finds herself transported back to the house she lived in when she was single. Gogo is gone. When Lily tracks him down she finds that heís married to someone else and has no memory of her. In this reality, Gogo has none of his boyish charm, and instead of being a doctor, he sells drainpipes for a living. Lily knows itís up to her to get Gogo back on the right track and return them both to the wedded bliss they were meant to have. But the only way to do that is to break the curse.
Hilarious and heartwarming, Pinch Me is for anyone who has ever struggled to find love, or having found it, wondered how they got so lucky.
Comments
No comments posted.

Registered users may leave comments.
Log in or register now!