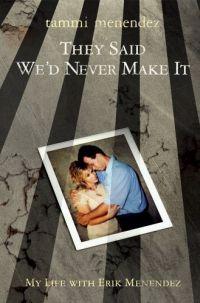 Purchase

They Said We'd Never Make It
Tammi Menendez
My Life with Erik Menendez
New Galen Publishing
November 2005
247 pages
ISBN: 0976874407
Hardcover
$24.95
Add to Wish List

Tammi Menendez' story They Said We'd Never Make It - My Life With Erik Menendez is a moving and groundbreaking expose of the motives, the mind, and the life of a man known only for his infamous crime. The book delivers factual accounts from inside the Beverly Hills home of Erik and Lyle Menendez - including stories that shed light on the powerful, often despised family patriarch, Jose Menendez, and his fastidious, secretive and competitive wife, Kitty.
Following a ten-year silence, Tammi Menendez reveals the truth about her husband's tragic life – and the love that has sustained them. With surprising candor, she discusses the confusion and abuse that led Erik to commit an unspeakable act of violence, and the personal strength and extraordinary love that has saved his life in prison. Spanning more than two decades – from the seeming privilege of his parent's Beverly Hills mansion to the confines of a life sentence in a maximum security prison – They Said We'd Never Make It - My Life With Erik Menendez tells how an existence virtually defined by brutality could be rescued through the redemptive power of love and forgiveness.
Comments
No comments posted.

Registered users may leave comments.
Log in or register now!