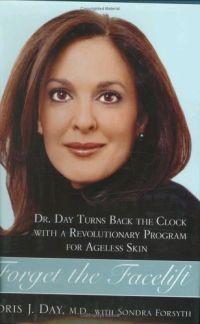 Purchase
In Forget the Facelift, nationally renowned dermatologist Dr. Doris Day promises readers younger-looking skin no matter what their age or their skin's condition-without surgery-with her four-step life-makeover program that promotes a healthy body and mind
Avery
August 2005
286 pages
ISBN: 1583332324
Hardcover
$23.95
Add to Wish List

In Step One, Dr. Day presents her Quick-Start Ageless Skin Care Regimen for instant results and offers readers recipes for making their own cleansers, masks, and scrubs at home.
Step Two includes Dr. Day's Ageless Skin Inner Makeover because beauty is so much more than skin-deep. Here, she lays out her plan for releasing negative emotions and utilizing relaxation techniques in order to eliminate stress's harmful effects on the skin.
Step Three is Dr. Day's Ageless Skin Diet and Exercise Program to help clear the skin from the inside out. It also includes facial exercises to help prevent expressions that cause wrinkles to appear over time.
For those who feel they might need a little more help in order to restore their youthful appearance, in Step Four Dr. Day explains in detail such wrinkle removers and rejuvenating treatments as Botox, Restylane, laser treatments, chemical peels, collagen injections, microdermabrasion, and other state-of-the-art treatments.
Rounding out Dr. Day's program for beautiful, glowing, ageless skin is a list of skin saboteurs that readers must avoid at all costs in order to keep their skin healthy and ageless. As well, you'll find tips for improving your overall appearance, including dress, hair, and makeup tips, which will make your skin look even better.
Comments
No comments posted.

Registered users may leave comments.
Log in or register now!