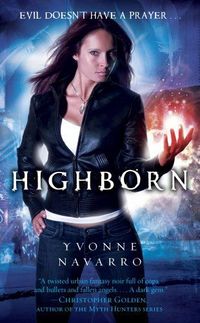 Purchase
Evil doesn't have a prayer...
Dark Redemption #1
Pocket
October 2010
On Sale: September 28, 2010
Featuring: Eran Redmond; Brynna Malak
384 pages
ISBN: 1439191735
EAN: 9781439191736
Mass Market Paperback
$7.99
Add to Wish List

Everyone deserves a second chance. Brynna Malak might be the exception to the rule.
Brynna is a fallen angel trying to earn redemption. She's escaped from Hell in search of a new life on Earth, but Lucifer's deadliest hunters are hot on her trail. Police Detective Eran Redmond is after her for a different reason: he needs Brynna to help him find a serial killer who is terrifying Chicago...and the trail leads them right to Hellspawned demons of the most dangerous kind. She's also got a very human problem: dealing with a stubborn, attractive cop who makes her long for everything she knows she can't have.
Staying alive long enough to earn a shot at Heaven will mean breaking some major rules in the mortal world, as she learns just how complicated and wonderful being human can be. With so much stacked against her, even Brynna has to wonder if she's crazy. But she's not giving in without a fight.
Not a chance in Hell...
Comments
10 comments posted.
Re: Highborn

Thanks for the great blog on the value of outlines. I'm a linear thinker, so I often think in outline (a skill that isn't always appreciated!).
(Maria Munoz 12:02pm January 17, 2011)
I agree. Without an outline all the material for the novel just gets out of control. It's too big and too complicated. Of course, I revise my outline constantly as I go.
(Alex Washoe 12:30pm January 17, 2011)
I'm a reader not a writer but I can see your point.
(Diane Sadler 2:19pm January 17, 2011)
I'm a reader and can see your point. I couldn't write a book for the life of me!
(Brenda Rupp 5:31pm January 17, 2011)
I can understand why an outline works well. At work though, I like to write some things as the inspiration flows then go back and block out the logic to complete it (my flow never seems to take me to the final point), fill in missing things, edit out what goes off topic, etc. I can't see my favorite approach working for a novel, though.
(Carol Drummond 8:52pm January 17, 2011)
You are NOT a terrible blogger. It was fun & informative.
(Mary Preston 8:59pm January 17, 2011)
I've never written a novel but I've written plenty of essays. I'm glad you're good at writing outlines. I can't say that I am. But what we have in common is grasshopper minds. Though I haven't done this much lately, I sometimes used to be so amazed at what I'd find myself thinking of at a certain point that I decided to go backwards and retrace every step I took to get to the present subject. Sometimes, that was really amazing.
(Sigrun Schulz 10:10pm January 17, 2011)
I must say that you wrote a very interesting and informative blog. It was certainly different from all the other ones that I've read in the past, and I've learned a great deal. I'll also have to keep your tips in mind. A few friends have been trying to persuade me to write a book, and I've been tossing the idea around. I wish you great success with yours.
(Peggy Roberson 10:59pm January 17, 2011)
I'm not a writer but a reader but I can see your points.
(Lisa Richards 12:28pm January 18, 2011)
I know all about outlining, but prefer to just write the story simple. When I stop to outline, I lose my thought line and then have to use tricks to get it back, like when you lose anything, you have to go backwards to figure where you put it. I know, some people swear by it and love the structure and the destinations and endings likely to be reached.
(Alyson Widen 1:31pm January 18, 2011)
Registered users may leave comments.
Log in or register now!