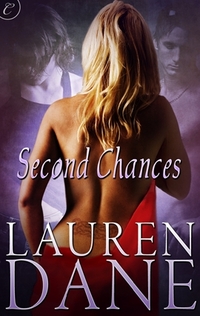 Purchase
Carina Press
November 2010
On Sale: October 25, 2010
Featuring: Rori Simon; Jude Callahan
ISBN: 1426890699
EAN: 9781426890697
e-Book
$4.99
Add to Wish List

Ten years ago, Rori Simon left town shy, unattractive and with zero self-esteem. Now she's back, older, stronger and finally loving herself—and it shows. Hot men are soon knocking at her door, including Jude Callahan, the bad boy who starred in her teenage daydreams...and her adult fantasies.
Jude can't believe the sexy, confident woman before him is actually Rori! She's gotten under his skin like no other woman has...and she brings out secret desires he can't resist. He wants to dominate Rori with every fiber of his being. Wants to own her and pleasure her. To cherish her as he makes her his.
Rori discovers she likes being controlled. She also knows Jude is not a one-woman man. Everything changes when she meets Zach Helm. Edgy, sensual Zach knows just what she needs, and before long, she's in love. Jude watches them together and wonders if he's lost his chance forever...
Previously published, newly revised by author.
Comments
48 comments posted.
Re: Second Chances

Second chances can bring happiness that was missed the first time around. It would be sad if nobody were given a second chance at romance if they were very unlucky the first time. In many cases couples just were not met for each other but did not find this out until later. I enjoy reading about second chances.
(Gladys Paradowski 12:28pm November 30, 2010)
P.S. I know of a couple that are enjoying a second chance. Their names are Terri and Clay and both had very unfortunate first choices.
(Gladys Paradowski 12:34pm November 30, 2010)
i believe second chances are wonderful when happiness and true love is involved:)
(Janet Mahurin 3:52am November 30, 2010)
I believe that if you are given the opportunity for a second chance at love with a person, and nobody else is getting hurt, go for it. There is a reason that two people were drawn together twice.
(Joanne Reynolds 6:21am November 30, 2010)
I like second chance stories but only when well done. I think Persuasion is my favorite because it is the one I feel we see the most of who Jane Austen is in that novel.
(Pam Howell 7:56am November 30, 2010)
definitely second chances are great thanks :)
(April Strength 8:10am November 30, 2010)
I have to agree with the other comments on several accounts. Yes to second chances, but only when well done. We all should be growing and changing all the time (not everyone does, but SHOULD). Main reason second chances can work is if the people involved grow and improve themselves.

And I have to agree my fav would be Persuasion. Love that book, and can still get into the characters when I re-read it! You know the story is good when that happens.

Thanks for the great giveaway!
(Victoria Colyer-Kerr 8:43am November 30, 2010)
I don't think it's as much about getting a second chance at romance but a second chance at life. Hasn't everyone faced a turning point at one time or another when they have had to get away (from a person, a job, a place, a situation) in order to be their own person and find out what is important in their desires, lives, needs and wants. Sometime only seperation can give you the space to realize what is really important.

Sometimes it's time to give yourself a second chance.
(Jeanne Miro 10:17am November 30, 2010)
I think sometimes we need second chances to see what we are missing.
(Barbara Hanson 10:19am November 30, 2010)
My sister gave her husband a second chance. She divorced him when he had an affair with a married woman...but five years later they remarried. Now they are enjoying a wonderful relationship.

Looks like a great story.

Valerie
in Germany
(Valerie Bongards 10:29am November 30, 2010)
If a second chance falls into our laps, I think we should take it and RUN! We never know when we'll have this opportunity, again.
(Tracey Dent 11:03am November 30, 2010)
Many people don't get second chances, and a lot people go their entire lives not finding their soul mate. Plus life is to short i say go for it, live up to it, and commit to it fully.
(Anthonia Sharp 11:08am November 30, 2010)
Second chances in romance can be "The Ultimate" in bringing emotion to the forefront; especially when done well. The hero and heroine have so much baggage they have to work through. Yes, one of my favorite type of romantic reads, no matter what sub-genre it may be put in to: suspense, paranormal, erotic, m/m, or historical.

A most excellent read of second chances that comes to mind is one I just finished: Sam and Zach from EDGE OF SIGHT by Roxanne St. Claire. A great beginning to a new series.
(Cynthia Netherton 11:10am November 30, 2010)
Second chances in romance, I do not think its a wise idea because the past is always going to come between them but if they can beat that then all the more power to them
(Cj Swier 11:53am November 30, 2010)
I always loved Todd and Erin's story in Laid Bare.
(Jordan Gilbert 11:54am November 30, 2010)
I always think a person deserves a second chance unless they are abusive type person. Especially if bring about true love or brings soul mates together.
(Christine Panaro 12:08pm November 30, 2010)
I think a person needs to earn a second chance...And if they are allowed that chance then they better make the most of it... There is nothing worse then someone that gets a second chance an and just pisses it away....
Thank you for a chance to win.. Looks really good... can't wait to read..
thank you,
Kelly M
crazyforbooks@comcast.net
(Kelly Mueller 12:39pm November 30, 2010)
Second chances in romance can be generalized as being a disaster waiting to happen. But then again, there are seconds chances that should have happened sooner than later because they are just so unique and even magical.
(Lisa Grillo 2:19pm November 30, 2010)
I think second chances are wonderful. You'd figure they have to be more stable relationship since the two people already know each other. Sadly though, sometimes second chances just don't work out.
(Joanne Schultz 2:30pm November 30, 2010)
I am all for second chances in romance! Love when couples work out their differences to get back together...
Thanks for the contest!
(Colleen Conklin 2:47pm November 30, 2010)
Absolutely! Look at Erica Kane on All My Children :-) She has been married a billion times, but it's obvious that Jack is the man for her and she keeps coming back to him.
(Barbara Wright 2:48pm November 30, 2010)
Second chances are nice as long as it's not a second chance
with a creep.
(Cathie Veres 5:05pm November 30, 2010)
I love second chance at romance stories. As a reader I get to find out more about the characters and see them grow.
(Leni Kaye 5:17pm November 30, 2010)
I do believe in second chances for love. Sometimes the first time around leaves a very bad taste in one's mouth, however that may put a person off of the feeling. It is often more brave to forge ahead with the second chance than to cower away from the world altogether. Romance holds a lot of second chances, and to find them, you can look toward Sandra Hill, Tess Mallory, Christine Feehan, as well as several of Lauren Dane's own earlier novels. I really love second chances!
(Rosemarie Brungard 5:21pm November 30, 2010)
Although we'd all like the first time around to be ideal when it fails I'm HAPPY when there is a second chance.
(Mildred Mayo 5:26pm November 30, 2010)
I am so fortunate not to need a "Second Chance", but I have friends whose second chance has been a blessing!
Blessings!
Marjorie
(Marjorie Carmony 5:30pm November 30, 2010)
Second chances in romance can be a great big crap shoot. If the two people have grown and changed the problems that kept them apart, great, if not, then it's just a second trip on the breakup ride. In life second chances are a gift we don't usually get. When it does, you need to grab a hold and run with it.
(Maude Allen 5:34pm November 30, 2010)
I remarried my husband & we've been happy so second chances do work.
(Pam Hager 5:49pm November 30, 2010)
I think sometimes second chances are possible in romance, but I think it depends on how the first chance ended. If it ended because those involved were too young or because someone had to move away or those involved were already too far apart, then yeah, I think there could be a second chance. If one party involved did something really rotton - like cheating - then there is probably not a chance that there will be a second chance.
(Kelli Jo Calvert 5:58pm November 30, 2010)
I think the best second chances are when married couples who have drifted apart find their way back to love again,
Maribeth Curry
(Maribeth Curry 6:09pm November 30, 2010)
Love the title, the idea and the simplicity of another chance. It's what kids of all ages desire the most along with attention, of course.
(Alyson Widen 6:39pm November 30, 2010)
My husband and I are High School Sweethearts. We actually broke up for a
while. My best friend thought we were perfect for each other and tricked us
into meeting each other again. We've been together for 20 years and have
two handsome boys. I'm thankful that we had a second chance!!
(Cindy Lacey 7:13pm November 30, 2010)
Everyone deserves a second chance both in love and in life. I'm glad that your novel got it's chance. It sounds like a great story.
(Rosemary Krejsa 8:10pm November 30, 2010)
If it's in a book, I don't like them being separated for years...too bittersweet for me. In real life, I know a couple that met 20 years later. she had never married and they fell back in love and married. Very romantic in real life because I could only see the happiness not the lonely years.
(Pamela Stewart 8:26pm November 30, 2010)
I love second chances and can think of several excellent ones, the authors are what spring to mind vs the titles. Erin McCarthy, Lorelei James, Cindy Miles...Especially marrieds that have drifted apart. Second chances are awesome.
Thanks for the chance...love your books!
(Ivy Truitt 8:30pm November 30, 2010)
I love second chances in books. I really can't think of any book titles. Love your book cover and books.
(Sue Brandes 8:37pm November 30, 2010)
I would like to read it.
(Marie Manolio 8:49pm November 30, 2010)
Sooner or later, everybody wishes for a second chance at something. Having the opprtunity for a "do-over" can be a wonderful thing!
(Diane Sallans 9:01pm November 30, 2010)
Second chances work well in books not so much in everyday life.
(Catherine Myers 9:43pm November 30, 2010)
I believe in second chances. My husband of 30 years and I found one in each other. So many great authors have written them like Sandra Hill, Stephanie Laurens, Christine Feehan and Kat Martin.
(Sharon Mitchell 10:58pm November 30, 2010)
Depending on the circumstances, I think that mostly everyone reaches a crossroad in their life where they have to decide whether or not to give a person a second chance in their life - be it a friend, a lover, their husband, a family member, whatever. Somebody has let them down, and they have to reach deep down in their soul, and decide whether or not it would be the best thing to do. Most people would deserve a second chance. After that, I would spare them no mercy. lol I've given people plenty of chances, and plenty have let me down. I stop after the second chance now, and have learned to be cautious.
(Peggy Roberson 11:31pm November 30, 2010)
Sometimes you're just not at the right place the first time, generally due to youth... When the second opportunity comes along -- grab it & hold on!!!
(Cate Sparks 6:39am December 1, 2010)
Second chances can be really good or really bad--but you are usually smarter the second time around and make better decisions.
(Sue Farrell 11:48am December 1, 2010)
I have several friends whose "second chance" at romance was the best thing that ever happened to them. Maybe they were wiser, or maybe they just deserved to find happiness the second time around!
(Marguerite Guinn 12:23pm December 1, 2010)
Second chances are there for a reason. To be grabbed with
both hands and run with it.

I can't recommend any books for that subject as I have read
many that have done a good job and equally as many that
mucked it up for me. (Mind you I am still waiting on my
library to supply me with 'Second Chance' to read :D)
(Ilona Fenton 1:00pm December 1, 2010)
What do you think about second chances in romance? Have any favorites to recommend?
I am a firm believer in never looking back where relationships are concerned (romantic). Of course, if it has been decades then I say give it a second try. People are capable of growth, but it takes time and distance.

As for books... they always make the break ups and make ups seem easy. They rarely (if ever) REALLY get down to the emotions involved.
(Michele Powell 2:43pm December 1, 2010)
Yes second chances are possible when you love someone and someone loves you back. Somewhere along the way we have to remember we are but people and we all make mistakes.
(Diane Sadler 7:11pm December 1, 2010)
Yes, we all need a do-over once in awhile...sometimes you don't realize what you've lost until it's gone...
(Darci Paice 11:32pm December 1, 2010)
Registered users may leave comments.
Log in or register now!