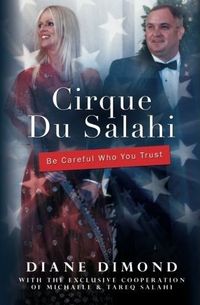 Purchase
Be Careful Who You Trust
AmazonEncore
September 2010
On Sale: September 14, 2010
200 pages
ISBN: 1439273294
EAN: 9781439273296
Hardcover
$15.99
Add to Wish List

"Cirque Du Salahi: Be Careful Who You Trust" tells the INSIDE STORY of Michaele and Tareq Salahi --the never before revealed details of what happened before, during, and after their November 2009 appearance at the Obama administration' first state dinner. This journalistic autopsy reveals how one event can capture a ravenous media's attention, become the fodder for bogus political drama, and with razor-sharp and misplaced attention, ruin the reputation of a politically connected couple who did little more than attend a White House function for which they believed they had an invitation. Make no mistake. The copycat journalism surrounding the Salahis, which resulted in headlines like, "White House Gate-Crashers Investigated, Likely to be Indicted," could happen to any citizen who stumbles into the eye of a media storm. But this book is about more than what happens when the unsuspecting find themselves in the crosshairs of the national media. It reveals the truth about Michaele and Tareq Salahi: where they came from; what shaped their personalities; what obstacles they overcame; and what motivates them to do what they do. It is quite simply the background of the story heard 'round the world and how this couple, from the tiny town of Hume, Virginia, was able to survive the onslaught. What happened to the Salahis is much more than any reality television show can capture. The true story about this couple should serve as a mirror held up to the media to point out the disturbing trend of trimmed-to-the-bone newsrooms overreacting and exploiting certain stories. It also offers a wake-up call to Americans who believe that their news sources of choice are still trustworthy, when in reality they are often simply parroting the poorly researched work of others. The reader will be left wondering what ever happened to good journalism but not wondering what really happened that night at the White House.

Diane Dimond, award winning investigative journalist, made her reputation working on multiple media platforms – as a TV correspondent, a syndicated crime and justice columnist and an author. She has worked at National Public Radio, CNBC and MSNBC, Fox News and Court TV. She is currently a Special Correspondent for Entertainment Tonight. Dimond, raised in Albuquerque, New Mexico credits her middle-America upbringing with shaping her common sense, humanistic approach to journalism. Dimond has a gift of unraveling complicated events, whittling them down to the most basic and understandable elements in order to tell informative and compelling stories. She believes that only when we can comprehend the behavior behind the events-of-the-day can we reach any real understanding of those events. Dimond resides in Rockland County, New York with her husband, broadcast journalist and voiceover artist, Michael Schoen. They have one daughter and two cats.


Media Buzz
Good Morning America - September 15, 2011
Extra - September 16, 2010
Entertainment Tonight - September 15, 2010

Comments
No comments posted.

Registered users may leave comments.
Log in or register now!