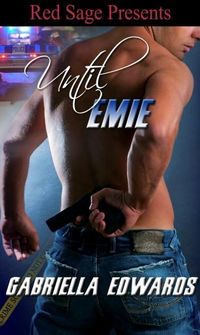 Purchase
After years of self-imposed exile, Emie Sinclair-Douglas is ready. Security expert Josiah ?Cut? Cutler didn?t want her when she was too young to handle him, but now it?s time to get him out of her system?or into her bed.
Red Sage
September 2010
On Sale: September 1, 2010
Featuring: Josiah "Cut" Cutler; Emie Sinclair-Douglas
54 pages
ISBN: 1603105441
EAN: 9781603105446
e-Book
Add to Wish List

Romance Contemporary | Romance Erotica Sensual
Emie Sinclair-Douglas is ready to face her demons when she comes home for her father's wedding. Getting Josiah, "Cut" Cutler out of her system may be harder than she thought, but she needs to move on, even if he's not playing fair. Cut's not above using sex to get the information he needs to clear his murdered brother's name, and getting Emie in bed has been on his mind for seven long years. After giving in to their desire for each other, Emie realizes she can never get the man out of her soul, and Cut discovers he can't save his brother's reputation without risking his heart.
Comments
20 comments posted.
Re: Until Emie

Great blog, Gabriella! I don't
think, in real life, we can
narrow hot guys down based on
their job. It's something
within a guy that makes him
hot, even more than the muscle
factor.

Maybe that's one reason I
don't find many actors
particularly hot, because I'm
always aware they are playing
a part.

Love the pictures! Was it is
about cowboys? Something about
them riding horses -- nope,
better not go there!
(Becke Davis 9:28pm September 27, 2010)
Cops and firefighters are
probably my favorite. Love men
in uniforms!
Margay
(Margay Roberge 10:10am September 28, 2010)
I agree with Becke about the actors. They might be good looking, but have you seen them without their makeup? :>) Seriously, I think a man who takes care of himself is more sexy that a man in a uniform if the man in the uniform has a gut and an attitude.
(Karin Tillotson 10:18am September 28, 2010)
I find that any man who can use his hands SEXY! Why? Because that is the man who will always be able to provide for you. He is the one who can fix what goes wrong around the house, and he will always have a job.

Also, I find those type of men are the ones who are in uniform, cowboys, special forces/ops, etc. You get the picture . . .

BTW, my husband of 30 years: Former Marine who works in a rock quarry! Very, very SEXY!
(Cynthia Netherton 10:54am September 28, 2010)
A man who is there for you every day through thick and thin, doesn't notice your weight gain or your hair graying and still says I love you at the end of each day, that's a sexy man.
(Diane Sadler 11:34am September 28, 2010)
Yep. The uniform factor gets to me every time. I like the clean-cut image and a nice haircut even across the back of the neck. I remember being on the train from Newark, NJ to NY and the guys looked proper and didn't break a sweat although the heat never shut off on the train and it sure was hot.
(Alyson Widen 12:14pm September 28, 2010)
Diane has it right - that's the sexiest man alive! But uniforms do have their place in the listings.

Case in point:
Sunday morning, a closed bout for my Roller Derby league. Our insurance requires that there are EMTs and an ambulance on hand at EVERY bout. The two that came this ambulance? Well, I'll be polite and just say that if they had had to run to take care of an emergency, the emergency would be over and done with before they got there. Talk about out of shape? And even worse, it was a man and a woman, and the WOMAN was in worse shape than the man!!

Monday morning:
I'm at one of the buildings on the UW campus, when I hear sirens, and lo and behold, here come both an ambulance and a fire truck to park at the side of the building. Turns out, a girl started having seizures during a class, and 911 was called (rightfully so). I was going in to one part of the building when they were coming out, so I helped hold the doors. Talk about a difference in physical shape and readiness!!

Why such a big difference between Sunday's and Monday's uniforms? The following is my personal guess, but I'm also guessing it's probably correct. Sunday's people were private contractors, and most likely don't have to meet certain physical standards for their company. Monday's folks were city employees, and not just EMTs/Paramedics, but firefighters to boot. Good physical shape is high on the required list for that job.

Which would I rather have to rescue me if I needed it? Take a wild guess! Those were truly sexy-looking dudes!! (And yes, we DO have female firefighters/EMTs/Paramedics here in Madison, but they weren't on that call. However, the UW Policeman there was pretty sexy in her own right!!) (Can you tell I HATE being PC?)

Ok, what that had to do with today's topic, I'm not really sure, except for there can sometimes be a HUGE difference between the uniforms that we think are sexy, and the reality behind those uniforms.

Later,

L
(Lynn Rettig 12:21pm September 28, 2010)
Oh, pretty much the same ones that you do! Someone that has to use both brawn AND brain!!
(Kelli Jo Calvert 12:38pm September 28, 2010)
Gosh, Gabriella!! After you ran through your list and I stopped drooling, I really had a hard time coming up with any!! I thought about construction workers or road workers, but that would be about it. Some guys in suits look good. You have to look at how the suit fits them to imagine the physique under it. I'm sure your new book will have everything covered, and I can't wait to read it!!
(Peggy Roberson 1:05pm September 28, 2010)
this morning I saw a man hanging off the back of a garbage truck. he looked pretty hot.

Then I saw his jailer orange strips.

Some uniforms just can't be overlooked....
(Keri Ford 2:44pm September 28, 2010)
Definitely agree with the man in uniform thing. Or the man in jeans. Though a man in a tuxedo can do all kinds of things for me too. James Bond, anyone? But alpha males aside, it's a lot of fun taking a guy who isn't in a 'hot' job - say an accountant or a professor or maybe a computer hacker - and make him be a hero. In a book, I mean.

Keri, LOL. And Diane, yes, that's sexy. Totally.
(Jennie Bentley 2:58pm September 28, 2010)
Cowboys top my list. Then military.
(Mary Preston 5:35pm September 28, 2010)
Not just good with his hands but smart, too, that's what gets me going.
(S Tieh 8:00pm September 28, 2010)
OMG! Everyone, thanks for
stopping by!

Becke and Karin, I think you
both called it on actors, but
all's fair in fantasy, I guess
and LOL! Didn't think about
the make-up part.

Oh, I know Margay, men in
uniform (MIU) make me weak!

Cynthia lucky you! And IMHO
yes, you called it! Um...does
your hubby still have his
uniform? *wagging brows*

Diane, that's so romantic! I
surround myself with the
fiction of it, but I always
love to hear it exists in real
life! You go!

Allison, it is the clean part
isn't it? I also associate MIU
with control...which I would
love to make them lose *snort*

Lynn, your story cracked me
up! And the difference is
interesting. That would have
never occurred to me, but
you're right. I want to know
the guy (with maybe some
assistance) could throw me
over his shoulder...or at
least drag me maybe...to
safety! Geesh! :-)

Kelly Jo, we need to compare
notes! I can't say enough
about 'em, but I've always
been attracted to funny guys.
If they can laugh at
themselves = gold!

Peggy, thanks so much! But for
more, go get a drool cup and
visit my FB page. You gotta
see my pics. Hubba!

Keri, God luv ya! Jennie said
it! Too funny!

When I think of cowboys, Mary,
I always think of Sam Elliot.
Sexy as hayell!
(Gabriella Edwards 8:30pm September 28, 2010)
S Tieh, a thinking, resourceful,
handy man. Hmm, yep, I likey!

Thanks for stopping by!
(Gabriella Edwards 9:09pm September 28, 2010)
any man who works hard & doesn't "talk down" to me when I ask a question is sexy!
(Diane Sallans 10:07pm September 28, 2010)
Congrats on the new release, Gabriella. I agree that men in uniform and in law enforcement are sexy because they put their lives in danger everyday. I also think doctors are sexy because they're intelligent and save lives.
(Jane Cheung 10:10pm September 28, 2010)
I'm pretty much into the individual
himself. Professors can be sexy -
Indiana Jones comes to mind - both in
and out of the classroom. Any man is
sexy when he is out there spending
time with his children, holding his
baby.
Sexy is an inner thing that shows
through their actions. A body building
hunk isn't sexy if he isn't a nice person
inside.
(Patricia Barraclough 10:59pm September 28, 2010)
Hi Diane! Yes! That's
important, as well. Arrogance
may have a place in fiction,
if done well, but don't pat me
on the head and tell me not to
worry my pretty little head.
Grrr!

Thanks, Jane! I missed docs!
There's something about scrubs
and stethoscopes, no? Or that
darned white coat! GAW! I'm so
easily pleased, LOL!
(Gabriella Edwards 11:04pm September 28, 2010)
Gosh, Patricia, you're so
right! I recently blogged
about what character in movies
or a book ruined it for any
other man and Harrison Ford's
Indy was mine. But it's the
adventurer I see, mainly.
Although he did look dreamy in
that tweed didn't he? :-)
Thanks for joining the chat!
(Gabriella Edwards 11:08pm September 28, 2010)
Registered users may leave comments.
Log in or register now!