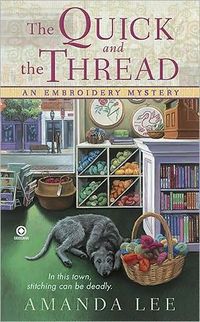 Purchase
The Quick and the Thread
Amanda Lee
In this town, stitching can be deadly.
Embroidery Mystery #1
Signet Obsidian
August 2010
On Sale: August 3, 2010
Featuring: Marcy Singer
336 pages
ISBN: 0451230965
EAN: 9780451230966
Kindle: B003YFJ4RS
Mass Market Paperback / e-Book
Add to Wish List

Mystery Cozy | Mystery Hobbies
First in a new mystery series that will have readers stitching-and itching for more
When Marcy Singer opens an embroidery specialty shop in quaint Tallulah Falls, Oregon, she throws a soiree and a Stitch-In. Soon, Marcy's sign- up sheet for embroidery classes fills up and everyone in town seems willing to raise a glass-or a needle-to support the newly-opened Seven Year Stitch.
Then Marcy finds the shop's previous tenant dead in the store-room, a message scratched with a tapestry needle on the wall beside him. Now Marcy's shop has become a crime scene, and she's the prime suspect. She'll have to find the killer before someone puts a final stitch in her.
Videos
Embroidery Mystery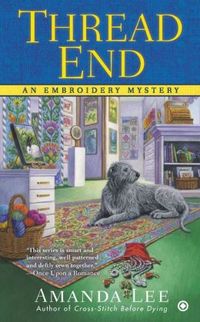 Thread End
#7.0
Amazon.com | BN.com | Apple Books | Kobo | Google Play
Comments
37 comments posted.
Would always stop and at least say hello and tell all of you what wonderful jobs you do with your writing.
(Joanne Reynolds 6:20am August 6, 2010)
Thanks for that advise. I get uncomfortable that I don't have one of the their book for you to sign or that I have to buy one of their book especially when I'm particular on what I like to read.
(Kai Wong 12:01pm August 6, 2010)
PICK ME TO READ THIS ONE!1
(Debbi Shaw 12:42pm August 6, 2010)
What a wonderful story about that little boy. Simple pleasures in life...
(G S Moch 12:43pm August 6, 2010)
I like book signings -- it's nice to put a face to a name. Plus it's always exciting!
(Sandy Haber 1:21pm August 6, 2010)
thanks for posting this. I was not sure of what the proper etiquette was, I will speak up next time I see someone sitting alone at a table.
(Vikki Parman 1:48pm August 6, 2010)
Never went to a book signing... probably be tongue-tied...
(Colleen Conklin 1:54pm August 6, 2010)
I have never been to a book sighing but have always wanted to go to one. There never is any around where I live that I know of!
(Gail Hurt 2:48pm August 6, 2010)
It's funny to think that the author might be as nervous as we, the readers, are at a book signing. Thanks for the insight.
(Rosemary Krejsa 5:00pm August 6, 2010)
Thanks for sharing! Now I'll
make sure to stop by signings
when I notice them.
(Jessie OLeary 6:08pm August 6, 2010)
I still have my first signing to attend but would be so excited I would either be speechless, or talk nonstop. Maybe you will come down to GA for a book signing.
(Brenda Hill 6:40pm August 6, 2010)
I haven't been to many though I've enjoyed several author visits in online chatrooms.
(Betty Dennis 6:52pm August 6, 2010)
I've never been to a book signing before, I never seem to hear about them until it's too late...
(Chantel Williams 7:02pm August 6, 2010)
I've had the good fortune to go to quite a few book signings and meet several of my very favorite authors. The experiences have been good and bad for me as a reader too. I've found that you can't take it for granted that because a person is a good writer that they are also a good public speaker. I was disappointed at a signing by an icon of the romance writing community. She was short with her talk and boring as she could be. On the other hand I'm equally disappointed for the author who has put forth a great deal of effort with their display, brought us gifts, given a great talk and no more than a handful of people attend.

Of course I've been so star struck that I've babbled non-stop and sobbed in thanks to authors who have touched my heart.

So, even though I'm sure the signings can be a hassle, please don't stop. We appreciate you more than you can know.
(Jill Hayden 7:59pm August 6, 2010)
I always worry that I'll insult an author by not purchasing his or her book that I tend to walk around the author without saying Hi So next time I see a book signing I'll make an effort to go talk.
(Diane Sadler 8:16pm August 6, 2010)
I have never been to a book signing but I hope to go one day
(Tabatha Basham 8:43pm August 6, 2010)
It is always such a privilege to meet a favorite author.
Blessings,
Marjorie
(Marjorie Carmony 8:57pm August 6, 2010)
awe the little boy who was going to fill up ur bowl is such a cute story !!!!
meandi09@yahoo.com
(Jennifer Mathis 9:30pm August 6, 2010)
Cringe-worthy signing. Here's to hoping that story will be your only bad story. :-) As someone who doesn't like crowds, it would be like getting a private session with an author. As a fan of the author, it would make me grumpy that the signing wasn't handled properly.

I have been to both kinds of signings. Elizabeth Peters is a local-to-me author. She does one signing a year and it is always crowded. I have also 'stumbled' on signings in the corner of bookstores. I think it says more about the management of the book store than it does about the author.

Do you bring candy to all of your signings, now?
(V Scott 12:24pm August 7, 2010)
The Quick and the Thread looks like it would be a lovely book to read! and I do love mysteries!!! Thanks for the oppportunity...
(Debbie Lemaire 2:29am August 7, 2010)
I love the story of the boy at the book signing. But I have to admit I am always so shy and never really know what to say.
(Pam Howell 11:36am August 7, 2010)
i've never been to a book signing but hopefully i will some day
(Sagrario Vigil 1:38pm August 7, 2010)
Thank you for sharing your experiences with us. Sometimes we, readers in general, forget that authors are just people too. I am so in awe of your talent, that I place all authors up on a pedestal. I promise to remember that y'all are exactly like readers - with a little special something thrown in.
(Kimberley Coover 2:24pm August 7, 2010)
I wish I could attend more book signings. We live out in the country and can't get to many. The ones I have been to were a pleasure because the authors were kind and thoughtful and answered all my questions.
(Patricia Hill 4:03pm August 7, 2010)
I LOVE MYSTERIES! Can't wait to read The Quick and the Thread. Thanks for the contest.
(Teresa Ward 4:03pm August 7, 2010)
make my special day more so!
(Debbi Shaw 4:10pm August 7, 2010)
I would LOVE to go to a book signing! But unfortunately, not many authors come to Southern Illinois or anywhere close enough to travel to. Maybe one of these days...
(Kelli Jo Calvert 4:56pm August 7, 2010)
I have never been to a book signing. maybe I'll add it to my bucket list
(Jodi Kegebein 5:15pm August 7, 2010)
Since I live way up north in Minnesota---not many book signings here---but we have had a few local authors actually do speeches about their books and then do question and answer period afterward---it was great fun.
(Sue Farrell 6:29pm August 7, 2010)
As a reader I love author book signings. I love to learn the why's & wherefore's.
(Mary Preston 7:41pm August 7, 2010)
I haven't been to a book signing, but if I'm at a location when one in taking place I will say hello.
(Leni Kaye 9:36pm August 7, 2010)
Unfortunately, most people don't
realize how much effort goes into
setting up for a signing or an expo
event. Having done displays and
booths at events, it is discouraging to
either be ignored or have no people
show up.
Hope you have more of the good
experiences than the bad.
(Patricia Barraclough 2:17am August 8, 2010)
If I went to a book signing, my main goal would be to meet as many authors as I could. I always wanted to be an author, and actually envy you a little bit, but would be thrilled to meet you and chat for a bit, if you didn't have a big line!! I would find the whole experience quite a thrill!! I have never been to one before, and I hope that I'll be able to go to one soon. Good luck with your futue endeavors.
(Peggy Roberson 10:34am August 8, 2010)
I enjoy getting my books signed, The ones that I go to are the authers that I love and read there books over and over.
(Vickie Hightower 11:48pm August 8, 2010)
Aren't kids the greatest!
(Lisa Richards 7:25pm August 9, 2010)
I'd like to read this book and I love cozy mysteries. I've been to two book signings here in Toledo that were sponsored by the library (Authors, Authors). The first one I went to (circa 1997) featured Elizabeth Peters and I brought one book for her to sign (I didn't know I could bring more). The second one featured Carol Higgins Clark and I brought more than one book to be signed. The authors give a speech first then sign books. The signings had a lot of people there but not a huge crowd (some of them draw hundreds and then I don't think the author can sign everyone's book). This coming season Jack Hanna and Alexander McCall Smith will be coming.
(Michelle Fidler 8:10pm August 17, 2010)
never been to a book signing but love to read and would love to read this book
(Kathy Weber 5:30pm September 12, 2010)
Registered users may leave comments.
Log in or register now!