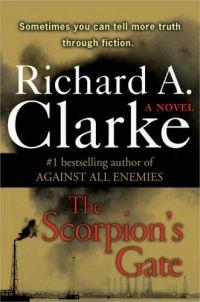 Purchase
From the noted counterterrorism expert and #1 bestselling author comes an astonishing fiction debut-a novel of terrorism, warring nations, and political treachery... that could happen tomorrow.
Putnam
October 2005
320 pages
ISBN: 0399152946
Hardcover
$24.95
Add to Wish List

For three decades, Richard A. Clarke worked in the White House, State Department, and Pentagon. As adviser to four presidents, he traveled throughout the Middle East, visiting palaces, military bases, and intelligence centers, meeting rulers, soldiers, and spies. Some of what he found appeared in Against All Enemies. Much more of it appears here.
In an extraordinary geopolitical thriller filled with the kind of cutting-edge authenticity only someone on the inside could bring, Clarke takes readers just five years into the future, when forces both in the Middle East and the United States are at work to launch another war. But this time, it could be bigger. This time, it could be nuclear, and spread to Asia and beyond.
A coup has finally toppled the sheiks of Saudi Arabia, and put a determined but shaky Islamic government in its place. Everywhere, the scent of oil has begun to attract the scorpions, and among them are men in Washington and another capital ready to strike a devil's bargain to fundamentally realign the map of the Middle East. The plans are not the same, however-though some of the planners think they are. Hidden agendas, fierce ambition, conflicting loyalties, faulty intelligence, catastrophic miscalculation-soon the dominos will start to fall, and not even the efforts of a few dedicated men and women on the outside may be able to stop an unstoppable folly. . . .
Blending exceptional realism with intricate plotting, razor- sharp suspense, and a remarkable cast of characters, The Scorpion's Gate will be one of the most talked-about novels of the year.

Media Buzz
Colbert Report - December 1, 2005
Charlie Rose - November 30, 2005
Daily Show with Jon Stewart on Comedy Central - November 17, 2005
Diane Rehm Show - NPR - October 31, 2005
Fresh Air - NPR - October 26, 2005
Morning Edition - October 25, 2005
Good Morning America - October 24, 2005

Comments
No comments posted.

Registered users may leave comments.
Log in or register now!