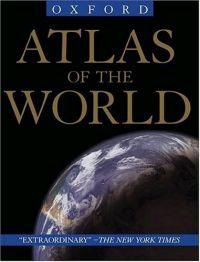 Purchase
A large-sized volume of color maps of the various regions of the world, countries, islands, and the continents. Includes several removable paper fold-out maps and an index of countries for easy referencing.
12th Edition
Oxford University Press
October 2004
304 pages
ISBN: 0195221478
Hardcover (reprint)
$80.00
Add to Wish List

Eleven years ago, the first edition of Oxford's Atlas of the World was met with praise for the incredible beauty and accuracy of its maps as well as for its wealth of geographic data, and each successive edition only collects more accolades. The New York Times Book Review called it a "veritable encyclopedia of geographic and demographic information, profusely illustrated with multicolored maps and graphs," and the Baltimore Sun exclaimed that the newest edition was nothing less than "a magnificently produced example of quality publishing."
Replete with 67 maps of cities worldwide, the 12th edition charts the key urban centers of each continent from Athens, Greece (including its new airport) to Wellington, New Zealand. As in past editions, the Atlas has been completely updated to reflect the changing world around us. Refined name forms in Malaysia and South Africa, the addition of a new state in Indonesia, extra name detail in the Atlantic and the Pacific Oceans and dozens of other improvements make this the most reliable atlas on the market.
The unique Gazetteer of Countries adds a yet another quick reference tool to a book already teeming with useful information. Several new features further enhance the 12th edition. Interstate and state highways are now shown throughout North America, putting the overall precision and clarity of the book well ahead of the competition.
A Glossary of Geographical Terms will be an enormous asset to those unfamiliar with foreign terminology while the colorful Introduction to World Geography--redesigned and beautifully illustrated with tables and graphs--provides informative summaries of topics as diverse as climate, global warming, plate tectonics, international conflicts, agriculture, trade, and population. What's more, detailed explanatory captions accompany the section of full-page satellite images that Library Journal called "stunning."
Offering the finest global coverage available, the Atlas of the World sets the standard in atlas quality, living up to its reputation as an "indispensable reference," granted by NBC's Weekend Today Show.

Media Buzz
CBS Sunday Morning - December 18, 2005
Good Morning America - December 16, 2005
Marketplace - NPR - October 31, 2005
Weekend Edition Sunday - October 23, 2005

Comments
No comments posted.

Registered users may leave comments.
Log in or register now!