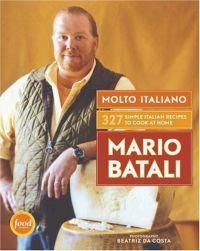 Purchase
Molto Italiano: 327 Simple Italian Recipes to Cook at Home
Mario Batali
Molto Italiano features dishes from many of the twenty-one regions of Italy and many side dishes, each of which can be served as a light meal. With a section on desserts and a foundation of basic recipes, Molto Italiano is the only Italian cookbook a home
Ecco
May 2005
528 pages
ISBN: 0060734922
Hardcover
$35.95
Add to Wish List

Easy to use and simple to read, many of these recipes come from ten years of Molto Mario television programs, including Mediterranean Mario, Mario Eats Italy, and Ciao America with Mario Batali. Batali's distinctive, often humorous, voice provides a historical and cultural perspective to demystify the more elaborate Italian dishes. He also shows ways to shorten or simplify everything from purchasing good ingredients to prepare-ahead tips. Informative headnotes offer up enticing bits about the provenance of the recipes as well as fascinating facts regarding Italy and its cuisines.
Molto Italiano features dishes from many of the twenty-one regions of Italy and many side dishes, each of which can be served as a light meal. With a section on desserts and a foundation of basic recipes, Molto Italiano is the only Italian cookbook a home cook's shelf needs.
Highlights from Molto Italiano:
* 67 antipasto recipes, with special sections for vegetable, seafood, and meat antipasti
* Informative sidebars, where Mario provides background color about the recipes, including the places, people, and history behind various dishes
* More than 50 pasta recipes, from classic comfort food like Baked Ziti to an elaborate Ricotta Gnocchi with Sausage and Fennel
* A wealth of seafood, fowl, and meat recipes, featuring simple everyday dishes and tasty regional specialties
* 34 vegetable recipes that can be served as either antipasti or side dishes
* A comprehensive dessert section, filled with gelati, crumbly cakes, fruit tarts, pies, and more

Media Buzz
Good Morning America - March 16, 2007
Jimmy Kimmel Live - December 12, 2006
Today - October 5, 2006
Martha Stewart - March 3, 2006
Tony Danza - February 27, 2006
Martha Stewart - January 4, 2006
Tony Danza - January 3, 2006
All Things Considered - December 25, 2005
Good Morning America - December 22, 2005
Martha Stewart - December 16, 2005
Tony Danza - November 18, 2005
Sunday Morning - November 13, 2005
Good Morning America - October 12, 2005

Comments
No comments posted.

Registered users may leave comments.
Log in or register now!