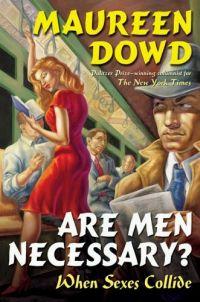 Purchase
Are Men Necessary? When Sexes Collide
Maureen Dowd
Fresh from her success with the best-selling Bushworld, Maureen Dowd turns her sparkling prose and wise wit to a topic even more incendiary than presidential politics: sexual politics.
Putnam
November 2005
320 pages
ISBN: 0399153322
Hardcover
$25.95
Add to Wish List

Four decades after the sexual revolution, nothing has worked out the way it was supposed to. The sexes are circling each other as uneasily and comically as ever, from the bedroom to the boardroom to the Situation Room, and now the New York Times columnist who won a Pulitzer Prize in 1999 for saucy and incisive commentary about the dangerous liaisons of Bill, Monica, Hillary and Ken Starr digs into the Y and X files, exploring the mysteries and muddles of sexual combat in America.
In a new book filled with chapters that surprise and amuse, Dowd explains why getting ready for a date went from glossing and gargling to Paxiling and Googling; why men are in an evolutionary and romantic shame spiral; why women have reeled backward in many ways; why men may be biologically unsuited to hold higher office, given their diva fits and catfights, teary confessions and fashion obsessions; why women are fixated on their looks more than ever, freezing their faces and emotions in an orgy of plasticity that makes the Stepford Wives look authentic; why male politicians and male institutions get tripped up in so much monkey business; why many alpha women, from Martha to Hillary, can have a successful second act only after becoming humiliated victims; and why the new definition of Having It All is less about empowerment and equality than about flirting and getting rescued, downshifting from "You go, girl!" to "You go lie down, girl."
In addition, Dowd, who has reported on historic moments on the sexual battlefield, from Geraldine Ferraro's vice- presidential run to the Anita Hill-Clarence Thomas hearings to Hillary Rodham Clinton's reign as copresident, explores not only how many of these shining feminist triumphs backfired on women but also how Hillary, a feminist icon busy plotting her campaign to be the first woman president, delivered the final blow to female solidarity herself.
Women's liberation has been less a steady trajectory than a confusing zigzag. Feminism lasted for a nanosecond and generated a gender tangle that has bewitched, bothered and bewildered men and women for forty years. Now comes a woman to cut through the tangle and tickle Adam's rib. The battle of the sexes will never be the same.

Media Buzz
Larry King Live - January 22, 2009
Tavis Smiley - November 20, 2006
Imus in the Morning - October 2, 2006
Imus in the Morning - May 25, 2006
Imus in the Morning - February 8, 2006
CBS Sunday Morning - December 11, 2005
The View - December 5, 2005
Late Late Show - December 5, 2005
Colbert Report - December 5, 2005
Late Show with David Letterman - November 30, 2005
Late Late Show - November 23, 2005
Charlie Rose - November 23, 2005
Diane Rehm Show - NPR - November 15, 2005
Today - November 15, 2005
Fresh Air - NPR - November 9, 2005
Imus in the Morning - November 7, 2005
The View - November 4, 2005
Imus in the Morning - November 1, 2005
Imus in the Morning - October 26, 2005
Imus in the Morning - October 12, 2005
Imus in the Morning - October 5, 2005

Comments
No comments posted.

Registered users may leave comments.
Log in or register now!