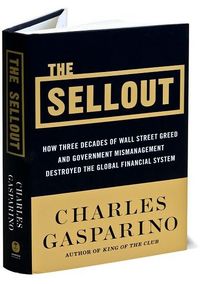 Purchase
How Three Decades of Wall Street Greed and Government Mismanagement Destroyed the Global Financial System
HarperBusiness
November 2009
On Sale: November 3, 2009
576 pages
ISBN: 0061697168
EAN: 9780061697166
Hardcover
$27.99
Add to Wish List

The definitive account of Wall Street's stunning collapse
From critically acclaimed investigative journalist and CNBC personality Charles Gasparino comes a sweeping examination of the most recent volatile, anxiety-ridden era in our nation's socioeconomic history. The Sellout traces the implosion of the financial services business back to its roots in the late 1970s when Wall Street embraced a new business model predicated on taking enormous risks. It shows how a backwater business involving the trading of risky bonds packed with mortgages showered countless billions in profits on the financial industry but sowed the seeds of its ultimate demise. Gasparino walks readers through Wall Street's three-decades' love affair with risk, revealing a trail of culpability—from the government bureaucrats who crafted housing policies that encouraged homeownership, to the Wall Street firms that underwrote and invested in risky debt, to the mortgage sellers who handed out loans to people without the financial wherewithal to pay them back, to the homeowners who became convinced they could afford mansions on blue-collar wages. The ongoing tumult in financial markets and the global economy began when some of our most esteemed financial institutions, our government, and even average citizens abdicated their collective responsibilities, eventually selling out investors and selling off the American Dream itself.
In the spirit of classics such as Barbarians at the Gate and Liar's Poker, this page-turning narrative captures how avarice, arrogance, and sheer stupidity eroded Wall Street's dominance and profoundly weakened the financial security of millions of middle-class Americans. Eye-opening and engrossing, The Sellout provides the most thorough investigation to date of this latest gilded era.

Media Buzz
Good Morning America - March 30, 2010
The O'Reilly Factor - March 9, 2010
Campbell Brown - December 21, 2009
Marketplace - PRI - December 18, 2009
Campbell Brown - December 16, 2009
Campbell Brown - December 14, 2009
Campbell Brown - December 11, 2009
Campbell Brown - November 30, 2009
Today - November 9, 2009

Comments
No comments posted.

Registered users may leave comments.
Log in or register now!