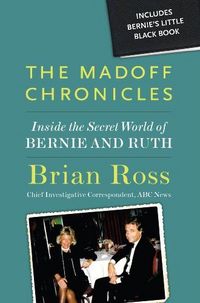 Purchase
The Madoff Chronicles
Brian Ross
Inside The Secret World Of Bernie And Ruth
Hyperion
October 2009
On Sale: September 29, 2009
288 pages
ISBN: 140131029X
EAN: 9781401310295
Hardcover
$19.99
Add to Wish List

Behind the walls of the house that lies built
After the news broke of Bernie Madoff's arrest on December 11, 2008, the facts were hard to grasp. Madoff claimed to have stolen fifty billion dollars; the sum seemed impossibly large. But of course it wasn't impossible. And that was only the beginning of the story.
As chief investigative correspondent for ABC News, Brian Ross has been on the front lines of the Madoff scandal since the beginning. Throughout the course of his investigation, he and his team have achieved unequaled access to the investigators working to unravel Madoff's fraud, and have succeeded in cultivating sources deep within the walls of Bernard L. Madoff Investment Securities that no other journalist has reached. Ross was even able to obtain a copy of the contents of Madoff's "little black book."
The result is an unparalleled, fly-on-the-wall view of a life of corrupted luxury and outrageous lies.
Ross chronicles the lavish lifestyle that Bernie and his high-school sweetheart, Ruth, enjoyed as the result of his ill-gotten gains and the bone-deep deceit that shocked the world with its sheer audacity. He details the layers of Madoff's scheme--from money men across the country who made millions convincing clients to entrust their wealth to Madoff, to the fabricated stock trades and false quarterly statements that fooled his victims, many of whom lost their savings, their homes, some of them even their lives, in the wake of Madoff's betrayal.
This is a true-crime drama of Shakespearean proportions, built upon the up-close investigative skills of one of our most respected journalists. The Madoff Chronicles is a vivid and chilling look behind the gilded doors of the greatest financial fraud in history.

Media Buzz
Good Morning America - October 28, 2011
The O'Reilly Factor - October 1, 2009
Good Morning America - September 29, 2009

Comments
No comments posted.

Registered users may leave comments.
Log in or register now!