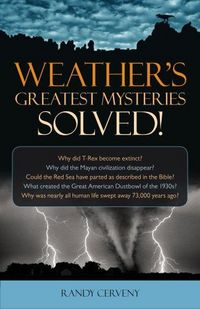 Purchase
Weather's Greatest Mysteries Solved!
Randy Cerveny
Prometheus Books
July 2009
On Sale: June 23, 2009
328 pages
ISBN: 1591027209
EAN: 9781591027201
Hardcover
$26.98
Add to Wish List

Why did T-Rex become extinct? Why did the Mayan civilization disappear: If the ancient Israelis did indeed cross the Red Sea, as reported in the Bible, what weather phenomena might have produced the parting of the waters? Why was nearly all human life swept away 73,000 years ago? And what factors created the Great American Dust bowl of the 1930s? The extraordinary people who are interested in asking - and answering - such questions are known as climatologists. In a lively narrative full of intriguing facts, award-winning, internationally known climatologist Randy Cerveny takes the reader on a fascinating tour of some of the world's most perplexing and provocative climate mysteries, past and present. Cerveny explains the science of climate study - from digging ice cores in Antarctica to counting tree rings in Arizona - and the various specialists whose ingenious techniques help to sort out climate's intricate components. He also delves into the human impact of weather through fictional introductions to each chapter that depict how climate change might have affected a typical inhabitant of the ancient Sahara or Indus Valley, a peasant during Europe's 'Little Ice Age', or an aviation expert probing a deadly jet crash in New York City. Finally, he discusses research that attempts to forecast the weather of the next 10,000 years - essential information for planning the nuclear waste depository at Yucca Mountain, Nevada. For readers of "An Inconvenient Truth", devotees of the Weather Channel, history buffs, popular science fans, or anyone who wonders what makes our weather tick - and how it will impact our future, this engaging book offers much to ponder and to enjoy.

Media Buzz
Good Morning America - September 15, 2009

Comments
No comments posted.

Registered users may leave comments.
Log in or register now!