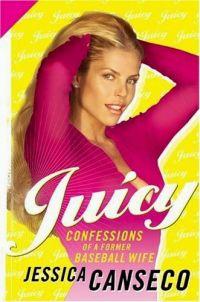 Purchase
Juicy Confessions of a Former Baseball Wife
Jessica Canseco
Tell All from Jose's ex-wife
Regan Books
September 2005
256 pages
ISBN: 0060889454
Hardcover
$25.95
Add to Wish List

When nineteen-year-old Hooters trainee Jessica Sekely meets Jose Canseco -- one of the most famous baseball players of his time -- she falls in love with the slugger and everything about him. He is larger than life, from his bulging muscles and multimillion-dollar contract to his huge homes and hot cars. And he is as handsome a man as she has ever seen. But his sprawling house in Florida becomes her gilded cage when Jose is on the road, hitting home runs and bedding women in American League cities from Anaheim to Boston. Jessica blames herself and does everything she can to keep Jose faithful—nose jobs, new breast implants, and even going so far as to bring other women into their home for threesomes. But it wasn't enough. It was never enough.
Through it all, she breaks through the icy stares of the wives and girlfriends of Jose's teammates and learns to honor the code of the baseball sorority -- If you see a ballplayer with another woman, keep your mouth shut!
While Jose, author of Juiced -- the #1 New York Times bestseller about steroids in baseball -- seems intent on self-destruction, Jessica willingly goes along for the ride. Their turbulent relationship careens from steroids to pregnancy, from marriage to the birth of a precious baby daughter, from private investigators to divorce attorneys -- with a black eye. This is the story of a beautiful young woman who falls in love with a hugely successful professional athlete, and who becomes addicted to him and to everything that his success seems to represent. It is also the story of a woman who spends the better part of ten years trying to beat that addiction, and who finds her true self in the process. Jessica Canseco's story is for every woman who has ever fallen for the wrong man. But unlike many such tales, this one has a happy ending.

Media Buzz
Good Morning America - September 15, 2005

Comments
No comments posted.

Registered users may leave comments.
Log in or register now!