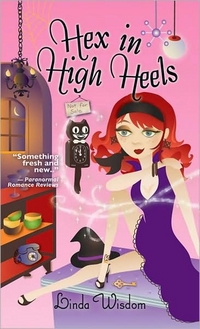 Purchase
Hex #4
Sourcebooks Casablanca
October 2009
On Sale: October 1, 2009
Featuring: Blair Fitzpatrick; Jake Harrison
352 pages
ISBN: 1402218192
EAN: 9781402218194
Kindle: B00348UN8O
Mass Market Paperback / e-Book
$6.99
Add to Wish List

Fourth in the popular, light paranormal romance series by an author whose books have sold 13 million copies
In this sexy, funny paranormal romance by bestselling author Linda Wisdom, it's all beautiful witch Blair Fitzpatrick can do to keep a lid on her talent for revenge spells, but things are about to get a lot more complicated...
Blair loves running her vintage shop and hanging out with witchy friends Stasi and Jazz. She's forever had a crush on hunky carpenter Jake Harrison, whose Were nature (he's a Border collie) makes him loyal, lovable, and fierce when need be. Just as sparks are beginning to fly, Blair is served with a big surprise when Jake's mother shows up along with his pack leader, who threatens to make Jake heel! When the alpha does the unthinkable, Blair is pushed over the edge. No one messes with her boyfriend-to-be, even if he does shed on the furniture!
Hex
Comments
11 comments posted.
Linda Wisdom: Thank you for the news about your "Blair" witch project.

I really go for active, assertive romantic heroines, ones who can take on anything and anyone. If they're witches, they'd have to be that way. Otherwise, men would just use them as hex objects.

I also go for adorable, cuddly, furry creatures. Only in my case, it's cats.

Not that there's anything wrong with dogs. It's just that I'm a cat person. Even as I type this, my cat Lucretia is sitting in my lap purring away. It's no mean feat to blog for hours on end with a cat in one's lap. Especially one this big and heavy!

I dig romances in which pets play significant roles, but I can't imagine a were-cat. And you know how proud cats are. They'd probably consider turning into a human a step down.

As for what kind of supernatural being I'd most like for a romantic hero, I'd say a ghost. I don't believe in them, but I wouldn't mind being haunted by one. Especially if he looks like Patrick Swayze did in that movie.

Keep up the good work!
(Mary Anne Landers 1:16am October 2, 2009)
I love shifters, all kinds at any time; mix them up, bears, wolves, cats and even throw in vampires; the more the better
(Diane Sadler 12:56pm October 2, 2009)
I like the wolves but give me a leopard here and there to keep it interesting! This book looks so cute, added to my list!
(Sharla Long 2:33pm October 2, 2009)
I love the wolves, the more ferocious the sexier.
(Theresa Buckholtz 5:23pm October 2, 2009)
I agree about the were-cats. Especially the big ones like leopards, lions, and panthers! I find that even more interesting (read "sexier") than say a were-kitty cat. LOL! Only because the large cats are usually so sleek, toned, and sinewy that I can better imagine them as a sexy human. Then again, I'd like to see what you could do to make a reader believe in a were-kitty cat... LOL! I also love the idea of a ghost/spirit lover. Ah! I might as well admit it! I love anything paranormal! Keep on writing and I'll keep on reading!
(Dawn Detkowski 5:24pm October 2, 2009)
I do love reading paranormal stories and your new release certainly caught my attention. With the addition of those nasty holiday elves I'm hooked. Congratulations!
(Rosemary Krejsa 8:10pm October 2, 2009)
This book sounds like a fun romp! Don't know how I've missed this series, but it sounds like a lot of fun. I'll be looking for it.
(Patricia Barraclough 12:30pm October 3, 2009)
love series. anbd bunnys :)
(Tami Bates 4:18pm October 4, 2009)
This book sounds like it has all the Fun that I enjoy. Shifter,paranormal, ghost/spirit
and toss in the Love...Whee ...could'nt ask for much more.
(Shirley Sego 4:55pm January 3, 2010)
This book sounds like something i would enjoy. I haven't read any of your books before , but think I'LL Try now
(Kathy Weber 7:13pm January 3, 2010)
I'm reading this book right now and once again Ms. Wisdom has created a wonderful story! Thank you!
(Re Rosenbalm 5:49pm January 7, 2010)
Registered users may leave comments.
Log in or register now!